Archived Reading Room
A strange mix of books crosses my desk
Wednesday, February 21, 2018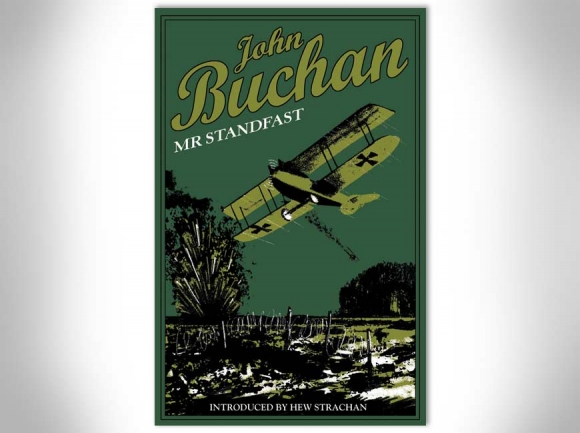 The first weeks of 2018 have seen some offbeat books shamble across my desk and into my fingers.
First up is John Buchan's Mr. Standfast, also known as Mr. Steadfast. Buchan, a Scottish novelist and politician who served as Governor General of Canada from 1935 to 1940, is best remembered for his suspense novel The Thirty-Nine Steps, a grandfather in the genre of intrigue. Alfred Hitchcock later made Buchan's tale of a manhunt, a precursor to "The Bourne Identity," into a film.
Having taught and enjoyed The Thirty-Nine Steps, and having never heard of Mr. Standfast — or Steadfast, for that matter — I was excited to discover the book. Though I have yet to begin reading it, I have examined it and am puzzled by its outer apparel — or rather, its lack of apparel. Here is a novel measuring 8.5 inches by 11 inches, the size of a standard sheet of typing paper. Strange in itself, but open the book and inside you will find no publisher's name, no claim to rights, no introduction to the work, no blurb, no mini-biography of the writer, nothing except a tiny note at the end of the book stating "Made in USA, Middletown, De. 27 February 2017." I have never encountered a book so devoid of signs of publication, an anonymity which delights rather than annoys because Buchan himself so often writing of spies and nameless secret agents.
Where Were We? The Conversation Continues (St. Augustine's Press, 408 pages, 2017) is also an exotic volume, but for entirely different reasons. Here American essayist and short-story writer Joseph Epstein and English writer and man of letters Frederic Raphael give us the correspondence they exchanged via email from January 2014 to January 2015.
The book is unusual for its excellent prose. Any number of friends could produce, quite easily, 400 pages of correspondence within a year. What sets this exchange between Epstein and Raphael apart from such ordinary email exchanges is the high quality of the writing and the insights of the authors. An example: I open the book at random — I am just past page 100 — and find Epstein describing Sid Caesar, star of Show of Shows in television's Paleolithic Era:
"In the middle of the show, Caesar would come out from behind the curtain, usually dressed in his costume from the last skit, to announce, with a stammer, that "We'll t-t-take a c-c-commercial break and be r-r-right back," though he never stammered during any of his many skits … At some point, he went into psychotherapy, conquered his drinking problem, lost his stammer, became whippet thin — and promptly ceased to be the least amusing."
Such writing with its attention to detail — that means of reproducing Sid Caesar's stammer would occur to very few correspondents — and the swift pronouncement of judgment on Sid Caesar's career are marks of a veteran writer. Most likely, such a literary approach would appear only in correspondence in which the writers were thinking of publication.
And Epstein and Raphael were thinking precisely that. After all, a first volume of their correspondence, Distant Intimacy, has already appeared. But here is where another strange quality enters. Much as I treasure Epstein's work — he is to me, as to many, our premier living essayist — I wondered who will read these letters. Many of the celebrities mentioned by the writers will be unknown to younger readers, and the sophistication of the writing will put off a general audience. Moreover, as Epstein himself points out, a great number of people no longer read books, not just books like Where Were We? but books themselves.
"My point here," Epstein writes, "is to wonder if you and I, who are pleased to read and write books and hope to do more of it before departing the planet, aren't the literary equivalent of blacksmiths during the early decades of the twentieth century, when the automobile was coming into vogue in a big-time way, banging away on our anvils."
Joe, I think you just nailed it.
Nevertheless, if you are looking for the quirky, for wit, and for occasional snark, you will find it in spades in Where Were We?
Finally, Andrew Klavan's True Crime (Crown Publishers, 1995, 308 pages) was my popcorn book of the last week, a snack to be munched solely for the pleasure of the moment. I read — or rather, raced through — True Crime as an escape from weightier reading, winter weather, and a round of intense work. I was familiar with Klavan by way of his online essays, and so decided to give True Crime a shot when I stumbled across it on the library shelves. Here he takes us via journalist Steve Everett into the life of Frank Beachum, a man facing execution for murder despite his claims of innocence. His own life falling apart because of his infidelity to his wife, Everett finds himself forced to take on Beachum's cause as his own after he begins to believe in the man's innocence. Meanwhile, he wages a war of words with an editor of the paper, the district attorney, and a dozen cops.
What I particularly liked about this fast-paced story of a race against time were the characters, who despite all their human failings still battle to do the right thing. Everett, for example, is a big-mouth and a jerk who really doesn't love much of anyone other than his little boy, yet he helps Beachum because "I had to try because … I had to. That was it. Those are the rules; I don't make them. Once you know, you can't stop knowing, and you have to try. Those are the rules." Another character, Angela Russel, a black woman living in the projects, eventually lends Everett a hand in his quest for justice, fighting, like Everett, against her own prejudices to do the right thing.
Rarely have I read a novel in which I so disliked the characters, but admired so heartily what they did.
Another lesson learned.
(Jeff Minick is a writer and teacher. This email address is being protected from spambots. You need JavaScript enabled to view it.)