Archived News
Miller admonished before Haywood commissioners
Wednesday, February 21, 2018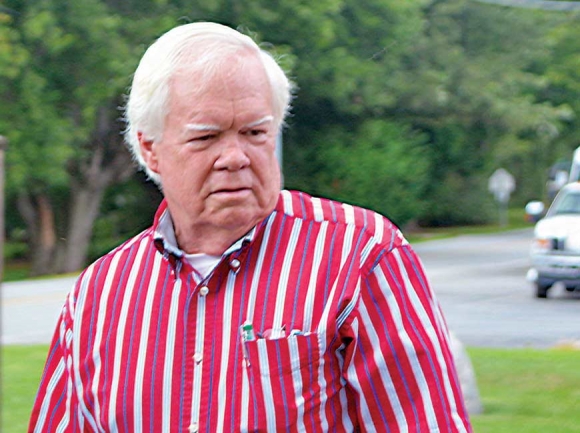 Local government watchdog Monroe Miller is well known to many in county government circles; he attends most Haywood County Board of Commissioners meetings and publishes his opinions — usually meticulously researched — on his blog, Haywood County Toeprints.
Essential components of Miller's work come from the routine open records requests he often makes, but a recent uptick in the volume of his requests, the tone of those requests and what he calls "obstruction" on behalf of the county have turned what is usually a peaceable dialogue into a war of words with Haywood County Program Administrator David Francis, a frequent target of Miller's ire.
Miller's right to request public documents from a public body such as the Board of Commissioners isn't at issue, but who decides how much is too much may soon be.
Unexpected fireworks
Shortly into the New Year, Miller began making document requests from the county, alleging irregularities in the county's development of a long-vacant parcel of county-owned land known as the Jonathan Creek site.
At least, that's what it's known as to the public; Miller calls it the "James Weaver 'Kirk' Kirkpatrick III Super Duper Sports Complex," referring to the chairman of the Haywood Board of Commissioners and the property's previously-intended use as a sports facility.
Since then, Miller's requests have become voluminous and his correspondence with county officials — particularly Interim County Manager Joel Mashburn — lengthy and difficult to follow.
Miller's persisted, and said through a number of emails that he hasn't been given everything he's asked for despite numbering his requests, which at last count were approaching 30.
On Feb. 19, Miller signed up to speak during the customary public comment portion of the Haywood County Board of Commissioners meeting.
Soft-spoken and businesslike, Miller detailed his concerns to commissioners, saying that he's "been met with resistance and downright obstruction in obtaining direct records" and asked for intervention on his behalf.
Later, during the constituent concerns portion of the meeting, Kirkpatrick addressed Miller.
"The only thing that I see from you is that you're trying to find something wrong, and that's what you're continually trying to do," Kirkpatrick said. "Unfortunately what's happening now is it involves time, so much time for our county employees to respond and try to do it right to make sure that you get the information."
Kirkpatrick then called Francis to the podium to issue a statement regarding Miller's requests.
"Since the beginning of this year we, the county, have received over 60 emails from Mr. Miller," said Francis. "We're at day 50 on the calendar."
The documents, Francis said, had all been provided.
"Mr. Mashburn and I got everything he wanted together and ready," Francis said. "He came one morning and sat here for three-and-a-half hours while he reviewed these documents."
Francis added that Mashburn, who earns $60 per hour as the county conducts its search for a permanent manager, "has bent over backwards, for Mr. Miller" only to be ridiculed by Miller in emails as "gatekeeper Mashburn."
That's when Francis launched into an impassioned monologue on Miller that provided the five most unusual minutes of any commission meeting in recent memory.
"He likes to poke fun at people, to belittle them from behind the computer whenever he can, because he's a bigger man behind the computer than he is any other place," Francis told commissioners. "He's belittled everybody, almost everybody in this room at one time or another. He's a shameful human being to deal with."
Francis also decried Miller's insinuations that he is somehow involved in something untoward regarding the Jonathan Creek project.
"He's gone around, he's basically accused me of doing something wrong and I can assure you I would never do anything wrong," he said, turning his back on commissioners and facing Miller, who was still seated in the gallery. "Sir, you're wrong. You're very wrong."
Returning his attention to commissioners, Francis said that Miller doesn't understand government, and doesn't understand business, and then hearkening back to Kirkpatrick's initial remarks said that he estimates the county has spent more than $700 of staff time so far in attempting to comply with Miller's requests on this issue alone.
Francis said in his 20 years in local government, he's never spent so much time dealing with just one person.
"As obsessed as he is with me, I should have got a Valentine from him last week."
Unexpected questions
Miller doesn't issue comment to local media outlets, and again declined to answer questions for the purposes of this story.
However, his requests raise a host of questions over reasonable public access to government records.
While not a journalist per se, Miller often functions like one, and while no one is questioning his right and the right of anyone to inspect government documents, the question of how often they can be requested, how many can be requested, how quickly those requests must be fulfilled and how much it should cost him have important implications for journalists and the public as well.
"One of the problems we've had here is that he's asking for information and he wants explanations, he wants to discuss things," said longtime County Attorney Chip Killian. "He's not many times asking for documents, and all the statutes speak to is the production and viewing of documents. We made every effort to provide the documents he's asked for."
"By the statute," Francis said, "we provide documents. We don't have to answer every little question that comes across. This has just become a big paper chase for Mr. Miller. I guess he gets excited over that."
Kirkpatrick got in the last word of the evening, but probably not the last word on where Miller's requests go from here.
"Mr. Miller, we will continue to provide you with documents, just as we would provide anyone here, anyone in the in the county with documents," he said. "That's all we're going to do, what the law requires us to do."