Archived News
Cherokee leaders chart path forward following discovery of elections failures
Wednesday, February 21, 2018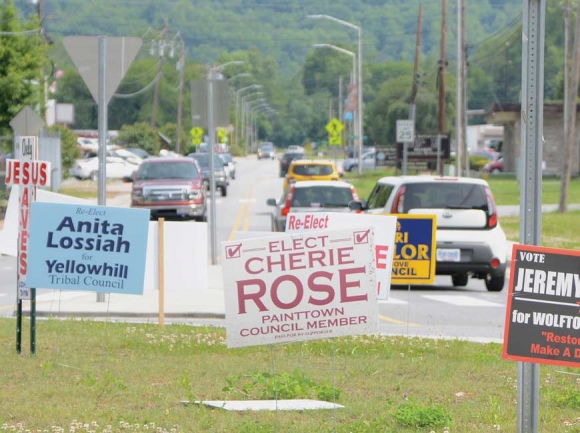 Election signs pepper the roundabout at Acquoni Road in Cherokee during the 2017 Tribal Council election season. Holly Kays photo
A two-hour work session last week on alleged ballot tampering and security lapses during Cherokee's 2017 elections yielded arguably more questions than answers.
Questions such as — why have known shortcomings in the elections process been allowed to persist for years without being resolved? Why has the tribe, a billion-dollar corporation, continued to contract with an elections company that uses 30-year-old machines and paper ballots housed in easy-to-access plastic bins? Why hasn't the elections office been rekeyed, despite the fact that an unknown number of people have keys to the office where blank ballots and other sensitive items are stored?
And, what does this all mean for Cherokee's upcoming alcohol referendum? Given the audit results, would the outcome of such a referendum, slated to take place in three to four months, be trustworthy? Should the referendum be delayed until elections issues are dealt with?
Denise Ballard, president of the Eastern Band of Cherokee Indians Board of Elections, presented the 24-page audit from Arizona-based Veriti Consulting to Tribal Council Feb. 16, going page-by-page through findings that concluded ballot tampering had likely occurred in Birdtown between the General Election and the Sept. 13 recount and included 20 recommendations to improve elections procedures in the future.
In her comments to Council, Ballard stressed the need to invest in improved elections security and the importance of working to find and prosecute anybody responsible for ballot tampering.
"The board is more than willing to take a polygraph test, whatever you want this board to do we're happy to do," Ballard said.
Cherokee law delegates the responsibility for such investigations to the elections board, though any funding required to carry out an investigation would have to come from Tribal Council.
Questionable elections practices
Ballard endured close questioning from members of both Tribal Council and the community at large who were alarmed by the audit findings and by the apparently lax elections procedures they revealed.
According to the audit and discussion at the meeting, the elections board has no written policies and procedures outside of the ordinance that creates it. Similarly, poll workers receive only one half-day training with no written materials provided. There are no security cameras inside the election board office, and records for registered voters are not always accurate, an allegedly substantial portion of registered voters registered in the wrong community or registered without a voting card. And the paper ballots, which are stored in plastic bins that the audit revealed are quite easy to break into — and were stored in a Bureau of Indian Affairs vault that was often left unlocked — are counted using machines from the 1980s.
"I think we need to take this very seriously, because at this point this has become a huge trust factor for a lot of people," said Councilmember Jeremy Wilson, of Wolfetown. "We have a really big election — the chief election, council election — coming up."
Chairman Adam Wachacha, a former Sergeant First Class in the U.S Army, expressed particular surprise with the apparent lack of security surrounding storage of the ballots, recalling how in the service any sensitive items always had 24/7 security coverage with anybody accessing them required to sign a log stating the date and time of access.
"Being a former service member, that's one of the things you push out in third world countries — it's free elections, free elections. You want to make sure everything is safe to the fullest extent," he said. "We want to make sure that here in this community that the elections are conducted fairly and properly and with the utmost security for the public's peace of mind."
Wachacha went on to say that Tribal Council would be happy to fund any needed security changes to ensure secure elections going forward.
"We can talk about recommendations all day long, but after studying this we do have to do something to secure these elections," agreed Councilmember Tommye Saunooke, of Painttown.
Several councilmembers seemed to feel that "doing something" might include giving the boot to Automated Elections Services, the company that Cherokee hires to provide voting machines and other elections-related materials and services.
"They did not do their job," said Councilmember Perry Shell, of Big Cove. "They were part of this as well."
That understood, Shell said, the tribe should still do everything it can to catch the "sorry low-down rat" that tampered with the ballots.
The audit reported that a review of the ballots for Birdtown showed that, while the machine count election night recorded 193 ballots in which voters had marked only one Tribal Council candidate instead of the maximum two candidates, the count Veriti took to verify the Sept. 13 recount results found only 27 undervoted ballots — the implication, the report said, would be that somebody had accessed the ballots between the election and the recount, adding votes to ballots that had marked only one candidate.
However, according to Ballard the information contained in Veriti's report was not flawless. The audit stated that each voting location had two election workers and AES staff on site, and that there were times when a single poll worker might be left alone at an election site. It also stated that some voters were being allowed to register to vote the day of the election and that the elections board stored unvoted ballots on "open shelving" in an office that was known to have an indeterminate number of keys.
Ballard told Tribal Council that all of the above statements were incorrect — each polling location had substantially more poll workers than Veriti stated, with none ever left to man the polls alone; voters were never allowed to register the day of the election; and unvoted ballots were stored in a file cabinet, not on open shelving, she said.
Unresolved controversy
The runoff election and the recount and even the election itself — which came in the wake of a tumultuous two years that culminated with the controversial impeachment of former Principal Chief Patrick Lambert — have been the subjects of anger and division between many tribal members, and those cracks showed during the Feb. 16 work session.
Some community members criticized how Ballard had handled the situation and expressed doubt that ballot tampering had even occurred.
"Every person that won the election, regardless of if they gained or lost, their ballots were certified. Everybody but mine," said Ashley Sessions. "It was stated that the ballots were not reliable. However, the exact same ballots were reliable for Councilmember Boyd Owle, and he gained 31 votes, so I would like to know why."
"Well Boyd was going to be the clear winner anyway," Ballard said. "That's all I have to say about that. I don't know about if your votes were on (the same ballots with) his. I don't know about that."
In the initial count, Sessions had come in third place to second-place Albert Rose, an incumbent, but following the recount she gained 29 votes to edge Rose by five votes — Rose gained 12 votes in the recount. The unprecedented swing prompted the elections board to recount all races, with Owle ultimately becoming the candidate to gain the most votes in the recount, his total increasing by 30. However, Owle was far-and-away the first-place Birdtown candidate in both the original and recount results.
Birdtown was not the only community to experience larger-than-normal swings in the recount results, but the discrepancies in Birdtown were by far the largest. The elections board ended up voting unanimously to hold a runoff election between Sessions and Rose, a decision that Sessions challenged in court. Sessions argued that the elections board hadn't come to any findings of fact in its hearing to support the conclusion that the recount results were unreliable, thus triggering a runoff. However, Sessions lost the case, and when the runoff was held she managed to pull in only 41.3 percent of the vote.
Sessions still believes that she should be sitting in the seat Rose now holds.
"I don't think anybody tampered with this election," she told Council. "I think all of these documents from this company (Veriti) — at the beginning of it they said they gathered their information from what they were told. Albert (Rose), you lost. The people who supported you didn't like it, and that's what happened. You had an appointed chief supporting you. You had an appointed judge that you voted for who should have recused herself who ruled for you."
According to the report, Veriti interviewed various elections officials but also toured pertinent locations, reviewed the ballots in their storage bins and looked at several other data sources.
Birdtown community member Becky Walker also questioned the runoff.
"She (Sessions) asked you specifically, 'If everyone else's recount stands, will mine?' And you said to her, 'Yes,'" Walker said.
"Well, and then when we started looking at discrepancies and listing everything that happened," Ballard said. "I spoke for myself. I can't speak for the entire board."
"And I think that was really dangerous," Walker said.
"We didn't know what the outcome of the recount would be," Ballard replied. "I assumed it would be just a regular recount. Obviously it wasn't."
Both Sessions and Ballard spoke to the implications this controversy has caused for them personally.
"I'm getting talked about now like I went in and tampered with ballots," said Sessions. "I don't even know where they keep the ballots. If you want to polygraph me, call me. I don't have anything to lie about."
Elections board member Shirley Reagan later spoke up to say that nobody is pointing the finger at Sessions for ballot tampering.
"I'm not accusing anybody of wrongdoing, but I think someone did," Reagan said. "My personal opinion is Ashley (Sessions) didn't have anything to do with it and she was just as surprised as we were."
Ballard, meanwhile, told Tribal Council that she's upset about the way people in the community have treated her in this situation.
"I've been accused and talked about. 'Don't take it personal' — well, it's been personal, and I don't appreciate it," she said. "I go to sleep every night just fine. I did what I thought was right."
Need for change
Regardless of whether ballot tampering occurred, some said, the real takeaway is that the elections board has systematically failed to make the changes necessary in order to guarantee Cherokee's elections are fair and correct — and that has to change.
"Did the election board not say they got some audits in the last previous years about what they should be doing to correct matters, make these fair and impartial elections? Did they do them? No. We wouldn't be here today if they did them," said Johnny McCoy, of Big Cove. "What you need to do is make sure we have justice in Cherokee. It starts from the top down. Y'all got elected to come here and do fairness and justice and equality and look after the future of this tribe. Yet here we are at rigged elections, bought elections, paid-for elections. It's been around a long time. I've watched a lot of elections, but this is a sorry, railroaded deal here."
"I agree with Johnny. I did get railroaded, almost," said Rose, turning the implication of McCoy's words on their head. "It's easy for you to walk up there every day and say stuff like that."
"I can come back up there if you want me to," said McCoy, causing Wachacha to bang his gavel.
Mary Crowe, of Yellowhill, spoke at length about the various audits and recommendations that have been handed to the elections board over the years and culminated by pointing to poll workers' decision to handle a shortage of early voting ballots by marking out absentee ballots as substitute early ballots. When election discrepancies were first discovered, Ballard had said they'd happened because the machine failed to read the marked-out absentee ballots.
"If anyone is responsible for tampering with ballots, it is your election board," she said.
Lisa Montelongo, of Yellowhill, questioned recordkeeping practices within the elections office, saying that there are many people — including her sister — who are enrolled members but don't live on the Qualla Boundary and never registered to vote there. Yet, she claimed, somehow they appear on the voting rolls.
"We seen that registration form that had a little piece of paper on it that said 'moved from this community to this community,' and the question was, well, did you inform this enrolled member that she was registered to vote, and when you moved her did you send her a letter informing her that she was registered in the wrong community?" Montelongo asked.
"We don't know," Ballard replied.
"Again, we're going back to 'I don't know,'" Montelongo said, later bringing her comments back around to the alcohol referendum.
"For you guys to even talk about a referendum on alcohol, you're pretty bold," she said. "You're pretty bold. Because what you're doing is illegal here. You yourself said this board doesn't have policies and procedures they actually follow."
Regardless of what happens with the alcohol referendum or anything else, all those in attendance at the Feb. 16 meeting seemed to agree that Tribal Council and the elections board have their work cut out for them.
"You guys are going to have to work," Walker said. "You have to work and you have to clean up what you aren't even part of, some of you."
Wilson, one of the new councilmembers, agreed with that statement.
"If we need additional work sessions, I think we need to talk about this very seriously," he said. "A lot of people are going to be hesitant to vote now."
"It seems like our voting process is broken," Owle said.
Get the background
For a more detailed look at the findings in the Veriti Consulting report, read the story at www.smokymountainnews.com/news/ item/24227.