Archived News
Welch seeks second term as 30th Judicial DA
Wednesday, February 21, 2018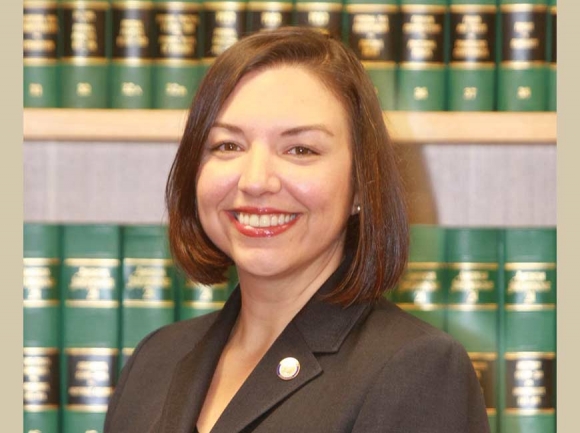 Ashley Welch, the first female District Attorney for the 30th Judicial District, is seeking a second term — and is so far unopposed for the seat.
It's been a challenging first term for Welch, but she's proud of the team of prosecutors she's built and the work they've all done for the seven-county district. Despite the long hours to meet the demands of such a spread-out and busy district, Welch said she couldn't imagine doing anything else.
"We've gotten an enormous amount done but there's still a lot to do. There are a lot of cases that originated during my first term and I want to see them through," she said. "I believe in this job — it's who I am and I can't imagine not running again."
After serving as an assistant district attorney in the 30th Judicial since 2005 under former DA Mike Bonfoey, Welch decided to run for DA on the Republican ticket when Bonfoey announced his retirement in 2013.
She won the 2014 election with more than 60 percent of the vote against Democratic opponent and fellow ADA Jim Moore. She ran on a commitment to prosecute violent offenders and those who prey on children — a goal she says her team has made a top priority.
"We've been trying those cases aggressively when we have good proof," Welch said. "We want cases tried as much as possible and we've had more cases tried than ever before. You only plea out if doing so is what's right, and we're always going to do what's right."
The office experienced some turnover and redistribution of staff throughout the district when Welch took the helm at the beginning of 2015, which is a fairly common occurrence with a change in administration. Welch said meeting the high volume demand of the district's court dockets with a bare bones staff was one of the biggest challenges she had in her first term.
She set out to hire two more experienced prosecutors to join the team, immediately recruiting Christopher Hess from Buncombe County and Eric Bellas from Burke County with 14 years and 16 years of experience, respectively. Hess has since moved on to take a full-time position with the U.S Attorney's Office, but Bellas is serving as the chief ADA for the five most western counties while Jeff Jones serves as the chief ADA for Jackson and Haywood counties.
She also succeeded in lobbying the General Assembly for funding for two more full-time positions in the district last year — Stephanie Lepre was hired in June and Patrick Collins was hired in October to both serve as full-time ADAs for Haywood.
Welch said she plans to ask for two more new positions in 2018.
"I needed six more based on a recent work study. I asked for six more and I got two, which I am incredibly grateful for, and I think I'm going to get two more," she said.
"I need more trial attorneys — one over in Jackson and Haywood and one out here more west."
Haywood County is the largest county in the district and has the busiest docket, which means constituents have come to expect the 30th Judicial DA to be based in Haywood. However, Welch made her home office at the Macon County Courthouse since she lives in Franklin.
"People say traditionally the elected DA has always been in Haywood, but that is not accurate — DAs tend to have a main office where they reside. When Marcus Buchanan was DA, his office was in Jackson because that's where he lived. Macon County is my home," Welch said.
Logistically, Welch said her office in Franklin is centrally located within the district — she's 45 minutes away from Waynesville and can also get to Murphy within an hour. If her office was in Waynesville, it would take her two hours to get to the other end of the district.
Welch said the change in her office location does not hinder her ability to do the job efficiently. Maybe 30 years ago, a DA wasn't accessible after they left the office for the day, but with today's technology, Welch said she's available 24 hours a day.
"I haven't found it to be a hindrance. I can only be in one place at one time. I also have five ADAs in Haywood, which is more than my predecessor had," she said. "Sometimes I'm in Haywood every day for weeks and sometimes I'm only there once a week depending on when I'm needed."
As someone who feels comfortable in the courtroom, Welch also made a campaign promise to not be the average administrative DA. She said she would continue to personally prosecute the most important cases in the district.
Since being elected, Welch said she's prosecuted a number of high-profile cases, including getting a conviction of Louis Gomez, an employee of The Brian Center in Waynesville who was found guilty of sexually assaulting patients in his care.
She also did a lot of prep work on the case against Robert Branning, the escaped convict who led law enforcement on a high-speed chase around Haywood County before being shot and apprehended in downtown Waynesville. Unexpectedly, Branning pled guilty at the last minute and it didn't go to trial.
Welch also spent a lot of time on the case against Tony Alan Coleman, a 52-year-old Waynesville man who ended up pleading guilty to felony child abuse and the murder of his 17-month-old grandson Kyler Presnell. He was sentenced to a maximum term of 25 years in prison and will serve at least 20 years before he is eligible for release.
When Welch took office, she said there were 14 first-degree murders pending in Swain County, which means a lot of resources had to be shuffled farther west. Several of those cases are still working their way through the court system but every one that's been tried so far has resulted in a conviction.
"I've had my hands in every homicide in terms of making sure we're handling it correctly," she said. "I am in court more than a lot of DAs. When you're dealing with seven counties it's difficult to do. I'm on the phone and on the computer until 10 p.m. at night because of stuff that piles up during the day while I'm in court."
If elected to a second term, Welch said she would continue to serve the district with the same top priorities in mind — aggressively going after violent criminals and child offenders. Welch said she would also continue to combat the opioid epidemic inside and outside the courtroom. The DA's goal is to prosecute drug dealers while trying to get drug users the treatment they need instead of contributing to overcrowding in the jails.
"We're starting a pilot program in Haywood to help get people addicted to opioids the help they desperately need," she said.
The LEAD drug diversion program will be collaboration between the DA's Office, the Haywood Sheriff's Office and other local law enforcement to redirect people from jail to treatment. Welch said the details of how the program will work are still being ironed out, but she is hopeful it will make a vast improvement in the local justice system.
"You're going to prison if you're dealing or selling drugs, but with everyday addicts what you see is people convicted and they might get probation. If they break probation it can be revoked and they'll get a six-month jail sentence, but a drug addiction is not fixed in six months," Welch said about the difficulties of trying to prosecute drug charges. "We can't arrest our way out of this problem."
Welch grew up in Henderson County and graduated from East Henderson High School. She attended the University of North Carolina-Chapel Hill and received her law degree from William and Mary School of Law in 2003.
Welch drove to Raleigh last Friday to officially file the paperwork required to run for a second term. At this point, Welch doesn't have a challenger, but candidates have until Feb. 28 to sign up to run.