Archived Outdoors
Many ways down the mountain: Adaptive ski program opens doors at Cataloochee
Wednesday, February 14, 2018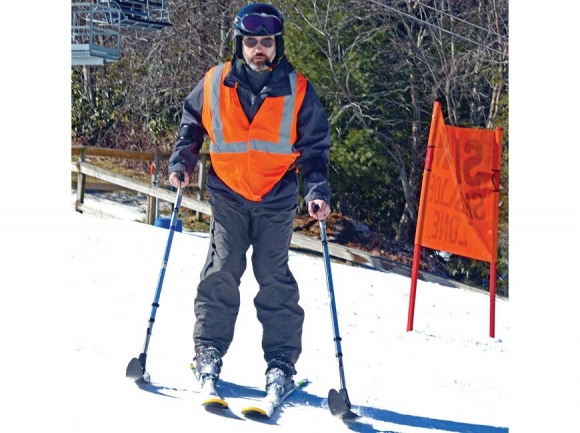 The sky is a flawless, cloudless blue over Cataloochee Ski Area as Mark Brogan, 37, suits up for a morning on the slopes. A U.S. Army veteran who was previously stationed in Alaska, Brogan has a longstanding love for the outdoors and for the unique thrill that comes with a snowy slide down the side of a mountain.
All set up with rented gear and an instructor, Brogan delays his journey to the lift long enough to hold his 19-month-old son Connor in front of the ski school lodge as his wife Sunny snaps a picture.
"We have to have photographic evidence to prove that things happened," she says, smiling.
The blast
For Mark and Sunny, the pre-ski smartphone pic carries more significance than the countless selfie-era photos taken daily on the slopes of Cataloochee. Because, in many ways, it's a miracle that Brogan can even walk — let alone ski.
It happened in April 2006. Brogan was a captain in the Army, commanding a quick reaction force in Raweh, Iraq. They were in a market, an ordinarily busy place, when things suddenly turned quiet.
"We were like, OK, we're leaving, something's up," Brogan said. "We turned the corner. A guy ran around the corner behind me, killed the sergeant behind me. He got most of the blast. I got the rest of it, and another sergeant saw it happen."
Brogan can't remember any of it — the story he tells today is the order of events as relayed to him by that sergeant who witnessed the incident. The guy who ran around the corner was a suicide bomber, and when the blast hit Brogan he was thrown to the ground and badly injured, left with a cracked skull and a shrapnel-laced spine.
Brogan was evacuated for medical treatment. Doctors removed half his skull, and half his temporal lobe, in an effort to prevent the inevitable swelling of the injured portion of the brain from crushing the rest of that vital organ. He walked around for seven months missing much of his skull, wearing a helmet to protect the vulnerable brain tissue from further damage. Finally, he was able to undergo surgery to reconstruct the missing skull.
The road toward healing hasn't been easy. Brogan was in a wheelchair for years, facing the formidable task of relearning so many motor skills he'd already mastered as a child. Today, he stands unsupported. He can drive. He can hold his son. He can ski. But still, it's not like it was. He struggles with memory, processing and balance. He uses hearing aids, and the right side of his body sometimes has difficulty understanding what it's supposed to a do, a result of the shrapnel still lodged in his spine.
Discovering adaptive skiing
When Brogan discovered adaptive skiing in 2011, it was like a light turning on inside of him.
"It was awesome, after not being able to get out of the wheelchair in 2006, 2007 and all kinds of physical therapy and kind of rebuilding myself, so to speak," Brogan said.
The clinic was hosted by the U.S. Department of Veterans Affairs in Colorado, a multi-day event that offered a chance to hit the slopes, aided by all manner of adaptive equipment, in the company of other military veterans. Brogan found himself returning winter after winter, a total of five times.
This year, he couldn't make it out to Colorado. And that's when he and Sunny discovered that Cataloochee has its own adaptive program — and that 90-minute drive from their home in Knoxville is a much shorter journey than the trip to Colorado.
Cataloochee's adaptive ski program is run out of a single room housed within the ski school building, wooden shelves holding equipment capable of giving even the most physically incapacitated people the chance to experience a day on the slopes.
There's the bi-ski, a device featuring two parallel skis with a seat on top, which the participant is strapped into. An instructor can hold onto straps preventing the bi-skier from taking off uncontrollably, and the participant can use hand equipment to direct the device's direction and speed. There's the mono-ski, similar to the bi-ski except for the fact that it has only one ski below it rather than two, and a snow bike. Various sorts of straps and poles allow instructors to maintain backup control for students, and outriggers — a sort of alternative ski pole featuring a small ski-like base that allows users to turn using pressure on poles rather than skis — are also stored in the room.
There are many different ways to get down a mountain.
"And I've got them all in that room there," chuckles Sam Lloyd, the man in charge of Cataloochee's adaptive program.
A tall, thin African-American man with a prominent smile and thick New York accent, Lloyd is the kind of person people tend to notice. He's also the kind of person who tends to notice others. He's been teaching adaptive ski lessons for 12 years, helping people with disabilities ranging from cerebral palsy to muscular dystrophy find a way to safely experience the joy of skiing.
"Any time that you start to for any reason feel uncomfortable — Let. Me. Know," Lloyd tells Brogan as they prepare for their first run of the morning.
First runs
Most of the equipment housed in the adaptive headquarters stays there during Brogan's lesson. He's much more mobile these days than he was in the earlier years following his accident — and even compared to last year, when he used a bi-ski on the VA trip due to a recent knee surgery.
But he still needs some accommodations. He's using the outriggers to steer, rather than the skis themselves, because his spinal injury means that his right leg can't always be counted on to perform when it matters. There's a belt wrapped around his waist, which Lloyd holds onto during lift rides in case of seizure — it's been years since Brogan has had one, but there's nothing wrong with being on the safe side. Brogan's also brought his own set of headphone devices for he and Lloyd to wear, making communication on the slopes much easier than it would be otherwise, given his hearing loss.
Out of the gate, the pair heads to Beginner's Luck, a little hill used for brand new skiers that's accessed by a conveyer belt sort of system, rather than a full-on lift. It's a low-risk place for Brogan to get a feel for the equipment and Lloyd to assess Brogan's ability.
"The first thing I want you to do is just make one straight run," Lloyd says. "Halfway down, make me a right turn, and then a left turn. When you make your turns, use only the outrigger."
Brogan nods, waits for the path below him to clear out, and pushes off. He's cautious at first, but after his second run on the practice slope he's asking if they can try something bigger. So, the next run takes them to the top of the Easy Way lift, next door to Beginner's Luck. When he and Lloyd meet back at the bottom, Lloyd notes that Brogan's been using his skis some for steering, in addition to the outriggers.
"When you can go down there with those things (outriggers) in your back pocket, then you're ready probably to use regular poles," Lloyd says. "But in the meantime, go the safe route."
"We tried that one time. He said, 'Here's poles,'" Brogan says of a former instructor. "And it didn't work."
The problem, he said, is that if the mountain requires putting too much pressure on his right leg to stay in control, the leg will start trembling without his permission.
"You have no control when you're doing that," he said.
"That is why you want to depend more on the poles for steering than the feet at this particular time," Lloyd replies. "You might get to the point where you use those (feet) all the time. Nobody knows, and I certainly don't, but you take what's best for your right side."
Exploring the mountain
Wise advice, but Brogan is eager for a new challenge. Easy Way went well, and after one run he's asking to go higher. The next ride is to the lift exit at intermediate-level Lower Omigosh, and Brogan looks comfortable as he soars down the slope, making turns as necessary to keep his speed in check. He's feeling good when the group reunites at the bottom of the mountain, just a few minutes after 11 a.m., but that's when Lloyd informs him that it's time for a break.
"You need a water break," Lloyd says in a tone that leaves no room for argument. "There's one thing, is stay hydrated."
The men hang out in the cafeteria-style tables set up in the ski school, sipping water and shooting the breeze. Brogan shows Lloyd a picture of the mold used to make his reconstructed skull, mentioning his rank of captain while in the Army.
"Well, I knew I liked him," Lloyd says. "I was a captain too, but I was out long before he went."
But Lloyd also takes the opportunity to confront Brogan with a question.
"How do you think you're doing?" Lloyd asks.
"I'm doing OK," Brogan replies. "I feel pretty comfortable."
The statement rings true. Brogan had been cruising down the mountain as smoothly as most skiers out that day, disability or no. But Lloyd isn't going to leave it at that.
"If there was something you would change, what would it be?" Lloyd asks.
"Um … I don't know," says Brogan.
"How about slowing down some, and taking your time?"
"Slowing down and taking my time?"
"You're in a rush. You're just like a little rabbit that has just had a shot of energy and wants to go, go, go," says Lloyd. "Take your time. In between runs, stop, look around, pick your nose or something, and then go again. But you don't want to just go, go, go, because at a certain point you're going to hit a wall, and that's going to be it."
Brogan is receptive. But he's also ready to hit the slopes again as soon as Lloyd suggests it. The lesson is set to end at noon, and Brogan acknowledges he'll need some rest afterward, and probably a hot tub as well. But he makes two more runs, both starting three-quarters of the way up the mountain and taking a variety of twists and turns down various trails in order to make each one last as long as possible.
"Your technique is good. What you need is just a lot of practice," Lloyd says during the huddle at the end of the final run.
"You probably need three hours of having fun and just practicing what you've learned," he adds. "In your case it's a good thing, you don't have to pay for nothing. So you can come do your skiing whenever."
Brogan thanks Lloyd for his help, later saying that he enjoyed the native New Yorker's professionalism, as well as his company. For Brogan, getting to ski is a reminder that, while a lot of things are hard for him now, he's still capable of a lot.
"I guess it's feeling like I have something that I can do, that I can do almost as well as I did before," he says. "Because there are other parts of my life that are challenging, that I'll never be fully able to do."
There are accommodations available for some of his struggles, such as a planner to assist with memory limitations.
"But that's not exciting," Brogan says. "This is exciting. If you have a disability, some people can get stuck in a funk. This is a good thing to get out and be able to say, 'I can do something,' — even though I have a disability."