Archived Reading Room
A tribute to the Lord of Scaly Mountain
Wednesday, February 14, 2018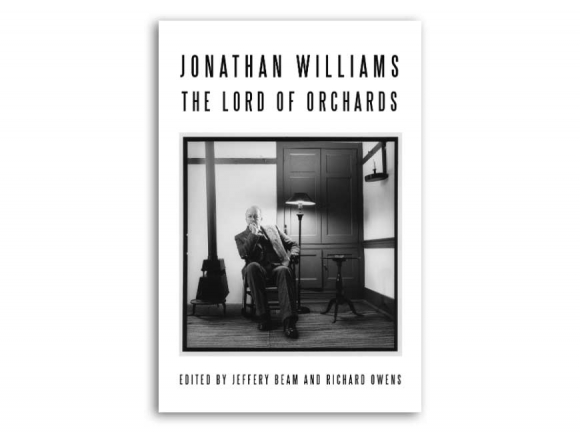 While it is difficult to write objectively yet critically about someone whom you know personally or about a book whose subject matter and/or authors are familiar, sometimes necessity is more than the mother of invention and you have to do things you normally or ethically wouldn't do. Such is the case for me in writing a review about the recent publication Jonathan Williams: The Lord of Orchards about the life and legacy of the poet-publisher Jonathan William, whom I knew and was a relative neighbor of mine who lived just up the mountain from my home in Tuckasegee, on Scaly Mountain near the town of Highlands.
Due primarily to our age difference, Jonathan Williams was something of a mentor to me in that his Jargon Society Press was a precursor and model for my own literary press, New Native Press. But then there were his connections (to the Beats and the Black Mountain poets whom I also knew from an earlier incarnation of mine while living in San Francisco in the 1970s) and the fact that he loved the old Southern mountain culture in which i was raised. Locally, due to proximity and the fact that we had some of the same friends and interests, we would run into each other here in the hinterlands or in Asheville for book events or festivals. And on occasion I would make the trip up winding roads to Scaly Mountain when invited or to open-invitation literary events held at his genteel mountain orchard farm.
Jonathan died in 2008. In subsequent years poets Jeffery Beam and Richard Owens, who were close friends of Jonathans, have been gathering memorial remembrances of Jonathan from his many and varied friends and literary cohorts. In the end what Jeffery and Richard have come up with is nothing less than a tome of close to 500 pages of essays and photographs that document his life, his work and his influences of more than half a century. With over 50 different people represented in this anthology, we get a perspective of the person of Jonathan Williams from quite literally every angle. Remembrances. Responses. Reviews. Recollections.
And then there are the photographs — again from every angle — from the young Jonathan Williams in 1941 to photos taken at Black Mountain College in 1955, to photos taken of him at Skywinding Farm on Scaly Mountain in 2005. A plethora if not a performance of Williams' life, interests and work. There are great photos of Williams with none other than Basil Bunting taken in England in the 1980s that accompany Bunting's description of his early friendship with Williams. Then there are the essays by literary notaries such as Charles Olson, Robert Duncan, Guy Davenport, Michael McFee, Michael Rumaker, Tom Patterson and most essentially his long-time partner and associate, Tom Meyer.
All in all, this impressive anthology of eulogies feels more like a large sculpted tombstone one might find on the grounds of the famous Pere Lachaise Cemetery in Paris, France. Such is its weight. Such is its elegance. Such is its history. And Jonathan Williams and his legacy evokes history if nothing else. No less than Buckminster Fuller said of Williams, "He is our Johnny Appleseed. He is indespensable. We need him more than we know." Robert Duncan described Williams as "amazing," "unique." The translator and publisher Jonathan Greene is quoted as saying: "We all do what we can. Jonathan did way beyond most." And Michael McFee writes: "Williams is a modern day Gutenberg, goliard, scribe, kindling the fires of literary desire."
But Williams may be best known and most highly regarded as a publisher. His Jargon Society Press has published artists and authors such as Charles Olson, Kenneth Patchen, Allen Ginsberg, Denise Levertov, Robert Rauschenberg, Paul Metcalf, Robert Creeley, Lorine Niedecker, Luis Zukofsky, Mina Loy, James Broughton, Sappho, and many more. Concerning Jargon Society books, The New York Times said: "Jargon has come to occupy a special place in our cultural life as patron of the American imagination. One of the chief pleasures they afford is the intellectual shock of recognizing an original voice ignored by sanctioned critical opinion."
In the liner notes for The Lord of Orchards, the editors state: "Williams and his seminal press nurtured the work of hundreds of emerging or neglected poets, writers, artists, and photographers. A recordist of the peculiarities of American and British vernacular speech, Williams tirelessly advocated the beauty of the mundane and the strange." And the accolades go on and on in this collection as with each page, each essay and photo Williams' imaginary Pere Lachaise tombstone grows ever larger in stature as his literary legacy approaches literary sainthood.
In short, as a tribute to this literary legend there is something in Jonathan Williams: The Lord of Orchards for everyone. So wide the range and so diverse the voices that inhabit the valleys, rivers and hills of Western North Carolina and beyond in his behalf that it is, indeed, comprehensive. This sentiment is only further emphasized in the words etched on the back cover of this unique and informative book: "One might call his life a poetics of gathering, and this book a first harvest." Hopefully, there will be more literary fruit gathered and an even bigger harvest to come.
(Thomas Crowe is a regular contributor to Smoky Mountain News and is the founder and publisher of New Native Press. He can be reached at This email address is being protected from spambots. You need JavaScript enabled to view it.)