Archived News
A life in coaching: WCU's Hunter earns career 700th win
Wednesday, February 14, 2018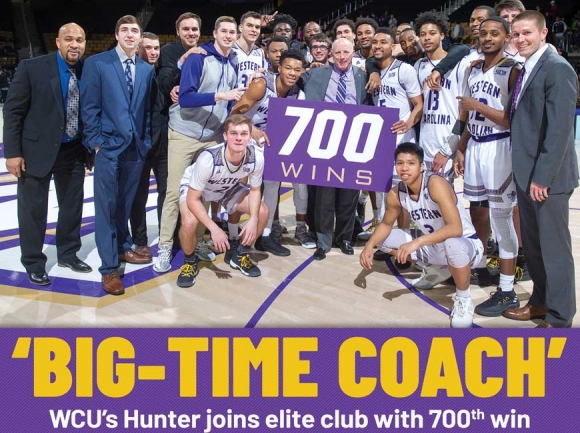 By Todd Vinyard • Special to The Smoky Mountain News
Western Carolina University head basketball coach Larry Hunter's team had beaten Samford 88-71 on Feb. 3 for a significant Southern Conference victory, and he had become one of only 40 other NCAA men's basketball coaches with 700 career wins. Despite the milestone, Hunter followed his postgame routine of 46 years in coaching — finish the work of game day and prepare for the next game.
"I was very appreciative of all the nice things people said and did after the game. I just kept my normal routine," said Hunter, who is one of the top 10 winningest active coaches in NCAA Division I.
"I did the radio interview and press conference. I checked the locker room one last time. Then I came up to my office, and the staff had the game ready for me to review. After everybody left, I took two hours to do edits of the game film to be ready to work on Sunday," he said. "I did go on my phone, and there were some very nice texts and messages. I went home and went to bed and came back here to get back at it. In this business, you've got take care of each day, or you will not be around long."
Players say, true to form, Hunter never brought up the 700th win leading up to the Samford game. His focus was on the game and the opponent.
"He never talked about the 700th win. It was all about that game and being ready to play. He certainly didn't ask, but we wanted to get that win for him," WCU senior guard Deriece Parks said. "I think it was one of the best games we have played all year. When you play for a coach like Coach Hunter, you wanted to give your best for him. It was special to be on the team that earned that win."
Hard work, competitive nature
Hunter's path to 700 wins and joining company with names like UNC's Roy Williams and Duke's Mike Krzyzewski has been driven by a work ethic, love of helping young people grow and a competitive nature to always keep striving to be better. It has seen him go from his first job that involved living in the gym and coaching women's soccer, all the way to being part of more than 850 wins as a head and assistant coach, including the last 13 years in Cullowhee.
"Larry Hunter knows what he is doing," Tar Heels coach Roy Williams said after his squad faced the Catamounts earlier this year in Chapel Hill. "He is a big-time coach, and I've known him for a long time."
Always wanted to be a coach
From the beginning of that long time in coaching, Hunter knew it was what he was meant to do. His Ohio high school coach Gerald Inbody, who he still calls often and goes to the state basketball championships with each year, inspired him. Inbody showed Hunter that coaching could be a way to work with young people, compete and have a career. He was one of several coaching influences Hunter cites as helping him in the profession.
During his first year as head coach at Wittenberg University, Hunter led the Division III school to a national championship and won 305 games in 13 years. He then returned to his alma mater Ohio University and won 204 games in 12 years. Then came a stint as an assistant and associate head coach at N.C. State, where the Wolfpack reached the NCAA tournament in all four of his years in Raleigh.
Hunter arrived in Cullowhee having made 18 total trips as a coach with teams to the NCAA Tournament to lead a school in WCU that has made one trip to the March Big Dance in 1996. He went right to work.
"This area reminds me of where I grew up outside of Athens, Ohio, away from larger cities, and I'm very comfortable here," Hunter said. "I wanted this challenge to bring some stability and a system here. Hopefully, we've done that. I worked for two very good athletic directors Chip Smith and Randy (Eaton). I took the job because of the vision John Bardo had of athletics being the front door of the university and then Chancellor (David) Belcher's leadership enhanced our university even more. There has been so much positive change here. It has been fun to be a small part of that."
The stability Hunter brought to the WCU program includes Catamount ties on his staff, including assistant coach Brigham Waginger, who has been an assistant at WCU since 2010 and played for Hunter before that. Waginger set the school record for steals with 285 in a career where he was known for hard-nosed play on both ends of the court. Hunter regularly asks Waginger and his staff if at 68 years old he is still connecting with players or needs to make changes. Waginger says Hunter's communication and example continue to reach players of today.
"First and foremost, Coach Hunter lives what he preaches," Waginger said. "He shows up early and stays late. He is constantly evaluating everything. He always says when things are not going right you need to look inward and make sure you are doing all you can. The basketball season can be a grind, and he keeps holding people accountable to do their best each day including himself. Players here sometimes hate it, and then they graduate, and they will say 'you know he was right, it takes an effort every day.'"
Support at home
Players are quick to give Hunter credit for being a role model with this work ethic and attitude to improve every day, and Hunter is just as quick to credit his wife, the former Mary Kay Friedrich, for being a great partner in his coaching journey.
"She has been so supportive and a great person to talk to about things that are going on with our team," Hunter said, adding with a smile. "She isn't a sports fan but she does get on the refs at our games, and she knows our basketball system because she hears so much about it from me. We've given each other balance and we've been a great team."
Mary, also an Ohio native who was a dental hygienist before retiring a couple of years ago, got some advice about what the ride of being married to a coach would be like that she has found to be very accurate.
"Forty years ago I got some sage advice from another coach's wife who had been coaching for a while — 'the highs will be high, and the lows will be low, and there will not be much in between, and you have to be ready for it all.' Those words have been true," Mary said. "Beyond the wins and losses we've watched young men grow up and be successful. Larry really believes in sports building character and preparing young people for life. We often get the nicest notes from former players he coached and what he meant to them. He is true believer in the life lessons sports provides."
While Mary partners with her husband Larry in his passion for basketball, he has been a partner in her love for rescue dogs. They have five now, and Mary says with a laugh, "they are happy to see you at home, win or lose." Her husband admits that working with dogs can be like working with basketball players, "they are easy to love, but they will test you sometimes, too."
A teacher at heart
Teaching has been an essential part of Hunter's life. He was a tenured professor while at Wittenburg and taught classes in coaching at Ohio University and Western Carolina. All but one player he has recruited who completed their eligibility at WCU has graduated.
Hunter quickly can recall players who had successful basketball careers like Brian Agler, who was part of the Whittenburg national championship team and has won four professional titles as a coach in the WNBA, but he lights up talking about a long list of players who are executives in business, doctors, lawyers and successes in other fields, and just as importantly he adds "good fathers and contributors in their communities."
Hunter has spent more than five decades in coaching. He has seen it all and seen it again sometimes, but for him, it has always been about the players, the team, the season and the next game.
"I was coaching when whatever you said was the rule, and then I was coaching when they questioned everything," Hunter said before adding with a smile. "Now I'm coaching when they have all the answers. I've seen it all from hairdos to styles of play. I once saw a game with no shot clock that was 4-2 at halftime. You have to adjust, and that is the fun part of this job, along with seeing these young people grow into adults. To be successful, you have to keep growing."
Growing means dealing with adversity like WCU's Deriece Parks had to last year when injury ended his season 11 games in after a promising start.
"Coach Hunter had the same injury, and he talked to me about it and what I would need to do and he was with me the whole time to get through it to this year," Parks said. "The first couple of years were tough with Coach Hunter, and I needed it. He teaches that no matter what you need to be on time and give your best effort. That is something I can take into life every day. Those kinds of lessons about how to be successful is what I think about when I think about Coach Hunter."
Being successful includes winning on the court for this competitive coach. His teams have finished well at the end of past seasons with two Southern Conference Tournament Championship game appearances in three years from 2011-12 to 2013-14. This year's squad remains in the hunt for one of the top six spots in the SoCon to avoid playing on the first day of the conference tournament in March in Asheville. Last year the team won nine games while dealing with injuries and lack of depth. This year's squad has won three of their last four games with a record of 12-14 overall and 7-6 in the Southern Conference and four of the final five games at home in the Ramsey Center this season.
Hunter has often said he likes this year's Catamount team with the blend of new players like junior college transfer Mike Amius, a physical forward who has made an immediate impact for the Cats, and veterans like Parks. The coach is ready for another stretch run at the end of the season involving late nights studying video and looking for edges to finish the season strong.
"Players have been accepting their roles this year," Hunter said. "We have stayed connected and had each other's backs. We are continually improving, and that is a good sign. We are consistently moving forward. Overall, I would like to win championships here, but we've been consistent about what we are doing. We haven't gotten over the hump to make the NCAA Tournament. I'm a competitor, and that disappoints me. But all things have a way of working out. Maybe it is in our future. We'll keep working for it."
Catamounts closing 2018 in Cullowhee
The WCU men's basketball team has four of its final five regular season games in Cullowhee. After the regular season the Southern Conference Tournament takes place March 2-5 in Asheville with seedings to be announced after the regular season is complete. For more information visit www.catamountsports.com.
• Feb. 15 vs. Wofford, Cullowhee, 7:30 p.m.
• Feb. 17 vs. ETSU, Cullowhee, 2 p.m.
• Feb. 23 vs. Furman, Cullowhee, 7 p.m.
• Feb. 25 vs. The Citadel, Cullowhee, 2 p.m.