Archived News
Haywood School Board corrects Open Meetings Law violation
Wednesday, February 14, 2018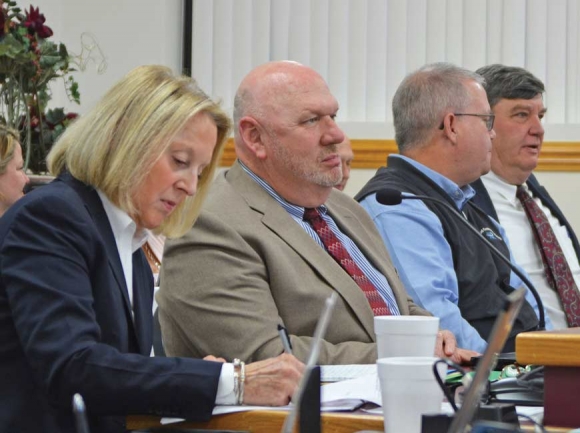 Haywood County Schools administrators (left to right) Superintendent Dr. Anne Garrett, Assistant Superintendent Dr. Bill Nolte, Human Resource Director Jason Heinz and Board Attorney Pat Smathers prepare for a board meeting Feb. 12. Cory Vaillancourt photo
A week's worth of wintry weather in mid-January resulted in the cancellation of meetings by both the Haywood County School Board as well as public charter school Shining Rock Classical Academy, but while both entities violated open meetings laws in rescheduling those meetings without proper notice, only one of those public bodies has now admitted it and made amends for it.
"I need to officially notify you of an issue that we may have inadvertently violated the Open Meetings law at the Jan. 9 meeting," HCS Attorney Pat Smathers told the board Feb. 12.
Smathers' comment came a month after a Smoky Mountain News story alleged numerous Open Meetings law violations by Shining Rock, and Shining Rock Board Chair Anna Eason pointing out that Haywood County Schools had done the same thing a week prior.
Eason was indeed correct that a Jan. 8 HCS meeting that was cancelled and rescheduled for Jan. 9 was improperly noticed, just like a Jan. 17 Shining Rock meeting that was cancelled and rescheduled for Jan. 18 was improperly noticed.
Such meetings require either a 48-hour or seven-day notice, depending on the type of the meeting, but in no instance can a cancelled meeting simply be "rescheduled" as a new meeting without proper notice.
Open Meetings laws in the State of North Carolina exist to ensure that all business conducted by public bodies like HCS and Shining Rock takes place in full view of the public.
After studying the problem, Smathers said that although the meeting rescheduled to Jan. 9 by HCS was held in good faith and was announced to the public, it still didn't satisfy public notice requirements.
"Notification went out to the press and all of the interested parties, but still, there may be technical violation of the Open Meetings law, and we certainly don't want to get a reputation of violating Open Meetings law," he said to the board.
Far more than just a triviality, violations of Open Meetings laws as outlined by North Carolina's General Statutes expose public bodies like HCS and Shining Rock — as well as county, municipal and state governing bodies — to legal liability that would have to be defended on the taxpayers' dime and to the detriment of instructional budgets.
Anyone in North Carolina can seek remedies in the courts for such violations, and if failures are proven, the court may issue an order invalidating actions taken during illegal meetings.
"I think it's the better practice to reaffirm and accept all the actions taken at the [Jan. 9] meeting," said Smathers. "We enjoy a very good reputation following that [Open Meetings law] to the best we can understand it, and so I have prepared a motion that essentially reaffirms and ratifies all action taken by the board at the meeting of Jan. 9, and I think that's the proper solution to make."
Smathers then presented a motion that, as he'd said, reaffirmed and ratified all actions taken by the HCS board during the improperly noticed meeting of Jan. 9, which included the appointment of Assistant Superintendent Dr. Bill Nolte as interim superintendent upon Superintendent Dr. Anne Garrett's impending retirement later this month, as well as the adoption of an hourly school calendar for the 2018-19 school year.
The motion met with unanimous board approval, although board members Jim Harley Francis and Larry Henson were absent from the meeting for unavoidable work and church obligations, respectively.
Garrett said previously that she couldn't remember anything of the sort happening in her 13-year tenure as superintendent, and Board Chairman Chuck Francis said before the meeting that he couldn't recall such an occurrence during his 17 years with HCS.
"When we discovered that we might've been in violation of the law, we wanted to get it straightened out and make sure that the actions we took at that meeting would be covered by action that would not put any taint on decisions made on Jan. 9," said Francis.
Not so at Shining Rock, where the appointed school board members have struggled to adhere to Open Meeting laws since before the charter school opened.
In July 2015, a closed session meeting to discuss property acquisition was held by Shining Rock's board, which refused to identify the parcel in question per state law.
Last October, Eason apologized for "being a little late" on the required 48-hour notice for a highly unusual Sunday night meeting that resulted in the resignation of then-School Director Ben Butler.
And earlier this year, Shining Rock refused to provide resumes to The Smoky Mountain News in advance of a public meet-and-greet with new school director candidates and wouldn't disclose the names of the candidates at the event despite their names appearing on Shining Rock materials at the event.
Eason has since repeatedly refused to answer questions regarding where in N.C.'s General Statutes she found the authority to call the Jan. 18 meeting without proper notice because of inclement weather.
Veteran UNC School of Government Professor and Open Meetings law expert Frayda Bluestein said N.C.'s Open Meeting laws don't have an exception for inclement weather, but Shining Rock's board still hasn't acknowledged its violations.
Francis, however, took full responsibility for the gaffe at HCS, and noted that as a public body in the business of bringing up the next generation of community leaders, doing the right thing before thousands of students and parents is sometimes hard and humbling, but leading by example isn't.
"It's a life lesson," he said after the Feb. 12 meeting. "When you have a wrong, you need to fix it if you can, apologize for what you did, correct the situation, move forward, and learn from your mistakes. Hopefully that's what we've done here tonight."