Archived News
Mission looking for new location for MAMA
Wednesday, February 14, 2018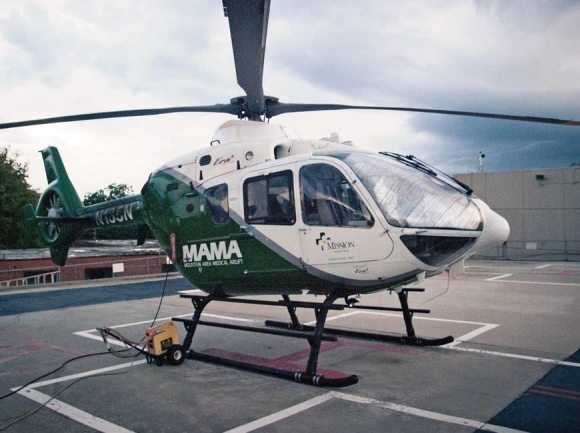 After rumblings and rumors around town, Mission Health confirmed it is actively looking for a new location for MAMA II, the medical emergency helicopter currently stationed at Angel Medical Center in Franklin.
"Mission Health has been exploring land options in Macon County and surrounding areas for a very long time with a goal of identifying a location for the Mountain Area Medical Airlift (MAMA II) helicopter that can improve its ability to support patients more effectively," Rowena Buffett Timms, senior vice president of government and community relations for Mission Health, said in a prepared statement.
Currently, Timms said the location for MAMA II at AMC sits below the fog line and as a result, the helicopter is unable to fly as much as 40 percent of the time because of unsafe weather, including fog, clouds and storms.
"Morning fog and summer afternoon storms are common around Angel Medical Center," she said.
While Mission stated it continues to explore possible sites, it is not able to confirm a new location or even say whether MAMA II will stay in Macon County.
"Our focus has been and will always remain to ensure that we provide the community with the safest and most reliable emergency medical transport options, with improved transport times and increased ability to provide critical care transport via MAMA II when air transport is needed," Timms said. "If and when a more effective location is identified and confirmed, we will share that information."
MAMA has provided critical care transport in the region since 1986 with one helicopter based in Asheville at Mission and one in Franklin. MAMA also utilizes a new helipad constructed in 2015 to improve rural emergency access. The helipad is located on U.S. 28 North next to the Tsali Overlook between Bryson City and Robbinsville.
Warren Cabe, Macon County director of Emergency Services, said he doesn't anticipate it being a major issue for his department if Mission decides to move the helipad out of Franklin.
"We've grown accustomed to normally seeing the pad at Angel but realistically we evaluate every patient's transfer based on a patient's needs and the ETA on an aircraft if it's not on the pad or if it's on another flight," he said.
MAMA provides air medical services to 17 Western North Carolina counties, Eastern Tennessee, Northeast Georgia and Northern South Carolina, but it's not the only airlift service in the area. Macon County Emergency Services also has access to Air Life Georgia 14 based out of Blairsville, Georgia, University of Tennessee's LIFESTAR based in Knoxville, and LIFE FORCE out of Chattanooga when MAMA is tied up on other calls.
While Mission is in the midst of securing a new location to build a new $45 million Angel Medical Center, Mission had no further comment on whether a new helipad at a new location may solve the fog issue. Mission is exploring available property situated on the corner intersection of U.S. 441 and Hunnicut Lane just below Entegra Bank, which would move AMC outside of downtown Franklin where it's been for 60 years.
The hospital replacement project would be a downsized version of the current hospital since Mission announced last April the closure of the labor and delivery unit at AMC. There are no plans to construct a new labor and delivery unit, which Mission stated will save $5 million to $7 million during construction.
The hospital project is still in the Certificate of Need process through the Department of Health and Human Services. Mission expects to hear a decision from DHHS sometime in March.
Mission proposes to construct a two-story, 82,600-square-foot hospital with 30 acute care beds and three operating rooms. If all goes according to schedule, the new hospital is set for completion by October 2021.