Archived News
WCU community voices priorities for chancellor search
Wednesday, February 14, 2018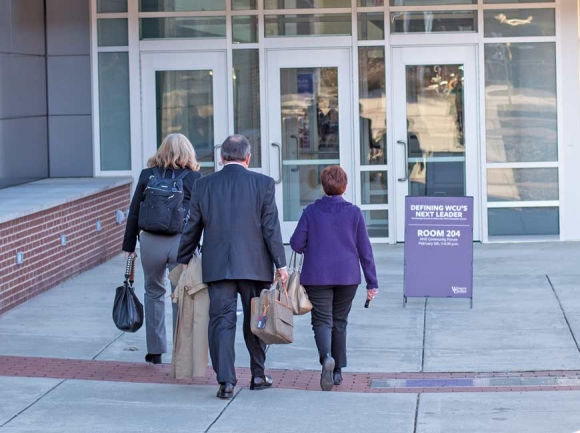 Pat Kaemmerling, chair of the Western Carolina University Board of Trustees and co-chair of the search committee, walks into the Feb. 5 community forum with some of her fellow search committee members. Holly Kays photo
An enthusiastic friend of students. A die-hard fan of all things Catamount. An efficient administrator, effective political advocate, willing traveler and collaborative partner in meeting the needs of students, faculty, staff and the region as a whole.
All these — and more — are characteristics that the new chancellor of Western Carolina University should embody, according to the many people who participated in a total of eight forums over the past week.
"One of the things I think we'll need to ensure that the upcoming chancellor is prepared for is the fact that there are some mighty large shoes to fill — quite frankly, some almost impossible shoes to fill," said Jeff Tazwell, a member of the WCU Alumni Association Board of Directors, during a Feb. 5 forum.
The search process
WCU said goodbye to Chancellor David O. Belcher at the end of 2017, when Belcher announced he was going on medical leave due to a brain tumor he'd been fighting since April 2016. Belcher, a seemingly universally beloved figure on campus and off it, does not expect to return to the position when his leave is over, and Interim Chancellor Alison Morrison-Shetlar has announced that she doesn't plan to apply for it.
Now, the university is faced with the task of finding a new chancellor to lead a community whose members are largely lamenting the fact that the existing chancellor is no longer able to do the job. A 21-member search committee is tasked with selecting three qualified finalists, whose names will head to the WCU Board of Trustees for approval and then to University of North Carolina System President Margaret Spellings for final selection, with approval of that selection from the UNC Board of Governors.
The first step in finding a candidate is determining which attributes are most important for that candidate to have, which is why the search committee held a series of public forums this month. While all people were welcome at all sessions, each one was targeted to a different group of people — students, community members, faculty and staff — with members of the search committee asking a series of questions for participants to respond to. The sessions were recorded, with videos posted online at www.wcu.edu/discover/chancellor-search/open-forums.
While students seemed to care about different issues than faculty, and staff had different priorities than community members, one theme rang clearly across all stakeholder groups — Western needs a chancellor who will not only work for the university, but who will love the campus, the region and its people with a genuine, bleeding-purple kind of love.
"Not everybody wants to come to the hills of Western North Carolina. Not everybody wants to wear purple and gold. Not everybody wants to be part of all the excitement that's going on. Not everybody wants to be part of the students' lives," Shelly White said at the community forum Feb. 5. "We want people around us — not just the chancellor but everybody he brings in — to want to be us, to want to be part of us, and to want to be purple."
The goal is to have a new chancellor in place by Aug. 1, and the search committee will meet at 9 a.m. Thursday, March 1, to finalize and approve the leadership statement that will describe the type of person the university is seeking for the position. The firm Buffkin Baker has been engaged to conduct the search.
The student perspective
Even if it's not possible to get a chancellor who is a WCU alum, said a senior at the Feb. 6 student forum who introduced himself as Avery, the next leader must at least behave like one.
"We should look for someone who acts like an alumni," he said.
Comments from students were also heavy on finding somebody who is accessible to students, who will promote school pride, be inclusive of all viewpoints, support green initiatives and navigate the waters of N.C. Promise to maintain the small school feel that is so important to Western's identity.
"We're kind of a Goldilocks school in the sense that we're not big enough to where you're not going to know your neighbor, but we're big enough to where you can hide from somebody if you need to," Avery said. "We're almost at the perfect size."
As tuition goes to $500 per semester and application numbers soar, he said, it's important that the new chancellor manage that growth well to keep the "Goldilocks school" feel alive, with the student-to-faculty ratio staying below 20.
"This is definitely a more inclusive community than some colleges and campuses, but I also feel like that is where we have opportunities for improvement," said a student who introduced himself as Max, president of the school's Sexuality and Gender Lines organization. "Making it — I don't want to say a priority — but starting to push and making sure everybody on this campus feels safe, no matter what."
Sophomore David Rhode added that he wants the next chancellor to prioritize protecting free speech.
"If you look at universities across the nation, conservative speech or any kind of dissenting speech that might not be in the popularity isn't treated with the same rights and protections at other colleges as it should be," he said. "When you guys are selecting the next chancellor, I would really like for a chancellor to be in favor of free speech."
Commitment to the mission
Inclusion and diversity was a touchstone for several speakers at the faculty and staff sessions as well.
"There's a lot of energy around diversity, inclusion and civil dialogue, and that's what I'd like to be sure our next chancellor is engaged in," said philosophy instructor Amy McKenzie during a Feb. 5 faculty forum.
Faculty members also stressed finding a leader who will advocate in Raleigh for funding, including faculty raises; who is a good listener; and who understands the world of academics, including exactly what Western's mission is as a state comprehensive university.
"It's the resource of education and culture and connectiveness to the people we serve. The idea of being a servant university is unity to this kind of institution, and not all get it," said psychology professor David McCord during the Feb. 5 faculty session. "It's critical that the chancellor does."
McCord's colleague in the psychology department Bruce Henderson also spoke, giving his opinion that while Spellings' charge that the search committee consider candidates coming from outside the realm of academia was a valid one, the search committee should still be cautious in assuming that certain skill sets will transfer.
"The oft-used analogy with business breaks down quickly, because in academics we work with the only customers in the world I can think of who want to be cheated," Henderson said. "Too many want less reading, less writing, less thinking. And when educators make them happy by giving them what they want, they commit educational malpractice."
Faculty members also spoke up to advocate for the liberal education and a chancellor who will value education for reasons that go beyond mere career preparation.
"The observation I'd like to make is interdisciplinary studies," said art professor Jon Jicha during a Feb. 5 staff session. "The opportunity to shift the paradigm from discipline-specific to multi-discipline education. I think it's really, really important. My field of course is design, but design is a verb, and how that works with other disciplines I think is real important."
A place for arts and athletics
Staff spoke to many of the same issues that faculty did, but with a greater emphasis on the need for somebody who is savvy when it comes to fundraising and politics, and for somebody who recognizes the importance of athletics in university life.
"I think athletics can be the front porch of a university," said Joey Cutting, assistant director for development at The Catamount Club. "A lot of places, it's the first thing you hear about. Alabama, 'Roll Tide'. This is not that, but people get really attached to the branding of an athletic department."
Community members were also outspoken in their support for a chancellor who will value not just athletics, but the arts as well.
"He or she must have a passion for the arts, and a love of athletics with an understanding of how our 300-plus student athletes play such an important role in the lifeblood of our university," Greg Parsons said during a Feb. 5 community forum.
Steve White told the search committee how he came to Cullowhee 57 years ago as a student athlete and spent his career in WCU's athletic department.
"Back in 1983, when we went to the NCAA playoffs, the national exposure that we got, what happened on this campus, was unbelievable," he said.
Lenny Gonzalez, meanwhile, asked that the search committee find somebody who is not only a good person himself (or herself) but who will bring good people along too.
"What I would like to ask for is somebody that has a good track record of picking good people around him," Gonzalez said. "To borrow a sports analogy, it's the coaching tree."
WCU's next leader will be somebody new, somebody with his or her own strengths, and own vision, separate from those Belcher had to his credit. And that's a fact that person after person has asked the search committee and university community alike to bear in mind.
"We're not going to get another Dr. Belcher," WCU alum Ted Yoder said during the Feb. 5 community forum. "We've got to watch the danger of expecting too much. We can't find somebody just like him — there's nobody like him. But there are plenty of people out there who would love this place and love to serve and help us grow and be a better place to be."