Archived News
Haywood GOP officer sues over mocking memes
Wednesday, February 14, 2018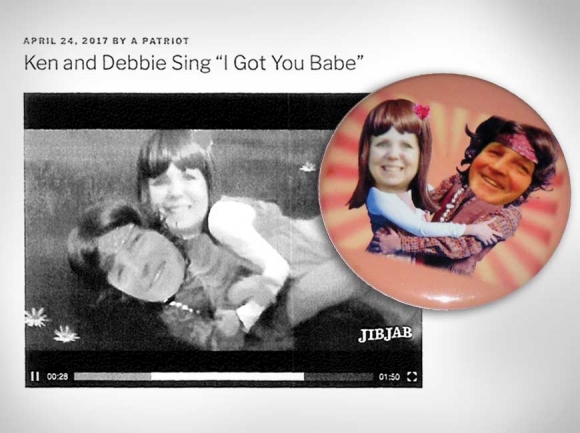 Left: Exhibit D-4 as presented by HCGOP Vice Chair Debbie King, who is suing members of the Haywood Republican Alliance over unauthorized use of her likeness. Right: HCGOP Vice Chair Debbie King (left) and Chairman Ken Henson depicted as 1970s pop duo Sonny & Cher on a button at the center of a lawsuit by King. Donated photo
Sticks and stones may break some bones, but according to a lawsuit filed by one local politico, the memes can sometimes hurt, too.
The lawsuit, filed in Haywood County Feb. 6, states that Plaintiff Debbie King has suffered "emotional psychological distress, embarrassment, humiliation, physical disability, loss of appetite [and] stress" over a series of doctored images — commonly called "memes" — circulating around the internet.
Named as a defendant in the suit is the Haywood Republican Alliance, a splinter faction of right-leaning political activists that have been unendingly troublesome to the mainstream Haywood County Republican Party, of which King serves as vice chair.
This isn't the first time social media posts have generated controversy among the two adversarial groups, which have been pitted against each other since members of what would become the HRA were ousted from power in the HCGOP during a counterinsurgency staged at party elections last spring.
Individually named in the suit are defendants Eddie Cabe, Jeremy Davis, and HRA Treasurer Richard West, who along with fellow HRA member Monroe Miller were given the boot from the formal party apparatus last fall on charges of party disloyalty that arose largely from social media. Miller is not named in the suit.
King's allegations stem from photographs and videos she says were disseminated by HRA members in mid-2017. Exhibits presented by King in the suit show an April 27 Facebook post allegedly made by Cabe that features the faces of King and HCGOP Chairman Ken Henson superimposed on the bodies of 1960s pop superstars Sonny and Cher.
That image was made into a button dubbed the "Kebbie" button, which further exhibits show being worn and allegedly sold by Davis at the Hillbilly Jam Festival in July.
"Eddie Cabe we've almost sold out of Kebbie buttons at hillbilly jam can you bring some more by here please," reads a Facebook post by Davis that's also presented as an exhibit in the suit.
The image itself was generated from videos anonymously created on Jibjab.com, a popular website that allows users to customize photos and videos with whimsical templates and soundtracks for use as internet greeting cards.
One video showed King and Henson appearing in a video parody of Danish electro-pop group Aqua's 1997 hit, "Barbie Girl," while another depicts them as Sonny and Cher, locked in an embrace, singing their 1965 chart-topper "I Got You Babe."
According to an exhibit presented by King, the Sonny and Cher video was posted to a closed Facebook group by Paul Yeager, an HRA member who was acquitted of the same party disloyalty charges that befell Cabe, Davis and Miller last year and was recently acquitted of an alleged assault on HCGOP precinct chair Ted Carr. Yeager is not named in the suit.
Perhaps the most salacious exhibit offered by King is an otherwise innocent-looking photo of King with NCGOP Executive Director Dallas Woodhouse at a recent GOP function that prompted a brief Facebook discussion of the 1970s porn classic "Debbie Does Dallas."
A subsequent exhibit opines that the totality of the situation infers a romantic relationship between King and Henson, who are both married.
King's suit thus alleges invasion of privacy by appropriation of name or likeness and intentional infliction of emotional distress, and goes on to say that she's been "damaged in her reputation, her prestige, her social standing, and has suffered embarrassment and humiliation amongst the community and her peers, friends and acquaintances."
As a result, King wants more than $75,000 in damages plus attorney's fees from the defendants, and also asks the court to order a cessation of the publication, sale, distribution or use of her likeness.
Davis said Feb. 11 that neither he nor anyone else named in the suit was responsible for generating the video, but he did make "a dozen or two" buttons at most, and that they weren't for sale but were instead given away to those who'd expressed prior interest in having one made.
"I'm yet to talk to legal representation, but I feel as though it's comical," Davis said.
Davis thinks King could be considered a public figure by virtue of her standing for election to the office of vice chair of a semi-public political organization that has the sole intention of publicizing its political agenda, candidates and platform.
"She opened the door to this through her position and all she has to do if she can't stand public scrutiny for all the nefarious things she's done is step down," he said, referring to pre-existing disputes between King and members of the HRA. "If she can't deal with a little criticism for her actions, she doesn't need to be in that position. She needs to have thicker skin."
Davis thinks that even though King probably won't prevail in her suit, she can force the HRA or its members to engage in a costly legal battle.
"This is definitely a case of paper terrorism. This is just to get us in court, to spend money and have something else to pay. And that's OK," he said. "I'll gladly do that."
As to how the suit advances the ideological goals that King and Davis and the HCGOP and the HRA still share, Davis was succinct.
"This lawsuit just goes to show how foolish and inadequate the HCGOP leadership is. It does zero for the conservative cause, the Republican Party or anybody involved."
King and her attorney Russell McLean III did not return requests for comment.