Archived News
Visioning Cashiers' future: Planning process kicks off for mountain community
Wednesday, February 14, 2018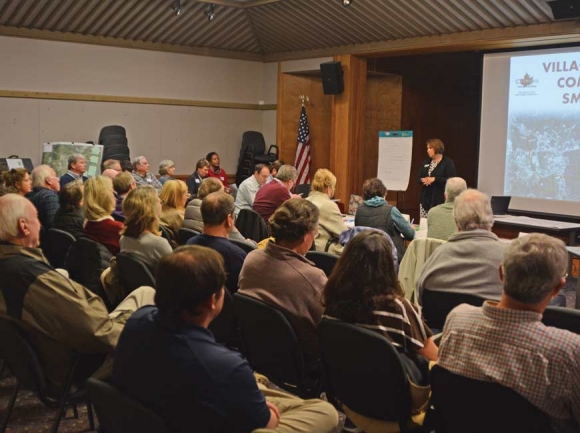 Area residents attend a planning workshop to begin envisioning what the future looks like for the small mountain community of Cashiers.
An effort to envision the future of Cashiers is now underway as work begins to create a small area plan for the unincorporated Jackson County community.
Jackson County has engaged the Raleigh-based firm Stewart — which will partner with Asheville-based Friction Shift Projects — as consultants on the project, which is managed by the Jackson County Planning Department. The team will be working through April or so to gain a baseline understanding of how different segments of the community would like to see Cashiers grow, delivering a draft plan to the Cashiers Community Planning Council in May or June.
Community priorities
Workforce housing, improved pedestrian walkways and broadband internet were foremost in the minds of more than 50 people to attend the kickoff meeting for the planning effort, held Jan. 22.
"I think the pedestrian issue is a big issue," said Maria Chasins, who lives about 4 miles south of the crossroads with her husband Dan. "The community is lovely in its size now. It's small — it's one of the things that's charming about the community. But it is difficult to navigate the so-called downtown area because there is a lack of sidewalks."
It was a sentiment echoed by many that night, with more people than not having an anecdote involving heavy traffic or poor weather coupled with the sight of a person walking on the pavement of N.C. 107 as a means to get from A to B.
Workforce housing was just as prominent of an issue.
"We definitely need to do something with housing," said Justin Allman, who owns Firemoss Pottery. "We need affordable homes for people who are trying to make a living here. We can't just have $500,000 homes, and then that's it."
Cashiers is known for its high-value homes, coveted by single homeowners looking for a mountain getaway or wealthy retirees moving into a new phase of life. But the mountain community is primarily tourism-driven, and the people hired to welcome guests in industries ranging from restaurants to hospitality to recreation are often forced to undergo lengthy commutes when they find themselves unable to afford housing closer to work. That can be a hard sell, making good employees difficult to retain.
"Workforce development is my huge interest," said Brandy Letson, who owns Cashiers Valley Pharmacy with her husband Mark. "It's something I work with the (Cashiers Area) Chamber of Commerce on. We all have to worry about how to bring in employees here."
Looking for new opportunities to attract folks to Cashiers is also a must, said Roy Jamison, of Friends of Lake Glenville.
"You look at what Cherokee just did. Building that mountain biking trail in Cherokee has attracted people to that area, and then they rent bikes from there and everything," Jamison said. "Every time we go, we go have lunch there. There are a whole lot of different ways we can attract people here."
The difficulty of accessing reliable broadband internet and cell service is another priority that residents would like to see addressed in the new plan. Outside of the main crossroads of Cashiers, such connections are hard to come by.
"Any kind of internet access is data-capped, slow, expensive," said Maria Chasins. "Sometimes we sort of feel like we're living in a third-world country."
"The broadband situation here is dreadful," agreed Dan Chasins. "We're not unique in that by any means, but I think it's something that all of Western North Carolina should be addressing."
The planning process
To dig deeper into these needs and more, the group from Stewart and Friction Shift will do a three-day series of interviews, community meetings and on-the-ground observations. The firm will also meet with stakeholder groups — groups of people chosen to represent the various perspectives present in the community. Some of those meetings have already taken place.
"It gives us a little bit of a view into the community, and it also gives us a list of people that maybe we haven't reached out to that we need to reach out to," Jackie Turner of Stewart told the audience Jan. 22.
The schedule presented during the January meeting called for the three-day workshop to take place in April, with Turner explaining it had been scheduled so as to allow seasonal residents not present in the wintertime to participate. However, multiple members of the audience asked whether it could be done later, perhaps May or June, since seasonal residents aren't typically around in April.
In an email, Planning Director Michael Poston said that the timing of the three-day workshop is under review as a result of those comments. Dates will likely be available in the next few weeks, he said.
The small area plan will be the first planning effort targeted to the Cashiers area since the Mountain Landscapes Initiative, which the Southwestern Commission prepared in 2007 and 2008. The Jackson County Comprehensive Plan, which commissioners adopted last year, directed that the planning department start working on small area plans targeted to the various unincorporated communities within the county, Cashiers foremost among them.
Turner told the group Jan. 22 that her team would revisit the recommendations contained in the Mountain Landscapes Initiative to determine if those findings are still relevant to the community. Any findings that still have merit would then be rolled into the new plan. The plan will also incorporate goals from other planning documents, such as the Jackson County Comprehensive Transportation Plan.
"We're not throwing out the baby with the bathwater," Poston said of the Mountain Landscapes lan. "If there's good ideas in there, we're going to revet those ideas."
Besides, he said, at this point 10 years have passed since the Mountain Landscapes Initiative — which county commissioners never adopted — was completed. It's typical to update such plans every five to seven years, so Cashiers is overdue for a fresh planning process.
Not everyone agreed.
"In a nutshell, I would say to say, 'it's 10 years old and a lot has changed' is just wrong," said Steve Zoukis, who was involved with the creation of the Mountain Landscapes Initiative. "In 10 years nothing's changed."
As part of the plan, Turner said, Stewart's engineers will come up with baseline estimated costs for the various goals proposed. In addition to identifying those goals, the process will include prioritizing them. The community may identify 20 different things that it wants to see happen, but the question is, which of those could likely be accomplished in one year? Five years? Ten?
The more focused the community is with its priorities, she said, the more success it stands to achieve in making the changes it desires.
The process
• January: kick-off meeting, site visits, data gathering
• February: Begin inventory and existing conditions
• March: Start plan development and design concepts
• April: Hold three-day workshop to gather input from community stakeholders*
• May/June: Deliver draft plan to the Cashiers Community Planning Council
• June/July: Secure required approvals of the plan from Cashiers Council, Jackson County Planning Board and Jackson County Commissioners
Information and resources related to the planning effort are posted at www.planning.jacksonnc.org/cashiers-small-area-plan.
*The Jackson County Planning Department is discussing delaying the three-day workshop until later in the year, when summer residents would be in town. This possibility means that the later part of the schedule is subject to change.