Archived News
Video gaming parlor nudged out of Waynesville digs
Wednesday, February 14, 2018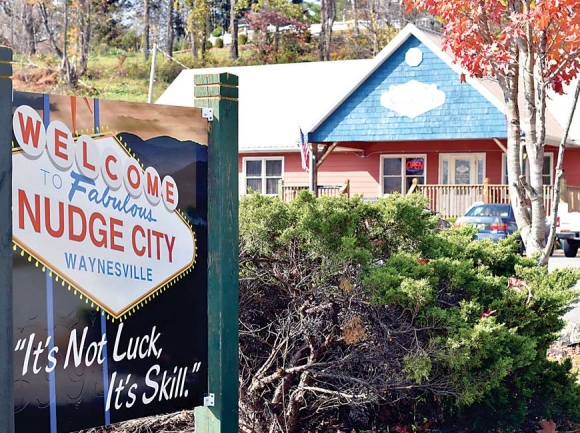 A controversial video gaming parlor that opened on Dellwood City Road last summer will cease operations and remove all signage by March 9, according to a consent agreement between the town of Waynesville and Nudge City owner Tami Nicholson.
As a condition of the agreement, which was reached Feb. 6, Nicholson will withdraw her appeal to Waynesville's Zoning Board of Adjustment of a revocation of occupancy notice made by the town in November.
Waynesville Development Services Director Elizabeth Teague said the business shouldn't have been allowed to open in the first place because it lacked proper permits, and because video gaming wasn't a permitted use in the mixed-use overlay of the historic Love Lane Residential District.
But until late November, video gaming wasn't a permitted use anywhere in the town; on Nov. 28, a text amendment to the town's land development standards passed the Waynesville Board of Aldermen unanimously and designated Regional Center districts like the Russ Avenue corridor and the Walmart area of Hazelwood as appropriate locations for such endeavors.
The debate over Nicholson's Dellwood City Road business — which is, essentially, gambling — never really centered on the moral or legal prudence of that particular type of gaming, but a recent indictment of Nicholson stemming from a raid at another of her business locations last April certainly did.
That indictment, issued Jan. 8, accuses Nicholson of operating video gaming machines not legal under the state's current definition of acceptable gaming. Assistant District Attorney Jeff Jones moved to revoke her $50,000 bond Jan. 26 stating that the machines at Nudge City were also outside the law.
After several delays in the hearing, Nicholson remains free; Judge Bradley Letts lowered Nicholson's bond to $15,000, provided she does not operate gaming machines deemed illegal by the State of North Carolina.
Nicholson's attorney Jonathan Song wasn't immediately available for comment.