Archived Arts & Entertainment
Soul insight: A conversation with Marcus King
Tuesday, February 13, 2018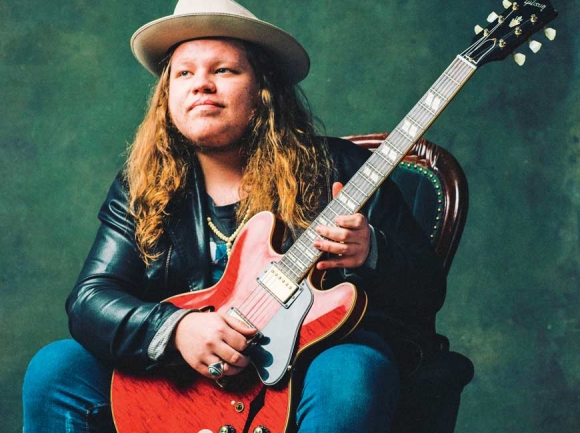 Rising guitar prodigy Marcus King was recently photographed by Sandlin Gaither. The Marcus King Band will be playing Asheville Feb. 16-17.
You find yourself frozen.
Watching and listening to The Marcus King Band onstage, your feet are stuck to the floor, your eyes entranced and fixated on the whirlwind jam conspiring before you. Razor-sharp guitar licks, thundering drum-n-bass hooks, twinkle-toed keyboards and a ferocious horn section — a seamless blend of as many musical genres as there are possibilities.
And standing in the middle of this melodic storm is 21-year-old guitar prodigy Marcus King. The Greenville, South Carolina, native is no stranger to the musical traditions of Southern Appalachia and the Southeast. He cut his teeth playing any jam circle that would have him, many of which being in venues in Asheville and around Western North Carolina.
The band's recent EP, "Due North," bolts from the speakers like a bat out of hell, where the mind drifts and makes immediate comparisons to the likes of Chicago during the late Terry Kath years, one of the most underrated guitarists of the 20th century who fronted the group like an electric maestro gone mad.
Though only in the early stages of his promising, bountiful career, King can't ever shake the feeling that his ever-evolving craft and creativity is in a race against time, where the lost-too-soon faces of Kath, Jimi Hendrix and Duane Allman appear — and reappear — like haunting visions, not only as guiding forces, but also as warning signs of what to do and not do when chasing your dreams.
Luckily, King is in good hands, as seen by his friendships, collaborations and ongoing mentorships with guitar icons Warren Haynes [Gov't Mule/Allman Brothers] and Derek Trucks [Tedeschi Trucks Band/Allman Brothers], musicians who give flight to the hopes and aspirations of those who follow in their footsteps.
Smoky Mountain News: What were the hopes coming into the past year?
Marcus King: We did 150 dates [in 2017]. Our intention was just to be on the road as much as possible, and to see how far we could push each other, physically. See what happens at the end of it. If we hate each other, do we move forward? If we don't, we're good.
SMN: Where does that work ethic come from?
MK: A lot of my heroes, just looking at what they accomplished. Duane Allman, for the main example, he was 24 when he passed away. He built a legacy and I don't think he was able to see the fruits of his labors. I use that as an example because, you know, we're not promised tomorrow. I think it's a touchy thing. I use it more so for motivation, and not getting down on myself. It's good to be happy with your accomplishments, but not complacent, and feeling like you should be moving forward. We should always be evolving — as human beings, as musicians, and as a band.
SMN: Is there ever a double-edged sword with that?
MK: Oh, yeah. I get into my head a lot. I get really bad anxiety attacks, just overanalyze everything a good bit. And music is the only release of that, really. That's the only opportunity I have to get it all off my chest. Onstage is when I'm most comfortable. Some things I can scream and sing that I can't really convey [in person].
SMN: What have you learned from Warren [Haynes] and Derek [Trucks] that you've applied to your own career?
MK: Well, they're always professional and they're always kind. To anybody that wants to talk to them, they're there to speak to them. And I always make it a point to go speak to the people that have allowed me to be where I am. Just staying humble and remembering your roots, it's certainly something I've always found important. From my grandfather and my dad teaching it to me, and then seeing people like Derek and Warren — and Jimmy Herring [of Widespread Panic] — that really hold those values true. I love coming back home and just getting put right back in my place by all the musicians that used to let me come sit in when I was a kid. I go back and jam with them, they're still my heroes and I'm still Marcus. And they don't treat me any different — I love it.
SMN: What are the hopes for this coming year?
MK: Trying to grow and to continue to push each other musically. And as human beings, trying to expand my mind spiritually. I'm trying to find other outlets to free my mind. This past year kind of showed me that I'm making my music into something that is a compulsive thing, [where] "I have to do it in order to have any kind of happiness" is not okay, because it takes away from the true reason I play music in the first place — to be happy. And I'm just trying to embrace the moment I'm in.
Want to go?
The Marcus King Band (rock/soul) will open for Umphrey's McGee (jam/rock) during the Blue Ridge Rockway at 8 p.m. Feb. 16-17 at the U.S. Cellular Center in downtown Asheville.
For more information and/or to purchase tickets, click on www.marcuskingband.com or www.umphreys.com.