Archived Arts & Entertainment
This must be the place: 'I ain't getting rich now but I'm gettin' more than by'
Tuesday, February 13, 2018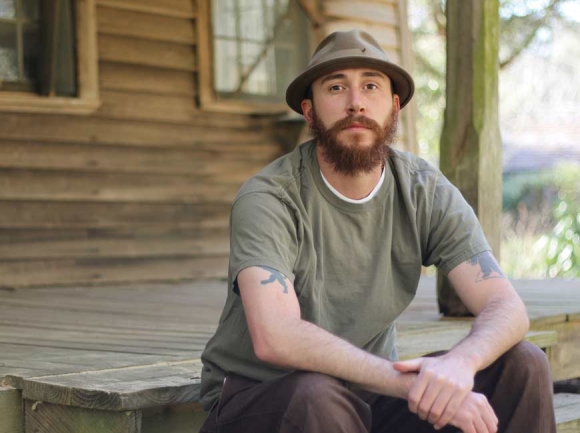 The solidarity was evident.
Sitting onstage this past Monday at Nantahala Brewing in Bryson City, I conducted another episode of "Smoky Mountain Voices," where local characters and officials are interviewed during an extended face-to-face conversation. It's in an effort to learn more about the people and places that make Western North Carolina such a unique and cherished region.
My guest this week was author David Joy. The acclaimed Jackson County writer has become nationally and internationally known for his first two books, Where All Light Tends To Go and The Weight Of This World. His third book, The Line That Held Us, will be out in August (Putnam).
And throughout our 1.5-hour back and forth Q&A, I found continued solidarity with Joy's background and thought process, his outlook that mirrored mine in many ways, even though we grew up in two different states (of mind).
Joy hails from the West Charlotte area, where urbanization and gentrification flooded in during his youth, though never flooding his ancestral vision of a life well lived in a rural setting, far away from dirty air/water and the fast-paced urges and distractions of modernity.
Being from rural Upstate New York, I was raised in a town of 1,500 people or so. Frigid winters on the Canadian border, where downtown is now abandoned, a victim of big box stores and a brain drain when the longtime pharmaceutical company left the community and resettled overseas.
So, when Joy spoke at-length about being a literary voice for those "forgotten and left behind" of Southern Appalachia, I felt a common ground in what I saw up north, and now in my day-to-day purpose of seeking out hard-earned truths and consequences here in Western North Carolina.
One of the reasons I chose (and continue) to live and work in these parts is my sincere interest in capturing the voices of these mountains, of a people, as Joy said, "that are hard to separate from the landscape," in terms of their deep roots of family, professional trade, and genuine appreciation for the beauty that surrounds them, and all of us currently reading this.
During our conversation, Joy mentioned aspects of his adolescence, where drugs came into play early, and so did weird, surreal and, perhaps, poignant situations that resulted from it all. One of those things where you chase whatever substance it is you're after, only to end up in the depths of whatever scene you find yourself in, standing there in sheer awe of the dark love and potentially dangerous shenanigans you're now involved in.
And I remember scenarios like that, where I would be in some rusted, weather-beaten trailer on a backroad in the North Country, sitting on a musty couch, waiting to buy some weed or being smoked up while waiting for whatever drugs my friends wanted to buy, and witnessing first-hand the choices — either hard or under the influence — folks would make who were two or three times my age.
You'd see folks living paycheck-to-paycheck (or no paycheck at all) and seemingly crippled by their physical or emotional self, where, at times, you'd see real love between their tightly-knit, often-misunderstood social circles, and why people make the choices they do in the time they have.
It's like the Drive-By Truckers song "Puttin' People On The Moon" tragically states: "So I took to runnin' numbers for this man I used to know / And I sell a few narcotics and I sell a little blow / I ain't getting rich now but I'm gettin' more than by / It's really tough to make a living but a man just got to try…"
But, beyond that, there was also the culture of that region — and of Southern Appalachia, too — where dialects, skillsets and back histories are rapidly disappearing. A clean slate to serve the needs of those looking to wash over the once-bright canvas of heritage — a true sense of place vanishing.
Not to mention, as Joy discussed, how the Appalachian Mountains (which includes my native Adirondacks) are time-and-time again used as a scapegoat for what's "wrong with American society today." Fingers keep getting pointed towards these mountains and its people. But, nothing ever seems to change, or gets changed overnight without rhyme or reason, as if whatever was there the day before was a mirage seen in haste.
These thoughts and sentiments might seem like ramblings from Joy and myself. But, it's the mind cranking away, thinking of what needs to be done, right here and now, how to give the microphone back to the silent majority of folks we see every day — with or without internal hope — and not let the loudest voices (usually from the fringe) in the room dictate the dialogue and overtake the conversation.
So, ladies and gentlemen out there in Western North Carolina, I ask this of you: Are we doing enough to address the ongoing societal issues affecting people and organizations in our backyard? Have we recognized those in trouble as human beings in need, or do we continue to cast them aside as "less than"? Are we each putting in the time and effort to ensure the survival of not only our neighbors, but also the mountain communities we call home?
Life is beautiful, grasp for it, y'all.
(Editor's Note: You can stream the entire interview with David Joy by going to the Nantahala Brewing page on Facebook and clicking the "Video" tab. You can reach Garret by emailing This email address is being protected from spambots. You need JavaScript enabled to view it..)
Hot picks
1 Rock/funk act Porch 40 will hit the stage at 9 p.m. Saturday, Feb. 24, at Mad Batter Food & Film in Sylva.
2 Balsam Falls Brewing (Sylva) will host Taylor Martin (singer-songwriter) at 8 p.m. Friday, Feb. 16.
3 A stage performance by "TAO: Drum Heart" will take place at 7:30 p.m. Saturday, Feb. 24, in the Bardo Arts Center at Western Carolina University.
4 Western Carolina University and Folkmoot will host a Lunar New Year event from 6 to 8 p.m. Friday, Feb. 16, at the Folkmoot Friendship Center in Waynesville.
5 The Ugly Dog Pub (Cashiers) will host The Paper Crowns (Americana/blues) at 9 p.m. Friday, Feb. 16.