Archived Arts & Entertainment
New Yancys album strikes a chord
Tuesday, February 13, 2018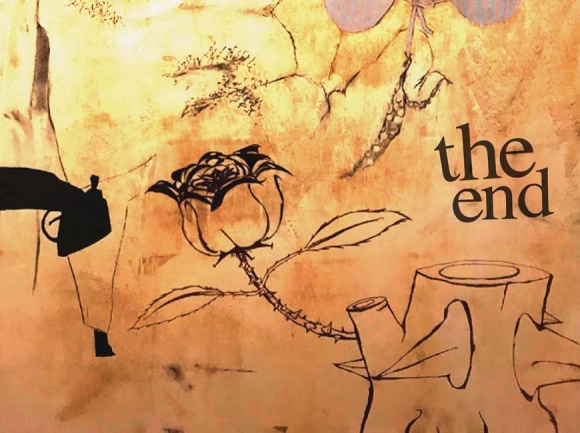 A southern gothic love triangle set in the age of Trump? Or maybe J.D. Vance's bestseller Hillbilly Elegy as a postpunk concept album? How about a singer/songwriter coming off a ten-year hiatus, provoked from a peaceful period of dadhood into sounding his barbaric yawp over the roofs of rural Appalachia and the rest of "the solid south"?
There are many ways to frame and interpret The Yancys new album "The End," which somehow manages to function as protest music (#resistance), a concept album, and a good, old fashioned rock and roll all at once. But it is clear after one listen that the untoward rise of Donald Trump that resulted in his becoming the 45th President of the United States had a profound effect on Yancys founder and songwriter, John Hawkins. The seeds for this record were planted just prior to the election of 2016, as the Asheville resident was coming to grips with the implications of the Trump movement.
"In October of 2016, these songs just started coming to me," Hawkins said. "I would sit around and strum my acoustic guitar at night, and they just started coming out. A reaction to the election, and campaign, I guess. They really just started spilling out. It was almost surreal."
Titles like "Tiny Hands," "Donnie, You Don't Love Me Anymore," and "Deplorable" are immediate and accurate indicators of the tone and direction of the album. If you think a chorus of "Tiny hands, puny heart," might seem a little too pat on the page, wait until you get to the refrain: "Little Stephen will lead you into the darkness, oh yeah/Little Steven will drag us into the sea." I wasn't sure whether "Little Stephen" was Bannon or Miller, or whether Hawkins intended "you" to indicate Trump or the entire country. In the end, these questions are largely beside the point. They're pulling all of us in the same direction, "into the darkness."
"We need to recognize as a nation that this is not who we are, not what we were built on," said Hawkins. "I realize there were a lot of disenfranchised folks out there, uneducated whites among them. Trump has brought out and emboldened the worst that we have to offer as a nation. Folks like Stephen Miller will lead us into the darkness. How does deporting folks who served in the military, paid taxes, raised families here, how does that make us great again?"
The album's central concept loosely follows the misfortunes of a trio of Trump supporters who live in rural Appalachia and find themselves in a love triangle. Betty, an unemployed single mom since 16, John Kenny, a southern rock/metalhead who sold his guns for guitars, and does not understand why people are so upset by the election, and Tommy, your basic white supremacist. All three are all addicted to opioids. Tommy ends up killing John over Betty.
It is clear that Hawkins has empathy for these characters. They supported Trump for the reasons so many white, working class voters did: they "like his style and believe Hillary is a crook." For Hawkins, these people are not "trailer park trash" or tired stereotypes. They are people he knows very well, relatives and neighbors, the people in line in front of you at Walmart.
"I'm struck by the support Trump has received from the people who truly need some of the most help, but won't get it, particularly around healthcare, jobs, and the opioid crisis," he says. "My first cousin died from an overdose. One of my best musician friends died from opioids. It hits close to home. I love the south, love Appalachia, love the people. I hate the stereotypes associated with it/them, but sometimes it's of their own making."
While life in the age of Trump is obviously front and center as a theme, the album's biggest strength is Hawkins' uncanny ability to surf through a stunning variety of sounds and genres with equal aplomb, never faltering or losing his balance. Not one of the album's twelve songs sounds like any other, and any fan of rock and roll music — especially indie rock or what some call "post punk" — will recognize traces of at least a dozen influences or more: Drive-By Truckers, Guided By Voices, the Archers of Loaf, Ryan Adams, the Wrens, and many others.
The album is a Whitman's Sampler of post punk, power pop, grunge, Americana, classic rock, and yet co-producer and drummer, Jon Leeds, a longtime friend of Hawkins and another founding member of The Yancys, was able to work with Hawkins to weave all of this into a seamless whole. It wouldn't seem that this mixture of styles should flow or cohere, but it does, and every song signifies. Such is Hawkins' way with melody and ready-made hooks that if you play this record through about five times, you won't know where to start humming when you're in the shower or driving to work.
He developed all of these songs "as simple structures" on his acoustic guitar, and then went about recruiting a stable of old friends he has played and recorded with going all the way back to his days as a college student at Appalachian State University back in the early 1990s, when he played in a very popular local band named Sticky, along with Leeds, the late Dave Alston, and fellow guitarist and songwriter, Chip Taylor. Leeds both produced and played drums on "The End," and Taylor contributed a backing vocal on "Brown Shirt." Hawkins' wife, Jill, contributed vocals to "Silver Ships," the elegiac closer that brings the proceedings to a satisfying conclusion.
In addition to these bandmates past and present, Hawkins assembled an amazing group of guitarists to play on the record. Chad Nance, Chris Church, Rod Kight, Joel Schantz, John Kirby, and Mitchell Nance all contribute their own distinct sounds to this guitar gumbo, creating textures and sonic landscapes that Hawkins could have scarcely imagined when he initially wrote the songs. The collaboration was "pure magic," he said, an assessment shared by Chad Nance.
"You know I think what's beautiful about this record is that it's a true labor of love," said Nance. "There was no obligation to a record company to write it. No dependency on sales from the record to support an individual or family. No one involved is a professional musician, although I can promise you that it's about all everyone probably thinks about. We are talking about guys with regular jobs, some of us kids, all doing it out of pure love for rock and roll and the power it possesses. John played some of these songs for me about a year ago. They were raw and not flushed out and to watch them evolve into this and watch John put his heart and soul into it and it all come to fruition is really a beautiful thing."
Songcraft aside, the album would work purely as a tour de force of guitar playing and great hooks, even if the lyrics concerned pet dandruff or types of soup. Instead, the music is a compelling context for Hawkins' stories, his anger, frustration, and, yes, his protest of Trump's vision of America, as well as his lyricism and eye for the specific detail.
"I love the south, I love Appalachia," Hawkins said. "I'm not gonna sit on my ass and not say anything. I want to look my kids in the eye and say, 'I did speak up.' It's ok to protest, it's ok to resist. That's what we are all about. It's what made us great in the first place."
(Editor's Note: The Yanceys "The End" is now available at www.bandcamp.com. All proceeds from the sale of this album will be donated to the American Civil Liberties Union.)