Archived Arts & Entertainment
This must be the place: 'And the morning came with bells on'
Tuesday, February 06, 2018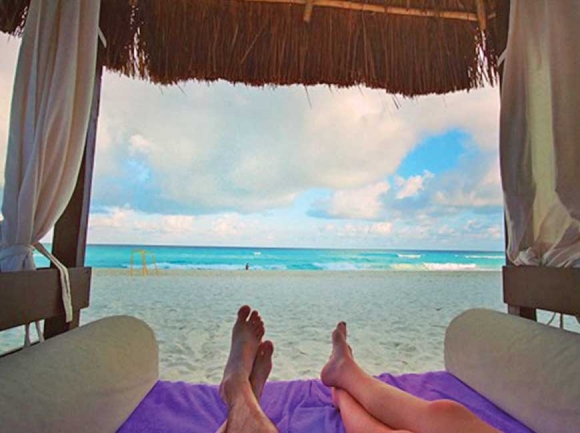 Hola.
I've been saying that an awful lot while currently down here in Cancun, Mexico. Ten days of feet-in-the-sand with a cold-drink-in-my-hand. Isn't that the words to a county song or something? If not, should be, eh?
While spending Christmas in Upstate New York at my girlfriend's parents' home, they offered the two of us the chance to jet down from Waynesville at the end of January to join them on the Gulf Coast south-of-the-border. So, as any good opportunist worth their salt would do, we took'em up on it. Heck, any of us in Western North Carolina could use a little sizzle on the skin after the unrelenting winter that has resulted in a tug-of-war with the impending spring
And with the rollercoaster of vicious political and economic banter coming from Washington, D.C., and every mouth with an armchair quarterback opinion on the matters-at-hand, it's been nice to disappear below the border, into oblivion and obscurity from the things that keep you, me, and all of us, up at night.
It's been awhile since I really left the United States. Granted, I've spent the better part of the last decade of my life traveling extensively around the country (the better part of that decade throughout Southern Appalachia and the Southeast). But, I'm antsy to keep pushing ahead, my directional marker pointed outward, abroad or "across the pond," as my mother always says.
Beyond growing up on the Canadian border and visiting the country innumerable times (for mostly teenage shenanigans), I didn't leave the United States until I studied abroad in Ireland when I was a sophomore in college at Quinnipiac University (2005).
Sitting there in the airport bar in LaGuardia Airport, in the international terminal, surrounded by the fine folks from my ancestral homeland, I sipped on a Guinness and wondered just what in the hell I was getting myself into.
Who I was when I left for Ireland that semester was not who I was when I returned. Once I crossed that Atlantic Ocean, the possibilities were as endless as they were unknown. I remember when the pilot mentioned over the loudspeakers that we were coming into Shannon Airport. Looking out that cabin window, I'd never (even to this day) seen grass as green and a landscape as lush and wild as those wide-open fields and jagged cliffs of the West Coast of Ireland.
For the next four months, my colleagues and I roamed the country, bouncing between old-time back alley pubs and vast ocean views, disappearing into Wednesday afternoon art/history museums and Saturday night rave bars. A hearty, intoxicating mix of real Irish and European culture — past and present.
Every other weekend, at least it seemed, we'd find some inexpensive flight from Shannon to wherever we felt like going. Visiting our Quinnipiac peers who were studying abroad in London or that whirlwind excursion to the Rhineland of Germany with that random daytrip to Luxembourg. And what about that weekend in the small coast town of Fishguard, Wales, on the Irish Sea, huh? I don't think I've ever danced that much in my entire life, before or since.
Those memories kept swirling through my head when my girlfriend and I arrived in Mexico. It had been awhile since I went through an immigration office, let alone deal with language barriers and cultural differences, eagerly trying to find my way along as smoothly as possible.
It's that reminder I've always been aware of, and have experienced for most of my life, but have yet to dust off since 2005, which is simply remembering how big this wondrous world of ours really is once you step outside of not only your own country, but also yourself.
Though my wanderlust has always been in full swing, it's the international wheels now, once again greased and ready to be put in motion. I find my girlfriend and I already kicking around ideas of "Where to next?" and how we could put the pieces of the financial puzzle together.
It's a sense of youthful exuberance one rekindles seemingly out of nowhere, regardless of age. That childlike wonder of exploration and discovery that easily slips through our fingertips once the daily obligations of adulthood come knocking. Some folks either forget it's gone, never get it back, or, perhaps, maybe even reclaim it later in life.
My goal is to hold onto it, right here and now. It's something I've practiced and preached since I returned to Quinnipiac from Ireland for that spring semester, telling tall tales of adventures found and seized upon with gusto to all of those who hadn't done a semester abroad or were preparing to go soon.
I was 20 years old back then. While on this trip to Mexico, I turned 33. Blowing out my birthday candle, atop a surprise plate of two scoops of coconut ice cream mere yards from a roaring ocean, I already knew what my wish would be. I was — and remain — living in it. And I knew, truthfully, that what I felt back there in Ireland was something ancient and tangible. It remains. And once that's in your blood, there's no getting it out, thankfully.
Life is beautiful, grasp for it, y'all.
Hot picks
1 Water'n Hole Bar & Grill (Waynesville) will celebrate its anniversary with Humps & The Blackouts (psychobilly) at 9:30 p.m.Feb. 9-10.
2 Boojum Brewing (Waynesville) will host Nick Dittmeier & The Sawdusters (honky-tonk/rock) 9 p.m. Friday, Feb. 9.
3 Lazy Hiker Brewing (Franklin) will host Lyric (funk/rock) at 8 p.m. Saturday, Feb. 10.
4 Soul Infusion Tea House & Bistro (Sylva) will host Bird In Hand (Americana) at 7 p.m. Friday, Feb. 9.
5 The Cut Cocktail Lounge (Sylva) will host a "Great Gatsby Party" with a live band (gypsy/jazz) 10 p.m. Saturday, Feb. 10.