Archived Outdoors
Linked to the landscape: Community envisions Plott Balsams' future
Wednesday, January 31, 2018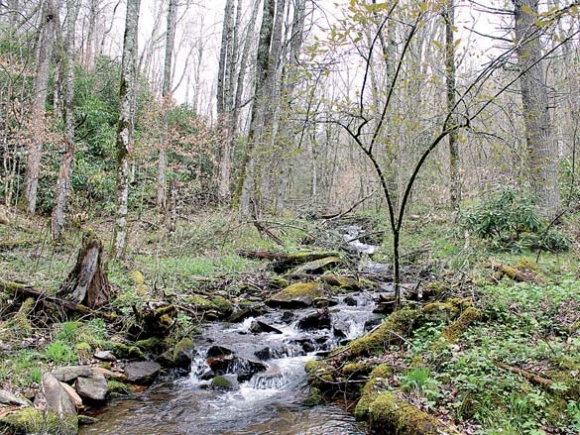 Indian Creek runs through the William H. Silver Game Land. The Conservation Fund photo
The doors opened, and the room filled — with hikers, bikers, ecologists, conservation workers, economic development professionals and Cherokee tribal members alike who were intent on making their voices heard during a public form Thursday, Jan. 25, which took input on plans that will impact the future of Waterrock Knob and the Plott Balsams.
"What I love is the passion that people bring to conversations like this," said Leesa Brandon, spokesperson for the Blue Ridge Parkway. "Their love of these places, their hopes for the future and the fact that the (National) Park Service is here hearing that along with all of these other community partners — it makes me really excited for the resource."

SEE ALSO: Conservation organizations partner to preserve Parkway lands
In August 2016, the Park Service announced that land donations from a quartet of conservation organizations would add 5,329 acres to the Blue Ridge Parkway at Waterrock Knob, and that announcement spurred efforts to plan for the future on a regional scale. While the Waterrock Knob addition will represent the largest expansion of the Parkway in 60 years, it's far from being the only piece of conserved land along its length. The stretch from Waterrock to Maggie Valley has drawn particular attention from a litany of conservation organizations, with blocks of conserved acreage — as well as undeveloped tracts of private land being eyed for conservation — lodged all along the way (see also: Elk habitat projects underway on Silver Game Lands).
"It's not just about the 5,000 conserved acres that may be turned over to the National Park Service," said Kim Williams, who is managing the project for Equinox Environmental, the firm conducting the planning effort. "It's about the larger area and how the larger area can be conserved or protected."
The goal of the planning project — facilitated by the Blue Ridge Parkway Foundation and funded mainly through grants from the Blue Ridge National Heritage Area Partnership and the Pigeon River Fund of the Community Foundation of Western North Carolina — is to gather input from a broad spectrum of stakeholders and then combine that feedback into an overall vision for the future management of the Plott Balsams, across jurisdictions.
Over the summer, Equinox met with a group of about 30 stakeholders representing a variety of recreational, economic, conservation and governmental interests. Last week, it threw open the doors of the Folkmoot Friendship Center in Waynesville to see what the public at large thought about the ideas developed from those stakeholder meetings.
Robust input
By all accounts, the event was a success.
"Just the turnout here, it's obvious that people are very engaged and interested in what's in their backyard," said J.D. Lee, newly hired superintendent of the Blue Ridge Parkway.
Rita Larkin of the Blue Ridge Parkway Foundation estimated that about 50 people showed up to look over the plans and share their feedback via written notes, conversation and the sheet of six stickers each person was given upon entrance, with instructions to affix them to the management goals most important to them.
"I have a hard time putting these out here, because all of it is really important," said Lindsay Boring, Ph.D., a retired forest ecologist who moved to Western North Carolina about a year ago, as he pondered where to place his stickers.
Faced with the task of choosing, though, Boring said watershed protection and planning for wildfire prevention should be priorities. And, always important is recognizing the diversity of the lands involved — there is no "cookie-cutter" recipe for management. But those tasks are surmountable, he said. The key thing is that lands are being conserved, and the partnerships that have come together to make that happen are truly impressive.
"People would be amazed if they knew what a big matrix of private land there is out there, and all the things that could happen on that if the organizations weren't working," he said. "I think the strength of it is in the diversity of the organizations and all the different tools that are on the table."
Steven Reinhold, who co-owns the Appalachian Adventure Company, said much the same thing.
"The Plott Balsams are like my home range," he said. "I grew up there."
As a boy he took many a long hike through those undeveloped mountains, making his way through semi-official trails criss-crossing public and private lands.
"I realized a long time ago looking at maps that it was an island of unprotected area between the Pisgah (National Forest) and the Great Smokies, and I always thought, 'Why on earth does this not get incorporated into either one of these?'" he said. "I'm really stoked to see everything that's happening here."
Desire for increased access
As the owner of an adventure company, Reinhold said he would love to see an opportunity to run tours as a concessionaire of the National Park Service. But on a more universal level, he said, increasing trail access for hiking and backpacking should be a top management priority — perhaps with backcountry camping transpiring in the future.
"Everywhere around Waynesville and Haywood County has profited from the boom in the outdoor industry in recent years," he said. "I feel like we're lagging behind."
A need for increased access was an often-repeated comment in the room that night. Danny Bernstein of the Carolina Mountain Club, which spent years building the piece of the Mountains-to-Sea Trail that goes through Waterrock Knob, concurred with Reinhold's dream of seeing backcountry campsites and shelters akin to what's available on the Appalachian Trail. Maggie Valley resident Luke Popa would like to see a high-elevation mountain bike trail to offer cooler riding in the summer. And retired botanist Dan Pittillo, Ph.D., was adamant about the importance of access toward the goal of stewardship through future generations.
"Panthertown Valley started out in the 1970s with no access," Pittillo said. "And so Panthertown Valley is now accessible and there are thousands of people there yearly. That means that Panthertown has a special value to the people that see it. The Plott Balsams, you've been driving by them for years. You feel like they're not accessible because you're driving by them and it's a mystery. It's mysterious, but what is it? You want to go see it."
When people are allowed to go see, they care more, and they add their voices to the chorus calling for increased conservation, Pittillo said. But the trick will be finding ways to make the area accessible to backcountry users while also protecting the resources from overuse.
"Because the Parkway is the most-visited unit in the Park Service, we are constantly dealing with the implications of too many visitors at a site," agreed Chris Ulrey, plant ecologist for the Parkway. "So we always think about the carrying capacity of a site. How many people can this site withstand before the resource starts to degrade?"
Building trails that are sustainable and erosion-resistant, routing trails away from rare plant communities and getting rid of user-created trails are all tools that managers can use to protect resources while also offering access.
"There's things you can do," Ulrey said.
Telling the story
Planning for the Plott Balsams won't be completely focused on future generations and future use, however. A key part of the planning effort will be deciding how to interpret the past — the settlers who scratched out a living in these mountains years ago and the Cherokee people who called them home for millennia before that.
"It's not just a place," said Tommy Cabe, forest resources specialist for the Eastern Band of Cherokee Indians. "It's not just Waterrock Knob. It's more than that. It's a place of reference, and it's a place of healing, and it's a place of beginning."
"It helps mark our cosmography," added T.J. Holland, cultural resources supervisor for the tribe. "It marks us in a place. It's a reference that informs who we are as people of Kituwah, as people of these mountains. It's a reference point for all those things that we are."
At this point in history, the government is welcoming the tribe's input as to how these places should be preserved and protected. Being a bearer of that input, Cabe said, is a responsibility that should not be taken lightly. He and Holland are in the process of meeting Cherokee elders and speakers to determine just how much of the Cherokee stories the tribe wants to tell publicly.
"We're only going to represent to the point we're told to represent, because you do run the risk of over-telling stuff too, and then the landscape suffers or the reference point suffers or the mountain peak suffers because people have a tendency to over-love stuff or appreciate things a bit too much," Cabe said. "You have to be kind of careful in how you deliver and how you act as a courier of this information."
But conveying pieces of that heritage, said Molly Phillips of Mainspring Conservation Trust, will be vital to spurring continued stewardship of the land.
"A lot of places have great views, and everybody needs quality water, but to tie in that rich history and heritage — for me that helps me to understand the value around how unique this area is compared to other places in the United States," she said.
For all involved, the Plott Balsams are mountains laden with meaning, as well as with potential. The trajectory of future conservation and management of those lands will likely have profound implications for the success of the sensitive species that call them home, the way stories and stewardship values are passed down to future generations, and the economy of Western North Carolina as a whole.
"It has the potential to be quite large," Lynn Collins, director of the Haywood County Tourism Development Authority, said of possible economic impact. "The more we have to offer, the more attractive it makes our destination, and for people who are used to coming here anyway it extends their stay. It's a win-win for everybody."
The planning process
The results of last week's public input session will be incorporated into a plan that Equinox Environmental has been developing to guide future management of the Plott Balsams across federal, state and locally conserved lands.
The plan is expected to be complete in February or March, and when it's published the Blue Ridge Parkway will begin to consider how that plan should inform the formal planning process for the 5,329 acres in line for addition to the National Park Service at Waterrock Knob. The 2,986 acres from The Conservation Fund are already in federal ownership, but it could take another year or two to transfer the remainder. However, the Parkway can start the planning process before the transfer is complete.
The Park Service is currently taking comments on its proposal to manage the Waterrock Knob land as part of the larger network of federal, state and local lands rather than as a standalone entity. Comments will be accepted through Feb. 25 and can be submitted online at parkplanning.nps.gov/waterrockknobvisionplan or mailed to Blue Ridge Parkway, ATTN: Suzette Molling, 199 Hemphill Knob Road, Asheville, N.C., 28803.