Archived Arts & Entertainment
Meant to be lonesome: Maggie Valley Band launches new album, pushes ahead
Wednesday, January 31, 2018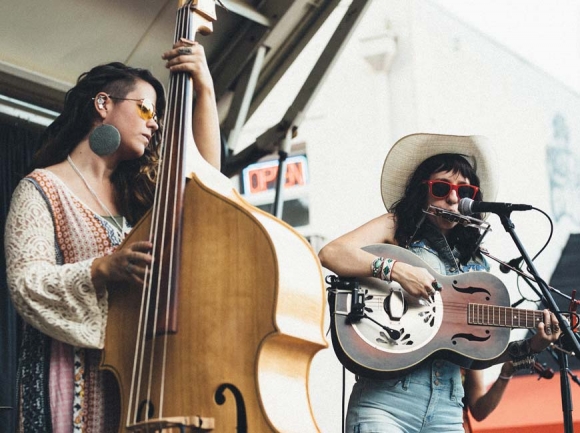 Caroline and Whitney Miller of The Maggie Valley Band.
The territory, and what comes with it.
Being a traveling musician has always been a haphazard and often difficult position to hold down, let alone make a financial and professional go at it. The long nights far away from home. Sometimes empty rooms where there may be more folks onstage than off. Vehicles breaking down to and from shows. Those situations when you stand there, looking up at the sky, wondering if this is the exact spot you're meant to be at — in that moment, in that time, and in that place, either known and unknown.
And these things The Maggie Valley Band are well-versed in. They're scrappy, which is one of the most important traits an up-and-coming band needs to have in order to survive, and to push forward into a realm they can call their own.
A blend of old-time mountain, Americana and psychedelic folk music, the Haywood County group is fronted by siblings Whitney and Caroline Miller. The duo has gone through numerous changes since they first set out on their melodic adventure several years ago.
But, what remains is the unbreakable bond of sisterhood, something that's become a stronghold — and strong suit — in what it will take to break into the next level of their promising careers.
Smoky Mountain News: With the latest album, "The Hardest Thing," what was the thought process coming into this project? And how was it different from the intent of the previous release?
Whitney Miller (guitarist): Right as we were set to release [the album] "Don't Go" in 2016, [singer-songwriter] David Mayfield reached out to us about doing an album. We started immediately on preparing new songs for this album. We wanted to release an album that captured the many different sounds of The Maggie Valley Band.
Caroline Miller (bassist): Before, we wanted to show what we were currently doing. With mostly originals and one traditional on this album, we aim to show the past, present, and future of TMVB. We have many traditional moments from our early thought process and, under David's influence, we show were TMVB might go.
SMN: Why the title "The Hardest Thing"? And what is the hardest thing about what The Maggie Valley Band is, and also where is currently stands in the grand scheme of things musically?
CM: Because it sums up our message of the album best. Sometimes — most times — the hardest thing is the right course of action. It's not fun in the moment, it's not fun for a moment, but it's the wisest decision. Overall, we hope to inspire our audiences that they're not alone in making the best choices. We so often feel alone in them, but TMVB wants to come along those who experience pain and encourage them. The hardest thing we both would say about being in TMVB is the competition and uncertainty. Anytime you present art, you become vulnerable. However, in Western North Carolina we're blessed that there's so much good music, but it creates a lot of insecurity. We hammer away because we don't know any different, but it's hard to pursue it if we don't get affirmation. Most days we feel like failures, other days it's just not about us.
SMN: How has the vision of the band either changed or remained the same between these two releases? What has that time shown you as a band?
CM: We've always wanted to connect musically and personally to our audience, to let them know we're here to support them in their struggles. It's been a major learning experience how we experience pain in the music business, but not letting ourselves become bitter over it. We're constantly challenged to take the high ground in business dealings.
SMN: By being a band that heavily relies on touring, to get the word out on the group, and to keep it all afloat financially, how do you measure success?
CM: It's hard because we have high goals and when we don't meet them in our timetable it gets discouraging. However, at the end of the day, we ask ourselves if we've done our best with our time and resources. That's all we can do. It's all we will do until we're told otherwise.
WM: There's a lot of unknowns, but if we're paying our bills and trying to make the wisest decisions, we just have to keep moving forward. Right now, success may look like not giving up and meeting expenses. We definitely have a blast doing this. In the end though, it's really the passion that drives us more than anything. We love what we do and hope that our community will support us in these hard, but awesome opportunities.
Want to go?
Americana/folk act The Maggie Valley Band will host an album release party for its new record, 'The Hardest Thing,' at 9 p.m. Friday, Feb. 2, at Isis Music Hall in West Asheville.
David Mayfield will also perform. Tickets are $10. For more information and/or to purchase tickets, visit www.isisasheville.com or call 828.575.2737.