Archived News
Haywood school board admits to open meeting violation
Tuesday, January 30, 2018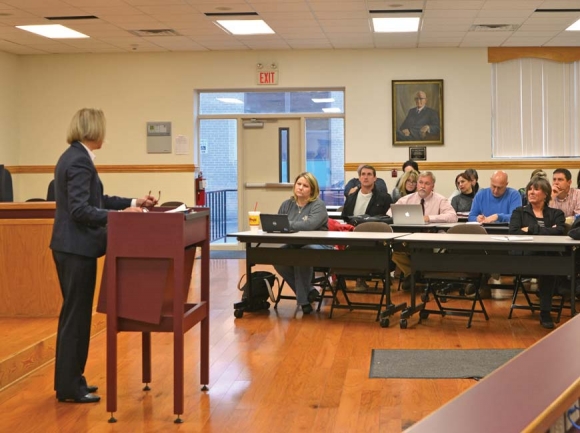 HCS Superintendent Dr. Anne Garrett addresses the school board in January, 2016. File photo
Haywood County Schools' administration recently admitted it may have violated North Carolina's Open Meeting laws by not properly noticing a board meeting that had to be rescheduled due to inclement weather.
The violation occurred when a regular board meeting scheduled for the evening of Jan. 8 was rescheduled via email at 10:04 a.m. Jan. 8 to 12:30 p.m. Jan. 9 due to inclement weather.
HCS Superintendent Dr. Anne Garrett made no excuses for the apparent slip up.
"When one reads that [statute], it appears we didn't follow procedure, but we will be meeting with our board attorney on Feb. 12 for guidance," Garrett said.
There is no formal rule in N.C. General Statutes for providing notice of a meeting that gets cancelled, so there's no issue whatsoever with the cancellation.
Statutes, however, are clear in that to hold any regular board meeting on a date that isn't on the published schedule, a new regular schedule must first be filed and then no regular meeting may occur for seven days after filing, per NCGS 143-318.12 (a).
The only way HCS could have held the Jan. 9 meeting is if a quorum met Jan. 8, announced a place and time where the meeting would reconvene, and then recessed the meeting.
In that case, no further public notice would have been required, as it would have then become a properly noticed recessed meeting that was merely reconvening, and not a new meeting.
Shining Rock Classical Academy School Board Chairman Anna Eason brought up HCS's violation after The Smoky Mountain News wrote a story about SRCA's most recent Open Meetings violation, which was similar to Haywood's.
SRCA, a public charter school in Waynesville, also failed to provide adequate public notice of both a special and a regular meeting on Jan. 17 that needed to be rescheduled because of the snow. Eason sent out an email at 10:09 p.m. Jan. 16 announcing the Jan. 17 meetings were cancelled and rescheduled for the same times Jan. 18.
Those meetings, however, violated the Open Meetings Law because the first, a special called meeting, wasn't adequately noticed 48 hours prior, and the second, a regular meeting like the one HCS scheduled for Jan. 8, wasn't held off seven days like it should have been.
Eason claimed meetings could be moved with short notice for inclement weather, but open government experts say that's not the case.
Frayda Bluestein, an open meetings expert who's been at the UNC School of Government in Chapel Hill for more than 25 years, told SMN that there are no exceptions to meeting notice requirements for inclement weather, or for any other reason.
Public and elected officials like the ones that serve on these school boards may find these laws cumbersome and unnecessary, but they are in place for a reason. Meetings of public bodies like Shining Rock and HCS are governed by a set of sunshine laws meant to ensure that public business takes place in full view of the public. Paramount among those statutes are the ones explaining how much advance notice a body must give when it intends to hold a meeting.
Although innocent and non-nefarious in nature, these violations of the Open Meetings Law expose the public body — and taxpayers — to legal liability, which is why they're notable.
Remedies may be sought in North Carolina courts for violations of Open Meetings Laws by almost anyone. One potential outcome is a court order requiring the public body to satisfy its notice obligations in the future.
Another potential outcome is that actions taken during meetings found to be in violation of Open Meetings Laws could be invalidated.
The court may also at its discretion order the public body (i.e. taxpayers) to pay the attorney fees and court costs for those bringing the case.
It's likely that a judge trying such a case would also take into consideration — as in any other case — the defendant's history of such transgressions, as well as the defendant's acknowledgment thereof.
"We are responsible for everything we do, and being able to accept responsibility is to be answerable to the public," Garrett said.
Eason didn't respond to emails asking to confirm or deny wrongdoing in regard to the Jan. 17 meetings, which are but the latest in a string of stumbles that began before the school even opened its doors to students. In 2015, SRCA refused to identify a parcel of land it sought; last fall, then-School Director Ben Butler resigned during an unusual Sunday night special called meeting that wasn't properly noticed; and earlier this year, SRCA bungled privacy concerns at a meet-and-greet for candidates seeking Butler's old job.
Garrett, on the other hand couldn't recall running afoul of the Open Meetings Law during her 13-year tenure as superintendent of HCS.
"In regards to any violations to Open Meeting Laws, I am not aware of any significant issues," Garrett said. "I spoke with our School Board Attorney, Pat Smathers, who has been our attorney for 33 years and we both agree, we are not aware of any violations."
The only possible exception, which Garrett cited, was a 2016 lawsuit by local attorney Mark Melrose that HCS settled early in 2017; a joint statement by the parties at that time said that HCS "does not admit it violated the law or its own policies, but agrees it would have been preferable if circumstances had permitted to have provided more advanced public notice of its intention to vote on January 11, 2016 to study the possible closure of Central Elementary School."