Archived News
Clampitt town hall goes to pot
Tuesday, January 30, 2018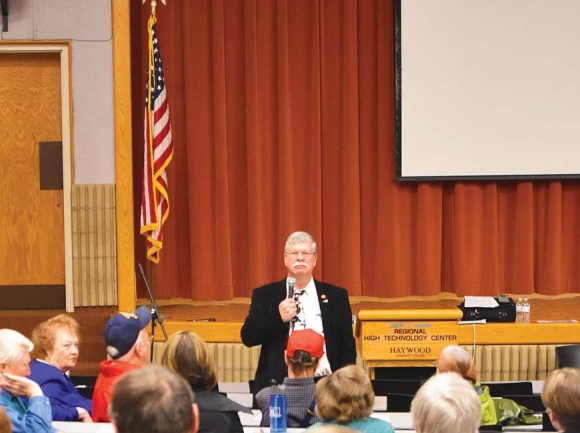 Rep. Mike Clampitt, R-Bryson City, listens to a question at a recent town hall. Cory Vaillancourt photo
To the traditional topics of a legislative town hall meeting — economic development, fake news and even the morality of abortion — was added a new topic last week that could signal an upcoming legislative push on the equally controversial topic of medical cannabis products in North Carolina.
Rep. Mike Clampitt, R-Bryson City, held another of his town hall meetings in Haywood County Jan. 26, again drawing about 30 people to the Regional High Technology Center just as he did to Haywood Community College last September.
And like that September meeting, Clampitt touted recent accomplishments with economic development and rural subsidies before answering questions from the crowd.
But that's where the meeting took an unexpected turn during a discussion over opioid abuse.
"In Swain County the number of painkillers for the 10,000 residents was 11 prescriptions per resident," Clampitt said. "That's a bunch of pills, folks. We can't incarcerate, legislate or negate our way out of this drug problem. Overdoses from Swain and Cherokee tripled in 2017. We're losing a generation of young people."
The national and the regional opioid epidemic is far from unexpected news, but comments from the conservative Republican certainly were.
"Now, a lot of folks have asked, and one of the number one emails I get has to do with marijuana and having marijuana as an intermediary to this opiate problem," he said.
Clampitt first asserted that the discussion was in no way related to the recreational use of marijuana, which is legal in eight states, but not North Carolina.
"Let me be very clear and upfront so there will be no misunderstanding — I am not in support of any recreational marijuana," he said to claps from about half the crowd. "I am not in support of recreational marijuana."
On the issue of marijuana as medicine, however, Clampitt revealed a different position.
"Now, that's not to say that medical cannabis does not have a place in society," he said. "When I say I'm not for recreational marijuana, I'm not for recreational marijuana. But I am for a medicinal marijuana that doesn't have the hallucinogens."
Clampitt then proceeded to give some insight into his nuanced feelings on the matter.
"My dad lives in The Dalles, Oregon, and he had a kidney removed this past fall. He had his gallbladder removed, and he's in his late 80s, in a lot of pain. And he didn't want to take all those prescription drugs for the pain."
One day, Clampitt said, he heard his phone buzz.
"So I get a text from my stepmom that says, 'Guess where papa and I are at? We're sitting outside the pot store here in downtown Portland.'"
North Carolina currently has no broad laws legalizing the medical use of marijuana, unlike 21 other states that have permitted some form of marijuana legalization on a medicinal basis.
Three such bills were presented to the General Assembly last year — one in the House, and two in the Senate — but all three died in a rules committee. No Western North Carolina representatives or senators sponsored or co-sponsored any of them, except for Asheville Democratic Sen. Terry Van Duyn.
Since the topic hasn't been widely discussed among Western North Carolina elected officials thus far — do Clampitt's unanticipated remarks indicate there may be a coming action on medical marijuana in North Carolina?
"Short answer, yes," he said. "Long answer with that, I don't know of any particular one facet that's a driving force with this, but it's one of those kinds of things that is sort of sublingual right now, and I think that in the next three, no more than five years we will have an address to this situation in North Carolina."
Clampitt explained that his father was getting "low-THC" marijuana chocolates to alleviate the pain from his recent surgeries, and that it appeared to be working. He had to quit just a few weeks later, however, because he'd begun to experience an abnormally rapid heartbeat — a dangerous proposition for someone pushing 90 years of age.
That fact explains Clampitt's desire to see some use come of medical marijuana, provided it doesn't prove just as dangerous as the opioids that now cause almost four deaths a day in North Carolina alone.
So will Clampitt in the future support a renewed effort to explore medical marijuana of some sort as an option?
"As long as, one, we're not in violation of federal law with that as a regulated substance," he said. "And then also with that, if the medical community can prove to me and show me that the medicinal marijuana, medical cannabis — whatever it is called — has medicinal value and is just not a stepping stone to other problems and issues."