Archived News
Macon County grading license being reviewed
Tuesday, January 30, 2018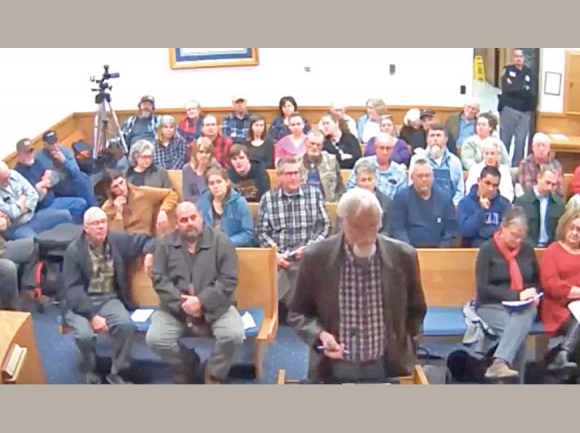 Macon County Planning Director Jack Morgan speaks to commissioners regarding the proposed changes to the county grading license program in front of a packed room during a Jan. 9 public hearing. Screenshot from meeting
Residents are accusing the Macon County government of impeding their private property rights by proposing new requirements for landowners and contractors wanting to perform grading work, but commissioners say that was never their intention.
Commissioner Paul Higdon first raised concerns about the county's grading license program during a budget work session last February. While Higdon motioned to get rid of the program altogether, he couldn't get a second from his colleagues. Commissioners ultimately decided to suspend the current grading license program and tasked the planning board with reviewing it.
"I wanted to scrap it. It's an occupational license and Macon County shouldn't be in the occupational license business," Higdon said. "I didn't want to but we sent it to the planning board. I thought it might just go away but it didn't — it came back with gnarly teeth."
The planning board came back to commissioners in August with recommendations to strengthen the program instead of discontinuing it. Under the current program, applicants simply had to pay a small fee and pass an open book test as a way for graders to demonstrate they had enough knowledge regarding grading practices and regulations.
But the proposed changes would bring property owners into the mix, which many aren't happy about. Residents who are opposed to the planning board's recommendations claim the proposed requirements are nothing more than a burdensome regulation that could cost property owners quite a bit of time and money.
At a recent public hearing, commissioners were presented with a number of questions about the proposed changes that they couldn't answer. So the issue is now in limbo until the next regular meeting in February.
While commissioners figure out their next move, residents have taken to social media to build their case against the licensing program. Jim Eliason recently started an online petition on Change.org asking commissioners to discontinue the program. It already has more than 1,000 signatures.
What is required?
If passed, the proposed changes to the grading license program would be added as an amendment to the county's Soil Erosion and Sedimentation Control ordinance.
The proposed amendment states that anyone performing any grading work or land disturbing activity must have a valid state issued license or a valid Macon County grading and land disturbance license. While a state license is required for any single project costing $30,000 or more, the county license covers grading projects under $30,000.
Based on feedback from different contractors, Macon County Planning Director Jack Morgan said obtaining the local license is advantageous for graders who only do smaller projects under $30,000 and don't require the state license. It gives them some reliable credentials when bidding projects.
To obtain the county grading license, under the proposed amendment applicants would have to appear in person at the county planning office with a valid driver's license or photo ID; pass an open book test developed by the planning administrator and pay $100 to take the test. The first-time license fee is included in that cost.
If a contractor's county grading permit hasn't been expired for more than 18 months, they only have to pay a $25 renewal fee. Contractors would have to renew their license each year by Dec. 31 by successfully completing one of two, four-hour continuing education courses offered by the Macon County Department of Permitting and Development or four or more hours of training annually given by an agency approved by the planning administrator. The cost of a course is $25 and includes the annual renewal fee.
Even if the contractor does have a license, they still need to obtain a county land-disturbing permit for projects that involve more than a half acre. Failure to have the proper permitting can result in a contractor losing their county license for a year.
So how does all this impact property owners? The proposed amendment states that any person — not just contractors — performing grading work or any land disturbing activity without a county license or a state general contractor license will be required to pay a $500 fine for each day they continue the illegal activity.
Landowners must refer to the county's Soil Erosion and Sedimentation Control ordinance to see if the work they want to perform on their own land qualifies as a land disturbing activity. In the county ordinance, which is basically a replica of the state ordinance, a land disturbing activity is defined as "any use of the land by any person in residential, industrial, educational, institutional or commercial development, highway and road construction and maintenance that results in a change in the natural cover or topography and that may cause or contribute to sedimentation."
Assistant County Planner Joe Allen said property owners wanting to perform grading or land disturbing activities on their own property would be required to come take the open book test but they wouldn't have to pay the fee needed to obtain the grading license unless they choose to do so.
If a property owner does perform land disturbing activity on their own property, the proposed changes to the grading license program would require them to sign an affidavit stating they won't sell or transfer the property to another party within a year of completing the project.
Allen said the planning board modeled that portion of the amendment after the state ordinance regulating property owners who want to act as their own general contractor when building their home. However, it's a proposed requirement the commissioners could decide to remove from the proposed amendment.
Misperceptions
Prior to a public hearing regarding the proposed changes to the grading license, Macon County Manager Derek Roland took the time to review how the issue came to the commissioners' attention and address some misinformation circulating in the community.
"Comments suggest this is a new ordinance or its purpose has changed — that you can't put a swing set up on your property or a shovel in the ground — but the purpose is to regulate land disturbing activity in Macon County," Roland said.
He assured everyone that it was the same definition that's been in place for years and that the amendment for the grading license has not altered that definition.
"The grading license program is the only thing that's been added to the ordinance — nothing else has been added," Roland reiterated. "The questions I've received via email — I can say right now with 100 percent certainty that any activity homeowners are doing on their property now will not be illegal under this ordinance."
Roland also disputed allegations that commissioners were trying to rush the process and pass the amendment without public input. In fact, the process has included a great deal of input from a variety of perspectives.
After being tasked with reviewing the grading license program in February, the planning board decided to have a public input process in evaluating the program by inviting all licensed contractors — about 150 of them — to a question and answer session in June to get input. Not every contractor showed up for the meeting, but Commissioner Karl Gillespie said it was a great turn out that provided a lot of insight for the planning board to consider.
Morgan agreed that the planning board spent many hours discussing the issue with contractors and lawyers to make sure the amendment was properly vetted.
"This was not done in the dark, this was not done overnight and it was not done underhandedly," Morgan said.
Commissioner Ronnie Beale, who also is a local contractor, said he's seen a lot of misinformation being spread around. He also said it was important for people to remember the reason the grading license program was put into place. In 2008, the construction industry was booming and Macon County was dealing with several cases of irresponsible grading practices. People without proper training were renting track hoes to complete their own grading projects and ended up causing erosion problems and damage to neighboring properties.
"When it was passed, it was intended to be an educational process for people doing these kinds of projects," Beale said. "Within two hours you can completely mess up a piece of property."
Opposition
Residents that spoke up during the public hearing opposed a number of requirements the proposed amendment would put in place for property owners.
Franklin resident David Culpepper, who was recently elected to the Franklin Town Council, has been one of the most vocal opponents of the proposed amendment throughout the process.
Not only has he spoken in opposition during the commissioners' meetings, he took time at a town board meeting to address the subject. He encouraged town constituents to attend the county public hearing to oppose what he called a poorly written amendment that would negatively impact the rights of property owners.
In a follow-up interview, Culpepper said he understood the land disturbing activity definition is not new — what is new is that private landowners can now be fined $500 a day based on that definition. If a landowner performs a land disturbing activity without passing the county test, the county could fine them whether the activity resulted in erosion problems or not.
"If this passes, you can get a penalty for doing absolutely nothing wrong," Culpepper said.
He said part of the land disturbing activity definition that states, "may cause or contribute to sedimentation" is problematic because technically, any project where dirt is being brought in or taken off property may cause sedimentation. He's afraid such a vague definition will discourage landowners from performing their own work if they have to run every little project by the county planning department or risk a $500 a day fine.
"It's not well written. I'm sorry to be the bad guy because here in a couple weeks I'm going to have to work with you guys real hard on some projects I want to help the town and county get done," Culpepper said to commissioners during the public hearing.
Beale asked if Culpepper was representing the town in his comments.
"No, I'm not. I'm here as citizen of Macon County," Culpepper said.
Higdon pointed out during the public hearing that he had asked Morgan if a landowner wanting to build a crosstie wall on their property would qualify as a land disturbing activity and he said it would.
Roland said it would depend on whether the retaining wall was being constructed on a slope and could affect neighboring property or if it was in the middle of a 10-acre field where the risk of run off would be low.
Nantahala resident Danny Smeltzer said he has dead trees to clear off his lot that's under an acre, but he's not clear whether that activity would qualify as a land disturbing activity.
Beale said it would depend on whether it would potentially cause sedimentation into a nearby creek or neighboring property.
Therein lies the problem — the definition of land disturbing activity leaves too many questions, forcing landowners to take even the smallest project before the county planning department to ensure they're in compliance.
Allen said in his experience with the planning department, issues like this are typically worked out before a fine is ever levied.
"I don't know anyone that's been fined. Usually they get a notice of violation (a warning) but most of the time people call and see what they need to do to avoid it," he said.
While the current planning staff may be forgiving, Culpepper said the ordinance amendment could be enforced more strictly under a future administration.
Many landowners also took issue with the proposed affidavit requirement prohibiting them from selling their property for a year after completing a land disturbing activity.
"Who knows if I'll be alive in a year and I have to sign an affidavit saying I won't transfer the land? I don't know if that will stand up in court," Smeltzer said.
Resident Randy Shook agreed the affidavit requirement was "ridiculous."
After hearing concerns, Beale said residents made good points against having the affidavit requirement.
Despite opposition from landowners, Kathy Tinsley, vice chairman of the planning board, said contractors wanted the licensing program to have more bite for it to be worth it for them to obtain.
"Contractors said it helped them to have this license, that it gave them some credibility if they didn't have a state license," she said. "I'm surprised this has gone so far. We were focused on one thing — the grading license — and I think we came up with a good solution."
Higdon argued that the program was simply a "feel-good thing" that doesn't carry any weight in other counties. If contractors want the license, Higdon said they could get a state license that actually shows a contractor has the required knowledge to perform grading work instead of passing a meaningless open book test with the county.
Culpepper agreed that if contractors saw a benefit to having the local license, the county should keep it in place but make it a voluntary program. He said the county could still work toward educating landowners and contractors about proper grading practices to prevent sedimentation without putting more regulations in place.
"If someone breaks the ordinance, the state and the county have full policing power to enforce the ordinance. There's no need to have this program," he said.
Commissioners didn't take any action on the grading license amendment, but did seem open to making some revisions to it.
"You've all given me a lot to think about," said Commission Chairman Jim Tate after public comment wrapped up. "Maybe we can clear up some of the interpretation in the language."
Roland said since the county's Soil Erosion and Sedimentation Control ordinance was a state-modeled ordinance, any amendment the county makes to it would have to be approved by the state before it could be officially adopted.
The next Macon County Commissioners meeting will be held at 6 p.m. Feb. 13 at the Macon County Courthouse.