Archived Outdoors
Breaking the backlog: Deferred maintenance in the billions for national parks
Wednesday, January 24, 2018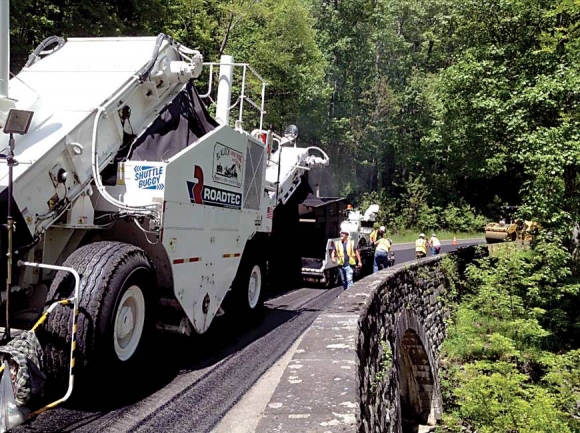 Drawing more than 300 million visitors each year, the National Park Service is both a reservoir of natural beauty and an economic anchor for the communities surrounding its lands — and many of those communities are now banding together to demand that Congress address the parks' $11.3 billion maintenance backlog.
"To know what this means to us — the Blue Ridge Parkway and the Great Smoky Mountains National Park — and for us to have to ask them for some sustainable revenue to keep these parks going, it's almost like asking somebody to take care of their baby," Jackson County Commissioner Boyce Dietz said before the board unanimously passed a resolution in favor of sustained funding Dec. 18, 2017.
The resolution outlines the importance of the national parks to Jackson County and the nation as a whole, as well as the issues caused by rising maintenance backlogs. It concludes by calling on Congress to "create a reliable, predictable stream of resources to address deferred maintenance needs in America's National Park System, and to ensure that federal infrastructure initiatives include provisions to address park maintenance."
A local impact
Jackson County is far from being the only local government to pass such a resolution in recent months. Philadelphia-based Pew Charitable Trusts has been contacting governments across the country, urging them to pass similar resolutions in an attempt to spur Congress to action. As of press time, 150 resolutions had been passed nationwide, with 26 of those in North Carolina — making North Carolina the state with the broadest interest to date.
"Pew has a long history of caring about public lands and communities, so this is a natural progression of that work," said Yaron Miller, of Pew. "This deferred maintenance issue threatens the integrity of these parks, which can harm the communities that neighbor them and benefit from tourism and visitor spending."
Home to two of the most-visited national park units in the country — both of which have deferred maintenance needs in the hundreds of millions — Western North Carolina has about as much at stake as any other region in the nation. The Great Smoky Mountains National Park is consistently the most-visited national park in the country, in 2017 logging a record 11.34 million visitors, and the Blue Ridge Parkway, which sits in a somewhat different classification as a National Parkway and All-American Road, logged 16.1 million visits last year.
According to a 2016 National Park Service visitor spending effects report, North Carolina is the third-ranked state for visitor spending from national park visitors, with $1.3 billion in visitor spending that supported 21,000 jobs.
However, the Smokies currently has a deferred maintenance backlog of $211.2 million and the Parkway has a backlog of $500.6 million — $67 million and $261 million, respectively, of those amounts stem from facilities in the North Carolina section of those parks. Western North Carolina is also home to the Appalachian National Scenic Trail, which runs from Georgia to Maine, and that National Park Service unit has a deferred maintenance count of $19.1 million. A report that Pew commissioned from Cadmus estimates that addressing deferred maintenance in North Carolina would create 4,187 jobs, making it the seventh-ranked state for job creation.
A shifting number
Deferred maintenance numbers aren't stagnant, however.
"It is a number that is constantly changing, because if they go paint a building tomorrow, that removes that number off the list," said Dana Soehn, spokesperson for the Smokies.
Conversely, if there's another building that's due for a repainting but gets passed over, then that cost gets added to the list. And while it might not be a big deal to be a year late on painting a building or paving a section of road or updating a heating and cooling system, it becomes a bigger deal the longer the project is delayed and the more undone projects accumulate.
"Eventually you get to a point where you have to shut down a facility so you can do those full-scale renovation projects," Soehn said. "It would be less disruptive to our visitors if we were able to keep up with those annual maintenance projects so that we wouldn't have to get to the point where we have to close a facility to do a full-scale renovation."
For example, she said, the park has been deferring maintenance on the Sugarlands Visitor Center near Gatlinburg for "many, many years now." At this point, it will need a complete renovation, or even a completely new building — given the millions of visitors the center sees each year, such a project would severely impair the park's ability to serve those visitors.
"Of course we did it at the Oconaluftee Visitor Center, and now we have this beautiful new facility that's serving far more visitors than the former facility allowed us to do, but it was certainly disruptive during that time period," Soehn said.
Similarly, the Park Headquarters is more than 75 years old and in need of $5 million of repairs and upgrades. There is $6 million in deferred maintenance needs for wastewater and water treatment facilities in the park, and nearly $350,000 for rehabilitation of various structures in the Cades Cove district. However, the Smokies' 370 miles of roads account for $151.8 million of its $211 million maintenance backlog.
"We just completed rehabilitation of Newfound Gap Road," Soehn said. "We did the last 2-mile section between Gatlinburg and Sugarlands Visitor Center, and before long it's going to be time to start again."
Roads account for an even larger proportion of the Parkway's maintenance backlog, comprising $452.5 million of the $500 million total. Most road projects are funded by the U.S. Highways Administration, which distributes money to parks throughout the country using a formula to divvy up dollars received through the gas tax.
However, the Parkway has other maintenance needs as well, with buildings accounting for the next largest chunk of deferred maintenance, at $21.3 million.
"Many of the facilities in our park and across the country were built during the Mission 66 period (from 1956 to 1966)," said Leesa Brandon, spokesperson for the Parkway. "Those facilities now are aging to a point they have quite a bit of needed maintenance."
On the Appalachian Trail, most of the deferred maintenance needs — $15.3 of $19.1 million — are for trails, with unpaved roads adding another $3.2 million.
All three parks are supported by dedicated nonprofits — Friends of the Smokies, the Great Smoky Mountains Association, the Blue Ridge Parkway Foundation and the Appalachian Trail Conservancy — that work to supplement federal dollars with donations making possible facilities improvements, equipment upgrades and positions that would otherwise find themselves without funding.
The park also competes for grants from a variety of sources, with a $2.6 million replacement of the Elkmont wastewater treatment plant in the works and a $6 million renovation and demolition project in the Elkmont Historic District underway.
While recent years have seen some significant facilities improvements, the deferred maintenance backlog persists.
Finding the funding
A bill introduced to Congress last year would attempt to create a continuous funding stream to ensure that this backlog eventually disappears. The bipartisan National Park Service Legacy Act, introduced in both the House and Senate last spring, proposes to send federal mineral revenues not otherwise committed into a special fund that would be used exclusively for deferred maintenance projects in the national parks. According to the bill, 20 percent would go to transportation-related projects, with 80 percent going to the remainder of high-priority deferred maintenance projects in the parks. The fund would sunset in 2047.
"We've been really excited about the bipartisan support that the bill has received in the Senate and the House," Miller said.
U.S. Congressman Mark Meadows, R-Asheville, said that the deferred maintenance issue is a "high priority" for him but that he doesn't anticipate this particular bill seeing any serious consideration in Congress.
"There's probably a greater groundswell of support for an ongoing funding stream for our typical roads, bridges and infrastructure than there is for the same in the parks, so I would say that a funding stream for traditional highways, roads, bridges, airports, seaports would have to pass first before you ever got any special funding stream for deferred maintenance in the parks," Meadows said.
Indeed, neither the House nor the Senate Bill has seen any action at all this fiscal year. The Senate bill was read twice and referred to the Committee on Energy and Natural Resources on March 28, 2017, and after being introduced in the House on May 22, 2017, the bill was referred to the Committee on Natural Resources and the Committee on Transportation and Infrastructure, where it still sits.
However, Meadows said, he does see the potential for a "one-time significant resource allocation" to address the backlog. He said he's been in conversations with Secretary of the Interior Ryan Zinke to ensure Zinke knows that a spending bill including a higher amount for deferred maintenance would see support from conservative members.
"I do see it as a priority. I do see it as something I have to address, and I do see it as something that has an economic impact on the communities in Western North Carolina and across the country in general," Meadows said.
Who's on board?
Many counties and municipalities in Western North Carolina have been passing resolutions, shepherded by the Pew Charitable Trusts, asking Congress to create a sustainable funding stream to address deferred maintenance in the National Park System.
Local governments that have passed such resolutions so far include:
Jackson County
Webster
Dillsboro
Franklin
Waynesville
Maggie Valley
Bryson City
Robbinsville
Graham County
Flat Rock
Hendersonville
Marion