Archived Arts & Entertainment
Don't stop the music: A conversation with Del McCoury
Wednesday, January 24, 2018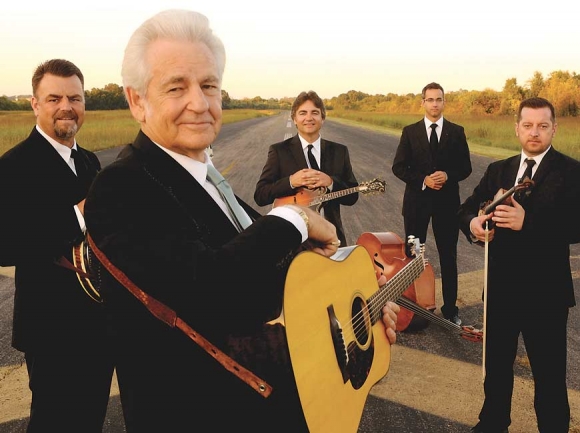 If there's one singular force truly keeping the flame of Bill Monroe alive and kicking well into the 21st century, it would be Del McCoury.
Since 1958, McCoury has traversed the world over, hitting the stage each and every time with the same zest and passion at age 78 that he did as a teenager in search of his big break some 60 years ago.
In 1963, McCoury found himself singing lead and playing rhythm guitar for Bill Monroe's Blue Grass Boys. Being in the presence of the "Godfather of Bluegrass," McCoury embraced that "high, lonesome sound," preserving and perpetuating it in the decades since he set out on his own with The Del McCoury Band.
Nowadays, alongside his sons, Ronnie and Rob, The Del McCoury Band has established the standard for what the "real deal" is when it comes to bluegrass music in the modern era. Their sound (onstage and in the studio) is the foundation by which all who have (and will) come after them measure themselves by — a testament to the wisdom instilled in Del by Monroe those many years ago.
Smoky Mountain News: When you're up there playing, do you think of Bill [Monroe] at all?
Del McCoury: Well, if I do one of his songs I will. See, I recorded a tribute to Bill back in 2011. An album of songs, some I had sang with him when I was working [for him], and others I never heard him sing — period — on a live show anywhere. I'm sure he probably did, he'd been recording since 1939 with the Blue Grass Boys, so he never [did] a lot of the songs he put on a record.
SMN: What would he have thought if he saw you play tonight?
DM: I think he would have been proud. I think he was proud of all the Blue Grass Boys that came through the band and went on. Maybe, at the time, when they left, he wasn't so happy about that. And he had so many musicians through the years. I tell you, I think he had a good ear for people, I don't think he needed to hear them do much to know what they could do.
SMN: What is it about bluegrass that you love?
DM: My brother taught me to play guitar when I was about 9 years old. And I guess I wasn't really impressed with the guitar. I heard [banjoist] Earl Scruggs when I was about 11, and that just turned a light on up here (points to head) that is still burning. I played [banjo] for about 10 years. I got a banjo and learned how to play the forward roll, you know, like Earl did. Of course, nobody was as good as Earl. But, we all had to listen to him to start with, because he was the one that popularized the three-finger roll. We all listened, Sonny Osborne did, J.D. Crowe [did]. We were all about the same age. We all listened to Earl. That's what inspired me.
SMN: What does this music mean to you nowadays? You've spent a good chunk of your life dedicating your talents and your time to this music. Now, you're one of the pillars of bluegrass music. Does [bluegrass] mean anything different than when you were starting out?
DM: Well, I think it does. It does mean something different. But, the thing about it is, I never lost my interest. I knew a lot of great musicians, I don't know, that got great and then they lost interest because I don't think they could advance any further than they thought. And I never did lose interest. But, I think I had an unusual career. I started out playing guitar. Then, I heard Earl Scruggs and I played banjo for 10 years until I got a job with Bill [Monroe] playing banjo. I went to New York City with [Bill] and he offered me a job pickin'. I could play anything he did. "Raw Hide," all that stuff. But then, [Bill] changed my career right in the middle. He wanted me to play [rhythm] guitar and sing lead, because he needed that worse than anything he told me. And so, I thought, "I don't know if I want to do this," because banjo was all I thought about. This was when I'm about 23. Well, OK, I'll try it. He said, "If you could make the grade on this you gonna like it better than what you're doing." And I thought, "Now, you're wrong about that," but I didn't tell him. [Laughs]. But, it proved that he was right about that. Then, when I quit Bill and got my own band, I thought I'd be better off playing guitar and singing. I was used to singing lead and tenor. Sing lead on the verses and tenor on the choruses. I couldn't find a tenor singer that was "that" good. Then, I got interest again from going from banjo to playing rhythm guitar and singing. My interest was piqued again. And it's never left me, really.
SMN: How do you define bluegrass? What's your definition of it?
DM: You know, it's a great art form. Those guys in the middle-1940s, they invented this style of music. Now, they were influenced, too, when they were young, by other people. Earl Scruggs, he heard these [New Orleans] Dixieland tunes on horns and thought he could play it [on the banjo]. And Bill Monroe, he had a brother duet with Charlie [Monroe], and they had an old-time duet, which was really good for the day. But, [Bill] would go to New Orleans and hear the jazz guys and he kind of adapted a lot of those things to the mandolin. [Bill] was nimble enough to play anything those [jazz] guys did, [and] on the mandolin. And then [Bill's] singing was influenced by Jimmie Rodgers, his yodeling and all that. Then, along comes this lead singer, Lester Flatt, who is kind of a swooner, you know? And Chubby Wise was a swing fiddler and he didn't know a thing about playing. [Chubby] told me this himself, "I don't know a thing about playing a melody." And when he came into Bill Monroe's band, Bill saw that he was a good fiddle player, played a pretty tone. He said, "Bill showed me how to play melodies." And he played stuff like "Footprints In the Snow" and "Blue Moon of Kentucky."
SMN: What sticks out for you the most when you think about Bill?
DM: I'll tell you about Bill. I was a young man, and I wasn't a good judge of character or anything like that. But, you never knew if he was serious or if he was kidding you. You never knew that. And I think he wanted it that way. I think, in a way, he was bashful. I think in later years I figured that out. He was backwards, but he knew what he could do was the best. And his stuff was the best.
SMN: What do you see today when some people might say that the lines of bluegrass are becoming too blurred?
DM: Well, you know, I think Bill would be proud, because his music spread out. A lot of the good singers and players got their training in bluegrass before they ever went out in these other fields. He always recognized somebody that went on and did something great.
SMN: What has [bluegrass] taught you about what it means to be a human being?
DM: I learned, long ago, that everybody is the same. We are all the same. And in music, [we all] hear things. And if the rhythm is good in any band — and the singing has got to be good, too — but [with] bluegrass, if [you] can play bluegrass, you can play anything.
Want to go?
The Del McCoury Band will perform at 7 p.m. Sunday, Jan. 28, at the Diana Wortham Theatre in Asheville.
Tickets start at $49 per person. For more information and/or to purchase tickets, visit www.dwtheatre.com, email This email address is being protected from spambots. You need JavaScript enabled to view it. or call 828.257.4530.