Archived Arts & Entertainment
This must be the place: 'Set the gearshift for the high gear of your soul'
Wednesday, January 24, 2018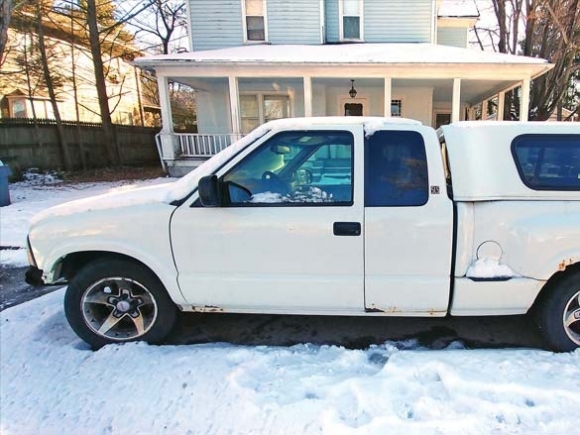 The time had come.
Last Friday, right around noon, I received a message on Facebook. It was a fella looking to purchase my old pickup truck. Though the engine had died in October, the beloved truck itself was still sitting in front of my apartment in Waynesville. Partly due to my longtime and sentimental history with the vehicle, partly, due to the mere fact nobody had shown any interest (yet) in taking it off my hands.
I had owned the 2001 GMC Sonoma (aka: "Grace") for a little over 10 years. It was my grandfather's truck before he passed away in 2007. After the funeral, it was unclear what the fate would be for the truck. Coincidentally, in the months following his death, when my family was figuring out what to do with truck, I accepted my first reporting gig at a small-town newspaper in Eastern Idaho, in the shadow of the Grand Teton Mountains.
Seeing as I would now be headed west, my truck at that time wouldn't be able to make the trek. No way in hell. Thus, I sold the 1998 Isuzu Hombre for $800 and used the money as a down payment in purchasing the Sonoma from my grandfather's estate. Within a week of the purchase, and the day after Christmas 2007, I packed up Grace and took off for the Rocky Mountains.
That 2,500-mile journey to Idaho included stops in Buffalo, Cleveland, Cincinnati, St. Louis, Boulder, and so forth. One chaotic adventure after another, all culminating with my first day on the job at the Teton Valley News, in a town with less than 1,000 residents, amid the enormous snowbanks and freezing cold temperatures of the never-ending, wide open high desert prairie.
There was many-a-night carefully driving along extremely dangerous mountain roads, where (literally) inches of snow would fall each hour, trying to make it over a pass and back home safely from either Idaho Falls or Jackson Hole, Wyoming. Then there were the trips to Missoula, Montana, and Denver, sleeping in truckstops and one-horse towns that resembled the spots I read about in the writings of Jack Kerouac, something I'd always wanted to see first-hand for myself.
And for the better part of the next decade, Grace and I traveled the country. Most of which were festivals, concerts and events I was covering as a freelancer on a shoestring budget, trying to make it in the haphazard industry that was journalism during the economic depression of 2008 onward.
It was the Rothbury Music & Arts Festival way up in Michigan. A waterfall swimming hole in the Adirondack Mountains of Upstate New York. The sandy beaches of Tybee Island, Georgia. Fourth of July along a lone pier in a cove on the rocky coast of Maine. The muddy backwoods of central Vermont. Wild adventures in the midst of Brooklyn, Hartford, Charlotte, Boston, Savannah, and other cities forgotten in haste.
All of those times helping old friends move and new friends find their way, first dates and eventual breakups, heading for the hills or hiding out in a metropolis, picking up hitchhikers, dropping off things for folks, etc. All the while, there was my girl Grace, parked and ready for our next trip.
When I took this gig with The Smoky Mountain News in July 2012, I packed Grace up with everything important that I owned and headed for Waynesville. Four boxes of books, three boxes of clothes, two boxes of vinyl records and my mountain bike. That was it.
And in the time from that move until last October, when Grace finally had enough, that truck and I saw so many wild and wondrous things around Southern Appalachia and the greater Southeast.
Driving Grace up a narrow and bumpy dirt road, half-a-dozen folks in the bed of the truck, heading to a mountaintop bonfire in depths of Crabtree (Haywood County), only to howl at the moon as fiery embers floated upward into the heavens.
Numerous trips up the Max Patch, always with the fear in the back of my mind of getting the rear-wheel drive truck stuck in the mud, ice and snow, unable to turn around (luckily that wasn't the case). How about traversing seemingly every backroad of Western North Carolina, eh? Trying to find addresses on rusty or nonexistent mailboxes, in search of the source and the story which would ideally fill the pages of this publication.
All of those memories above flooded my field-of-vision when I received that message last Friday, inquiring about buying Grace. The guy was from way up on the Kentucky/Virginia border. He had cash in-hand, and could be in front of my house in four hours if I wanted to sell the Sonoma. I waited to reply and went to lunch. Thinking over the prospect of finally letting the truck go came to a head — I was ready. I messaged the guy we had a deal, awaiting his arrival.
I cleaned out the last of my things from the back of the old truck. At one point, I even found myself sitting in the driver's seat for one last time, replaying in my head all the places myself and Grace had seen in our decade together. I also thought of my late grandfather, and what he would make of all the adventures and corners of the country I took his truck to.
Four hours later, the guy rolled up with his big truck and trailer. I helped load Grace up on the trailer, was handed $300, and watched her roll away to destinations unknown. It was sad, but I was comforted by my "new" truck nearby, a 2005 Toyota Tacoma (aka: "Lucinda"), and all the unknown adventures awaiting her and I.
Life is beautiful, grasp for it, y'all.
Hot picks
1 Frog Level Brewing (Waynesville) will host Kevin Fuller (singer-songwriter) at 7 p.m. Saturday, Jan. 27.
2 Balsam Falls Brewing (Sylva) will host Shane Meade & Sean Shuffler (singer-songwriter) at 7 p.m. Wednesday, Jan. 31.
3 Water'n Hole Bar & Grill (Waynesville) will host Chicken Coop Willaye (Americana/bluegrass) at 9:30 p.m. Friday, Jan. 26.
4 Currahee Brewing (Franklin) will host Eric Hendrix & Dr. Todd Davis (singer-songwriter) at 7:30 p.m. Saturday, Jan. 27.
5 Soul Infusion Tea House & Bistro (Sylva) will host Jonathan Breedlove (singer-songwriter) at 7 p.m. Saturday, Jan. 27.