Archived News
Charter school selects new school director
Wednesday, January 24, 2018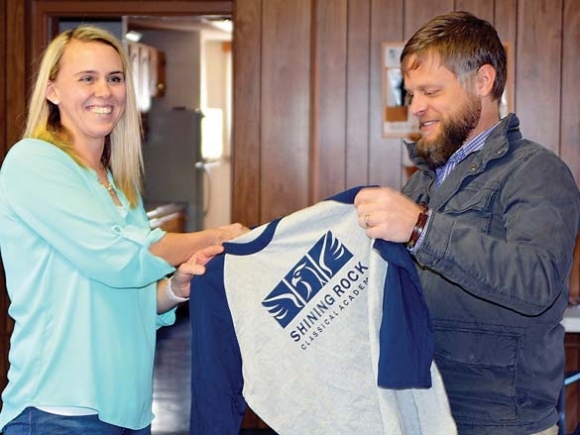 After months of searching for someone to replace founding School Director Ben Butler, Waynesville public charter school Shining Rock Classical Academy has made its choice.
SRCA's board voted unanimously Jan. 23 to extend a contract offer to Nathaniel Duncan, who helped found the Academy at Trails Carolina in Hendersonville and has an extensive résumé including master's degrees in educational leadership and international relations; he also has ties to the area.
"My wife and I used to live here in 2010," he said after the vote. "She's a United Methodist pastor and her family has the Rock House here at the lake [Junaluska], so part of my draw to come back to the county is that this is a central point for my wife's family, who are all pastors."
Duncan said he expects to start next week. When he does, he'll have much work to do; Shining Rock finished last in the county in nine of 17 major performance benchmarks issued by the North Carolina Department of Public Instruction last year.
"A lot of it is going to be a much more uniform instructional consensus as far as approach," he said. "When everyone's thinking that way, all lessons and activities are geared toward building and feeding student capacity."
There are, however, some bright spots at Shining Rock; the school scored best in the county in sixth-and seventh-grade reading, both by large margins. The school's other first place finish came in fifth-grade science.
"One of the things that's very important is that at any school anywhere in the world there's going to be natural teacher-leaders that have an innate gift coupled with a lot of experience and high levels of education," Duncan said. "The most disingenuous thing a school leader can do is to not support those natural teacher-leaders and let them help lift the learning community up."
Before the SRCA made the final decision on its next leader, parents were given the opportunity to ask Duncan and the other finalist Bonnie Brown questions during a Jan. 18 board meeting.
Candidates were asked about the charter school's current partnership with Team CFA, a Challenge Foundation and whether that relationship would change under new leadership. Team CFA is a network of charter schools and the organization helps new charters by providing expertise and loaning funds for capital projects not funded by the state.
"I'm pretty happy with them — they are a good support for teachers and the director," Brown said, adding that the SRCA board has a contract with Team CFA for a certain number of years.
Unless there's some unforeseen shift in the coming years, Duncan said he would support SRCA's association with Team CFA.
"As an outsider coming in and looking at other charters, being a part of a network allows a degree of autonomy," Duncan said. "We have our core practices but we do have the ability to differentiate ourselves from others."
Another parent asked what Duncan would do differently than the former director Ben Butler, who tendered his resignation unexpectedly in October.
While Butler led the school since its inception, Duncan said he would bring a fresh pair of eyes and a higher level of consistency to leading the school.
"I'm about empowering teachers to be artists and create a unique experience for your students," he said.
Both candidates were asked where they saw themselves in five years.
If hired, Brown said SRCA would be her last stop before retirement.
"I don't plan on going anywhere. I want to take us to the next level," she said.
Duncan said he may not be the perfect fit for SRCA forever, but he definitely sees himself as the right fit for what the school needs right now and as it makes the leap toward providing a K-12 education.
"I hope to see the first cohort of students graduate," he said.
Parents were also concerned with the level of student engagement in the classrooms.
Brown said growing teachers' interactions with students in the classroom is a goal to work toward. She said she didn't want to see teachers giving instruction at the front of the classroom the entire time — she wants to see interaction and collaboration with students. She added that the school could work toward that goal by allowing struggling teachers to observe other teachers who have already mastered the art of engagement.
Duncan said the fundamental perspective of teachers would need to change so that more engagement can occur in the classroom, adding that more engagement would increase critical thinking and decrease behavioral problems in the classroom.
"We need to move past the 'what' and to the 'why' — the idea of empowering those teachers to experiment," he said. "If students are the drivers of their own education, they feel invested."
Candidates also fielded questions about how a small charter school like SRCA could ensure every student is on par with their peers across the state so they are well prepared when they go to college.
Brown said teachers were already discussing the idea of creating a class schedule that would allow cross-grade teaching, especially for math instruction where students are on many skill levels. Cross-grade instruction would allow the advanced students to continue to move forward while also providing more individual attention for those students who may be struggling.
Duncan said he also was in favor of a multi-grade approach for SRCA classes. He said the school could also better prepare students by addressing sub-par instructional practices.
When asked what improvements they would make to the elementary grades, Duncan said most of his teaching experience has been in middle and high schools. However, he said good teaching is good teaching regardless of content.
"What's amazing about K-1 is having that curiosity. We need to look at how do you continue to empower that curiosity as content becomes more sophisticated so that energy will carry itself forward," he said.
Brown said improvements were definitely needed in K-3 to better prepare them for fourth grade and beyond, including a better understanding and instruction of the curriculum and doing a better job of matching the right teacher and student personalities together in the classroom.
"Core Knowledge Curriculum is really good and strong but it has to be done the way it's intended to be done, and as much as we're trained teachers still fall back to the way we used to do it," she said.
While the SRCA board voted to offer Duncan the job, the details of his contract, including salary, have yet to be ironed out.
Brown is currently the interim school director at SRCA and served as a lead teacher before that. It is unclear at this time whether Brown will be named assistant school director or return to her lead teaching position at SRCA.
— By Jessi Stone and Cory Vaillancourt