Archived News
'We will never go away': The 2017 Women's March on Washington, revisited
Wednesday, January 24, 2018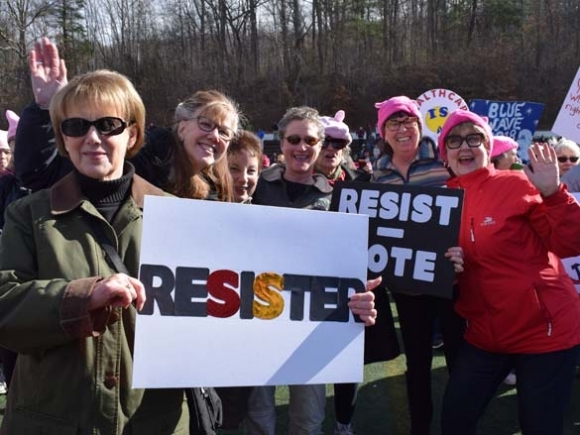 The day after I stood before the West Front of the U.S. Capitol in Washington, D.C., and watched Missouri Senator Roy Blount introduce "for the first time, ever, anywhere, the 45th President of the United States of America," on Jan. 20, 2017, I joined half a million people in the day-long Women's March on Washington.
In their now-iconic pink hats, they were there for the "protection of our rights, our safety, our health, and our families — recognizing that our vibrant and diverse communities are the strength of our country," according to organizers.
But they weren't just there — they were everywhere; the D.C. marchers were but a small part of as many as 5 million protestors in almost 700 marches across the country and on all seven continents including Antarctica.
All of them preemptively joined in opposition to the Trump administration before it'd even gotten past the pomp and the pageantry that have for two centuries accompanied the country's new chief executives.
With the Washington Monument towering high above, I walked and I talked and I listened and I took pictures. Along the way, I met that day three women who with me shared hopes and dreams and fears. But that was moons ago.
In the intervening year, detractors taunted Trump over his lack of accomplishments including his much-hyped Mexican wall; his recent tax bill, however, coupled with a de-facto declawing of Obamacare has both supporters and opponents quickly realizing he's got at least three more years to go.
Looking back while looking forward, I again talked to the same three women who again shared not only hopes and dreams and fears but also hindsight and foresight.
A major conversation
As thousands of people took to the streets across the country Jan. 20, 2018, to mark the one-year anniversary of the Women's March, President Trump was, as is his custom, taking to Twitter to preempt the preemptors.
"Beautiful weather all over our great country, a perfect day for all Women to March. Get out there now to celebrate the historic milestones and unprecedented economic success and wealth creation that has taken place over the last 12 months. Lowest female unemployment in 18 years!"
Is that why Omkari Williams took to the streets in Savannah, Georgia, Jan. 20, 2018, like she had Jan. 21, 2017?
"Yeah, no," Williams said. "The hubris. I find it utterly astounding. The reason I went out and marched, the reasons every other man, woman and child marched, were many of the many of the same concerns we had in 2017."
When I met Williams in Washington, she was marching with a small group and holding a painting of Sojourner Truth; she told me she was concerned about the future of Planned Parenthood, which on Jan. 19, 2018, saw moves by the Trump administration that make it easier for states to end Medicaid funding for the sexual health care organization.
"Some people still don't understand that Planned Parenthood is not about abortions," she said. "It's largely about normal everyday women's healthcare concerns. When you plan for being a parent, that solves abortion, doesn't it?"
Williams also mentioned what she said at the time was a general disregard for women on the part of Trump. A year later, she's steadfast in that.
"I find it really disturbing that the women he chooses to have around him do not seem to have the ability to speak truth to power," she said. "Women's wisdom is half the world's wisdom, and when you don't engage that, you're making a decision with half the wisdom."
Williams said that a candidate for Georgia governor, Stacey Evans, spoke to the crowd of several hundred at the Savannah march.
"The attitude people have right now is a very different one," Williams said referring to how she felt around this time last year. "We're not in shock. We're pissed off, and that's a very different place to be. At the march last year, at least there was still a possibility he would step up to the job."
I first met Asheville veterinary technician and D.C. native Amie Tyner on Independence Avenue beneath the brutalist architecture of the James V. Forrestal building — nicknamed the "little Pentagon" — as Women's March speakers rattled and crowds clamored chest to chest in a claustrophobic thickness not even cellular data signals could penetrate.
Tyner identifies as a member of the LGBTQ community, and said that although nothing had really changed in law — as she feared it might, a year ago — she felt there had indeed been a change in spirit.
"I think there's still a fear where we are only a year in," Tyner said a few days ago. "We have three more to go."
Tyner marched in Asheville Jan. 20, along with thousands of others.
"I'm not a particularly emotional person, but I had tears in my eyes because of the turnout," she said. "It made me proud that that many people felt as strongly as they did."
As a skilled professional in a demanding work environment, Tyner had also expressed concerns about the wage gap, something she said hasn't improved over the last year.
"I don't feel like the wage gap is getting smaller by any means," she said. "I think it's still a big issue."
Workplace issues also permeated the concerns of Jane Pickett, who grew up spending summers in the family cabin at Lake Junaluska and as a filmmaker in a male-dominated industry now splits her time between Atlanta and Los Angeles — where she was one of hundreds of thousands who marched Jan. 20, 2018, just as she had in D.C. the previous year.
"I recently attended a women directors brunch in Hollywood hosted by a studio and I mingled with women that work in that studio in various departments," Pickett said. "I met the recently-hired head of labs and initiatives for diversity who seemed inspired and responsive in talking with all the women there."
Pickett credits Trump with inadvertently creating the atmosphere that has led to increasing visibility on the issue of sexual harassment.
"The allegations against Harvey Weinstein and the whole emergence of the #metoo movement — all the brave voices speaking up there, telling hard truths about powerful predators somehow able to thrive and cultivate inappropriate and unsafe environments — all of this, in conjunction with the recent election of a president that casually bragged about assaulting women, has served to launch a major conversation in the entertainment community."
Separate solidarity
As that D.C. march concluded, I watched hundreds of people throw their signs over the wrought iron fence of the White House while Pickett, in another part of the city, said she'd heard a chant.
"Welcome to your first day! We will never go away!"
The true effects of the Jan. 21, 2017, Women's March on Washington weren't fully realized on President Trump's first day, or on any of the 364 that followed.
One year later, Pickett, Tyner and Williams — who don't know each other — had again marched separately in solidarity, hundreds if not thousands of miles from the footsteps they followed in on that foggy D.C. day in January 2017.
Be it Asheville, Los Angeles, Savannah or Washington, will they march again next year?
"I'm hoping that I'm marching in celebration of his impeachment and incarceration. I will march every year until he is gone. Until they are all gone," said Williams.
"I will march again every year," Tyner said.
"I consider myself marching for the rest of my life," said Pickett.