Archived Opinion
Lessons learned on the black diamond
Wednesday, January 17, 2018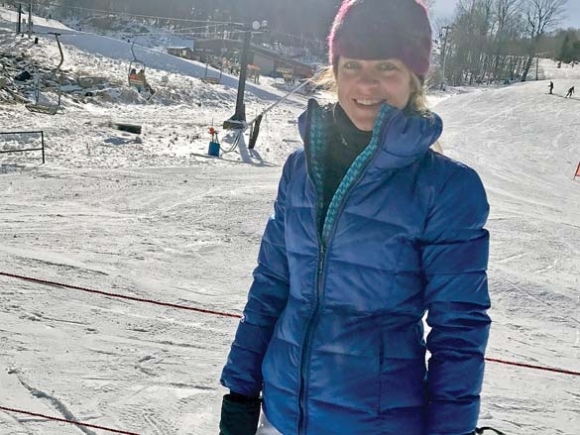 While standing atop a black diamond run at Beech Mountain last weekend, several thoughts crossed my mind.
It's been a really long time since I've done this.
What if I fall and crack my tailbone?
I'm not 20 years old anymore.
Should moms even be doing this?
I grew up in Weaverville, 15 miles from Wolf Ridge Ski Resort in Madison County. When I was a teenager, snowboarding had just become popular, so a group of friends and I decided to learn. Each winter, we bought passes and drove up to the mountain after school or on weekends, and would spend every day of Christmas break on the slopes.
Neither of my parents skied or snowboarded. They loved the fact I was skilled at a winter sport and taking advantage of living near a ski resort.
And now, being close to Cataloochee, I want my boys to have that experience as well. It would be a shame to live mere miles from a ski area and never take advantage of it. With all these thoughts on my mind, I decided this was the year to resurrect my love of snowboarding.
A fire in 2005 consumed my parents' house, the home I'd lived in from the age of 14 until I went to college. It was a devastating electrical fire. At the time, I was in my early 20s and because I was sharing a house with two other people, I'd moved a lot of my big bulky items — like my snowboard — to my parents' house.
After it burned in the fire, I never bought another one. They aren't cheap, and I wasn't hanging out with too many people who were skiing or snowboarding, so I couldn't justify spending the money.
Then several years ago, I made a friend here in Waynesville. We each had two boys the same ages and started hanging out regularly. What began as playdates turned into a dear friendship. Her family is very into snowboarding. Their love for the sport is energizing and sparked something within me. I was ready to get back on the slopes. The dad of the family let me borrow one of his boards and I went snowboarding with them, but only twice.
Until this year, the last time I went was two years ago.
After many recent changes in my life, 2018 felt like the year to reconnect with hobbies and activities I once loved. When I was in college, I went to Colorado and Canada multiple times on snowboarding trips, not to mention boarding in North Carolina. So, it wasn't something I haphazardly partook in. I was really into the sport and over the years, the fact that I let it go gnawed at me.
With that being said, let's get back to last weekend on the black diamond.
A friend and I had already been on the lower runs for a while that day. Neither of us had been skiing or snowboarding in a few years, so we were taking it easy at first, but just like riding a bike, it came right back to us.
After multiple runs and a little liquid courage from the mountaintop brewery, it was time for the big slopes. We knew we could do it. I bent down and tightened my bindings then stood up and adjusted my gloves. I jumped to get my board to the side and away I flew.
It was an amazing ride and when I got to the bottom, I realized some things.
Why did I wait so long to do this?
I didn't fall and crack my tailbone.
I'm 38, but I feel 22 on this mountain.
Moms everywhere should be doing this.
It's been a brutally cold winter and for the past decade of Januarys, I've squirreled away inside and have, admittedly, let the cold and darkness get me down. Typically, the only bright spots of this month are the boys' birthdays which fall one day apart on Jan. 19 and 20.
But no more.
There's such a beauty in this frigid month, a time to experience sports and activities only available in the here and now. My memories of snowboarding, my friend and her family, and a weekend getaway to Beech Mountain have all inspired me to get back out there.
Believe me, I love the sunshine and moderate temperatures as much as anyone. I love biking and running and hiking and kayaking. But if I only associate fun and physical activity with the warmer months, I'm missing out on half my life. As I get older, my wanderlust and sense of adventure seem to only heighten.
Not only does this make my life more full and exciting, but it teaches my boys that life isn't about sitting around or watching TV or playing games on devices. There's a big amazing world out there waiting for us.
Let's go get it, my friends.
(Susanna Barbee is a digital media specialist for Mountain South Media and also works for The Smoky Mountain News and Smoky Mountain Living. This email address is being protected from spambots. You need JavaScript enabled to view it..)