Archived News
Brewery trademark dispute dismissed
Wednesday, January 17, 2018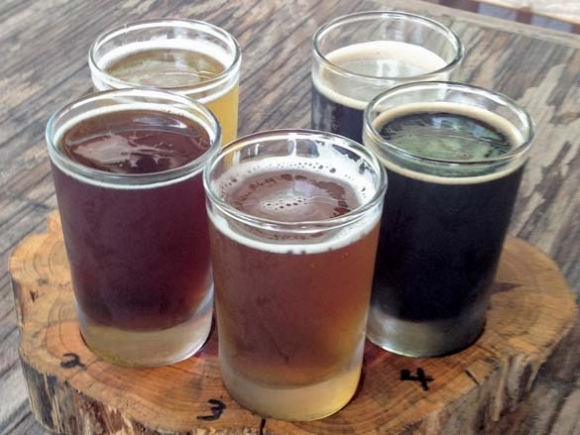 The ongoing and exhaustive trademark dispute between Sylva's Innovation Brewing and Bell's Brewery is now over.
After more than three years of legal battles, the Trademark Trial & Appeals Board in Washington, D.C., recently decided to dismiss the case made by Bell's against Innovation. The TTAB concluded that there was no consumer confusion when it came to deciphering the two breweries, on the shelves or in terms of marketing and branding.
In its findings, the TTAB found, "We have found that the parties' goods, customers, and channels of trade are identical; that beer is inexpensive and subject to impulse purchase; and that Opposer's marks are afforded the normal scope of protection to which inherently distinctive marks are entitled. Nonetheless, on the record before us, we find that the dissimilarity of the marks INSPIRED BREWING and INNOVATION BREWING in appearance, sound, connotation, and overall commercial impression outweighs the other du Pont factors. For that reason, we find the first du Pont factor to be outcome-determinative. Considering the record evidence as a whole, we find that Opposer has not carried its burden to establish by a preponderance of the evidence that Applicant's mark INNOVATION BREWING is likely to cause consumer confusion with Opposer's mark INSPIRED BREWING in association with beer."
Since opening in October 2013, Innovation has become a centerpiece within the community of Sylva and greater Jackson County. The company, a nano-brewery making upward of 500 barrels a year, filed a federal trademark application in 2013 to register its brand name, Innovation Brewing. Bell's Brewery, a Kalamazoo, Michigan-based microbrewery powerhouse producing upward of 310,000 barrels a year, objected to the application.
Bell's felt it had common law ownership of the word "innovation" in terms of the craft beer industry, seeing as it has used the word in its marketing ("Bottling innovation since 1985") for several years. Bell's also claims its trademarked slogan, "Inspired Brewing," may confuse consumers when comparing the two breweries.
Normally, disputes such as this are solved out of the public eye. This one, however, turned into a social media firestorm, with the microscope of worldwide media attention focused on both companies, once word of the dispute became known in March 2015.
"Basically, we filed a federal trademark application for 'Innovation Brewing' with the federal trademark system in 2013, and Bell's filed an opposition against it in April 2014," Innovation co-owner Nicole Dexter told The Smoky Mountain News in 2015.
The application was approved by the U.S. Trademark Office and was published for opposition, a 30-day period where third parties may formally object to registration. Bell's filed its objection in April 2014, and its complaint states that the similar names are "likely to cause confusion and mistake, and to deceive and mislead consumers into believing that [Innovation Brewing's] beverages originated, are sponsored by, are licensed from, or are jointly owned by or otherwise associated with [Bell's] and/or [Bell's] goods marked with its Inspired Brewing trademark."
Even though Bell's does have the trademark for "Inspired Brewing," the filing also makes a claim on the "Bottling innovating since 1985" slogan, which has been in use by Bell's marketing (bumper stickers and on their delivery trucks) for around six years.
"Nobody has said that Bell's doesn't have the trademark for 'Inspired Brewing.' We do believe that, everyone does," Doug Reiser, an Asheville-based brewery lawyer representing Innovation Brewing, told The Smoky Mountain News in 2015. "We just don't see how 'Inspired Brewing' and 'Innovation Brewing' are in any way confusing to craft beer consumers. If you look it up in the dictionary, the words aren't even close."
Reiser pointed out that Bell's has prided itself for years for being vigilant in registering its own trademarks on its numerous products and slogans. So, why didn't the company ever file a registration for the "Bottling innovation since 1985" slogan? Reiser also asks why go after Innovation Brewing when others also use and have registered trademarks that include "innovation" for beer?
"That slogan, 'Bottling innovation since 1985,' is a part of their marketing and as such should be afforded a lower amount of trademark protection," he said. "Trademark case law has established that advertising slogans, such as used on bumper stickers, do not provide the same level of protection as trademarks used on packaging — they do not convey the source-identifying nature of trademarks and instead are simply considered laudatory phrases by consumers," Reiser added.
So, what about Bell's claim that it has common law rights over the slogan, "Bottling innovation since 1985"?
"They say 'common law rights,' which means they put it out in the marketplace and have been using it, and they deserve the right to keep using it," Reiser said in 2015. "Innovation does not dispute that they have full right to use and continue using the slogan, just that the slogan legally does not restrict Innovation's use or registration of the Innovation Brewing name. The thing that keeps getting lost is that we believe that any common law rights Bell's own are very minimal."
Innovation owners Nicole Dexter and Chip Owen were unavailable for comment at press time.