Archived Arts & Entertainment
Eye of the beholder: Outdoor photographer shares love of the craft
Wednesday, January 17, 2018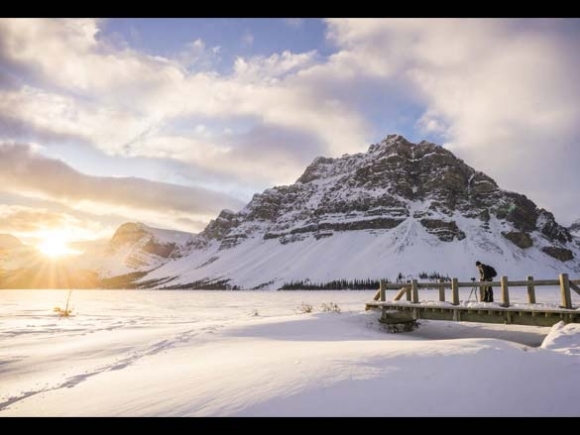 Catch him if you can.
For the last few years, Steve Yocom has made quite a name for himself as one of the premier outdoor photographers in Western North Carolina and greater Southern Appalachia. If it wasn't for his wild and wondrous images of the great outdoors, of iconic spots or off-the-beaten gems, you'd truly have no idea where he was at any given time.
"There's a few things in this world that take me away from my mind and put me in a place where I am solely in the moment. When the sun is setting and I only have 10 minutes to capture it all, that's where I am — it can be such a rush," Yocom said. "I find myself there a lot when I'm outside. The combination of getting outside your comfort zone, getting those endorphins flowing, pushing oneself and being rewarded to some incredible views really puts your brain in a positive place. I think more and more people are finding that, and, in trade, are finding themselves out in the mountains more and more."
Constantly on the run, in search for the ideal emerging sunrise or fading sunset, endless waterfall, frozen landscape or exotic setting, the Maggie Valley resident finds himself in a battle against time and place, where a split-second can determine whether you "have something" or not.
"Things don't always work out as planned, but you have to keep going regardless. I've had to go out to some locations 10 to 15 times before getting something I was happy with, and it's almost always the day you decide to be normal and go grab a beer with friends that the light will be unreal," Yocom said. "You have to let go and realize you can't be everywhere at once, everyone needs their rest days and personal time. I've taken up a great understanding of weather and astronomy as well because of all this. So much planning goes into capturing the night sky or knowing where to bank on having better light, so it's been wonderful to learn about all that as well."
Yocom's journey into Mother Nature began in an office. Employed in software training and doing support for a medical company, he decided to take his work bonus and purchase a camera in March 2014 — a Sony A65 — to capture and remember a vacation he was getting ready to take.
"I figured maybe it would do a little more justice than my Go Pro. It was overwhelming at first, [but] I think I've been lucky enough to have a decent eye for composition right out of the gate," Yocom said. "But, the technical parts and all those buttons on that thing were way over my head. I remember seeing photos of that island we were on by the professionals, and I just had to know how they made them — the obsession took over from there."
It wouldn't be long before Yocom began disappearing regularly from society, whenever he had a free evening or open weekend. With each passing trek into the unknown, he found himself more immersed in what would soon become his career and unrelenting passion for outdoor photography.
"I came from a place where people don't often venture outside their comfort zone. The outdoors and traveling have done so much for me, that documenting those moments, with hopes to inspire others to get out, became one of my main missions with a camera," Yocom said. "One of the most special things I've come to learn recently is the power of a photograph. The favorite image of a grandparent who has passed that a family holds onto dearly. The photo of a friend who struggles with self-doubt conquering their fears and climbing a '14er' out west. The frame on the wall containing a memory from one's wedding day to remind them of their love if things ever get tough. I've been reminded my work has done just that for some folks and that is truly an honor."
Over this fall and winter, Yocom trekked into the desolation of the Banff and Jasper national parks, high up in the Canadian Rockies of Alberta, Canada. Finding himself — physically and spiritually — atop the world, the trip refueled the creative tank for Yocom, where he's now plotting an extended photo expedition into the west for the upcoming spring and summer months.
"Chasing light in new places, new seasons, having a goal of capturing a new product or taking on a new assignment is so exciting and keeps me feeling alive," Yocom said. "There's a million ways to make a photograph, and that is the beauty of it all — it's up to you how you want to capture it."
Want to go?
Acclaimed professional outdoor photographer Steve Yocom will host a special showcase of his work from 7 to 9 p.m. Saturday, Jan. 20, at Elevated Mountain Distilling Company in Maggie Valley.
Yocom will have his art available for purchase, and will also be discussing his craft, techniques and what he uses for equipment on expeditions. As well, there will be a question and answer portion of the evening.
The event is free and open to the public. www.steveyocomphotography.com or www.elevatedmountain.com.