Archived Reading Room
The devil is all over this dark tale
Wednesday, January 10, 2018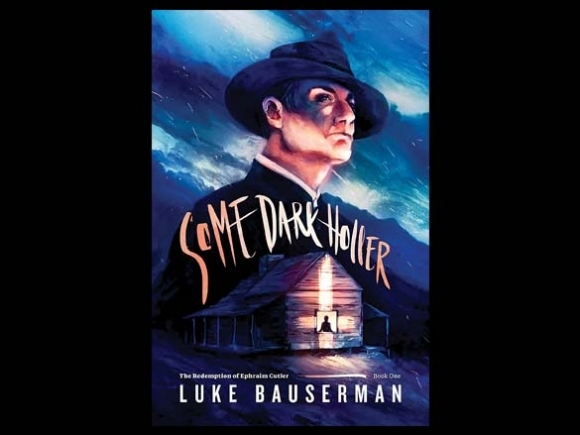 Since Luke Bauserman is a folklorist, it is safe to say that many of his characters already exist; some have existed since the beginning. Certainly, someone has told us tales of how death and the devil have communicated with mortals before.
We remember Daniel Webster, for example, who, according to a fellow named Stephen Vincent Benet, took the devil to court before a "memorable jury," since it was one picked by the devil; and there is Jack, who tricked death into remaining in an old apple tree for a long period of time ... a time during which no mortals would or could die. Ah, but this time, we have a likable, young protagonist: a fellow named Ephraim. The setting is a shortly after the Civil War (but the wounds still rankle) in Some Dark Holler.
Ephraim is modest, shy and handsome. In addition, he excels at all of the "manly arts," including hunting and trapping. In fact, Ephraim is the apple of God's eye, so to speak. He is obedient, loyal and sworn to take care of his aging mother ... exactly the kind of fellow whose soul the devil wants to acquire. Any tempter can get the average mortal who is usually flawed in a number of ways, but Ephraim, now that would be a memorable victory for Old Scratch, who sees something special in this young man's dedication.
The devil knows that often a young boy's virtues can be turned to vices. Let's consider two. Ephraim loves his mother, but his mother bears a burning need to avenge her husband's death in the Civil War. Some Yankee killed Ephraim's father and the mother wants "an eye for an eye."
She grows to hate Silas Henson, a local fellow who fought for the Union. He did not killed her husband, but in her vengeful mind he can serve for the man who did. She has kept her husband's pistol loaded until the day she can get her revenge by ordering her son to kill Silas.
Now, when Ephraim is virtually a grown man, she has taken to keeping the pistol in her lap along with a cup of deadly fox glove tea which she threatens to drink if she doesn't get her way.
And then there is Ephraim's secret love for Isabel, who is innocent, beautiful and totally devoted to the bashful Ephraim (although he isn't aware of it). Could it be that Ephraim's love could be his downfall? Jealously can wreck anyone, and it wrecks Ephraim when the man who is interested in Isabel is no other than Silas Henson, the man Ephraim's mother asked him to kill. What else is needed? A chance meeting at night, an angry conversation, an aimed pistol and a frightened horse that rears, causing Ephraim to fire his pistol.
He has killed the man his mother wanted dead. In no time at all, Ephraim is forced to flee for his life. Is he guilty of killing Silas Henson? That is a question that will plague this tormented young man for years, but on this fatal night he turns to Isabel, who believes he is innocent and aids him in his flight to Barefoot Nancy. Nancy is the local "granny woman," who heals wounds, tends the sick and practices a bit of magic on the side.
So Ephraim's flight begins. There is a lynch mob led by Silas Henson's brother, Peyton, and not far behind him is the devil himself. Poor Ephraim quickly learns that among those who wish him ill is a man he had trusted, the Rev. Boggs. In fact, Boggs is a sworn enemy of Barefoot Nancy whom he has named "a witch" and cast her out of the church, ordering his congregation to shun her. And then there are the stories about "the book" that Boggs has ... a book once owned by Barefoot Nancy.
However, poor Ephraim's most dangerous tracker is not "of this world." It is the devil's own hellhound named Samson, a tormented creature driven into madness by the devil and doomed to do his bidding. Samson's "resurrection" and the narrative describing the cursed hound's pursuit of Ephraim are among the most frightening in this novel.
Now, what more could you ask for? Here is a tale of the supernatural set in the world of Appalachian folklore in the years following the Civil War. Some Dark Holler is packed with the characters (good and bad) that inhabit Ephraim's world. It is a world of bootleggers and thieves, but there is Manson, the blacksmith, who not only provides shoes for the animals of the community (including Barefoot Nancy's goat, Amos269) but he can also shape an iron ball that can do considerable damage to dark forces such as demons and devils. He is also a gifted storyteller who remembers the deed of the cursed "Alice Skinner witch that was driven out of Six Mile Creek by Barefoot Nancy."
Finally, consider the fact that Some Dark Holler is just beginning. As this tale draws to an end, the reader will discover that there is no conclusion. Instead, we find that when Ephraim comes face to face with his pursuers, it is only to learn that his journey has just begun. He has proclaimed his love for Isabel and she announces her eternal love for Ephraim, but his travails have just begun. Ephraim is still doomed to fulfill a contract with the Devil that is binding for 150 years! Can their love survive?
(The next novel, November Spring, will be out in the spring. For those who may not know, Luke Bauserman is a storyteller and folklorist of considerable skill. Visit his blog at wwwlukebauserman.com.)