Archived News
Cherokee chief under investigation
Wednesday, January 10, 2018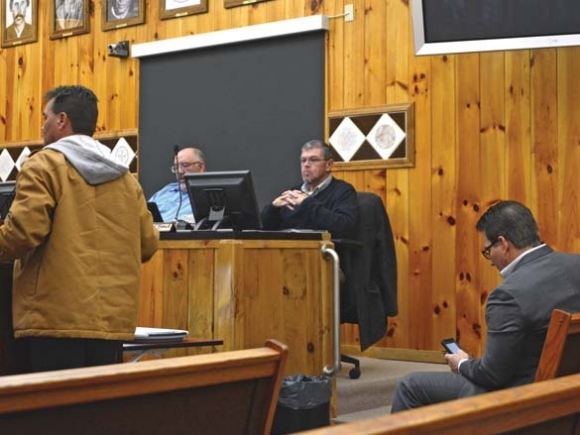 Principal Chief Richard Sneed is now under investigation following the Cherokee Tribal Council's unanimous vote Jan. 4 to look into a settlement agreement he signed off on to pay seven former tribal employees a total of $698,000.
"I want to get an investigation to determine if what was done was legal or not, because we're all getting calls, which the people, I don't blame them. If I wasn't sitting in this chair I'd be calling one of you also," said Councilmember Richard French, of Big Cove, who submitted the resolution.
"I know that the people that got the settlement are being looked at or talked about, and it's not fair to them because, whether they believe it or not, I'm representing them too," French continued. "I just want to make sure if what was done is legal, that these employees can go on with their lives and do their jobs. The chief can go on and do his job. We can go on and do our jobs."
Road to a settlement
The settlement in question stems from actions former Principal Chief Patrick Lambert took in October 2015, just hours into his term. Upon taking office, Lambert sent letters out to 14 people, telling them that they'd either been let go from the tribe or transferred to a position with much less pay and responsibility than their current job.
Seven of those people eventually filed suit in the Cherokee Tribal Court, claiming that the firings and demotions violated the Indian Civil Rights Act, the Cherokee Code and the tribe's Charter and Governing Document. The suit charged Lambert with slander and defamation for making "false and defamatory statements" about the plaintiffs and alleged that Lambert intentionally inflicted emotional distress on them.
Lambert filed a motion to dismiss the charges, arguing that sovereign immunity protected him from suit in his official capacity and that there was no basis for a claim against him in his individual capacity. The court granted some of Lambert's motions to dismiss but denied others, keeping the suit alive. Both sides appealed portions of the ruling to the Cherokee Supreme Court. By the time the case made it that far, the 2015-2017 Tribal Council had voted to remove Lambert by impeachment, and Sneed was the new principal chief.
The court heard the case — Attorney General Mike McConnell said the three-hour length of the oral arguments was "out of the ordinary" — but did not issue a ruling. Before making a decision, McConnell said, the court advised the parties involved that it would be in their best interest to work out an agreement.
"They admonished the participants, 'Your lawyers need to get together and talk, because everyone's not going to like what we're going to do,'" McConnell said. "I've heard that from judges and justices. That sends a strong signal to the litigants that we've got to get together and get this finished."
A signed settlement document dated Oct. 9 outlines the terms of just such an agreement. It states that the seven plaintiffs will receive a total of $525,000 — subject to Tribal Council's approval during its Nov. 2 meeting, with each party responsible for his or her attorney fees.
However, the proposed agreement was never presented to Tribal Council, and two business days after the meeting where the body should have considered it for approval, a new settlement document was completed.
This document, dated Nov. 6, lists a settlement amount 33 percent higher than what was originally agreed upon, stating that the plaintiffs should receive a combined $698,000. The agreement states that the terms are not confidential but does not stipulate that Tribal Council approve it, as the Oct. 9 document did.
Questioned legality
The issue was first discussed publicly during the Dec. 7 Tribal Council meeting, when Councilmember Lisa Taylor, of Painttown, asked Sneed to "squelch publicly" rumors she'd been hearing that the employees had received payouts somewhere on the order of $75,000.
Sneed replied that a settlement had been made and that it was paid partially by the tribe's liability insurance and partially through a line item the tribe has budgeted for lawsuit settlements. However, he told Taylor, a nondisclosure agreement in the settlement prevented him from saying more.
Sneed changed his tune on that point during the January Tribal Council session.
"Yes, the payout is public record — the dollar amount is," he said in January. "The confidentiality piece was on the suit itself and the negotiations."
Documents pertaining to the court case are public record, but the exact back-and-forth that occurred during the settlement negotiations will remain confidential.
News of the settlement has prompted tribal members to ask some tough questions. Was a settlement necessary in the first place, or was the tribe likely to win the court battle? Why was the initial settlement amended to reflect a much higher dollar amount than the plaintiffs originally agreed to? Is it legal for the principal chief to settle a suit without the signature of the vice chief or approval by Tribal Council? The Oct. 9 document didn't even include Sneed's signature, with Chief of Staff Paxton Myers instead signing on his behalf — is that allowed?
And, where did the money come from to pay the settlement? The tribe's liability insurance covered only a portion of the amount, and some cast serious doubt on whether the line item Sneed referenced exists and, if it does, whether it holds enough money to pay such a settlement.
"Never before have I seen a line item in the budget general fund that would include that," said Lambert, who left office before the current budget was approved.
Ashley Sessions, a Birdtown resident and 2017 candidate for Tribal Council, said that she was given a 2018 budget book after a recount of votes determined that she had won. However, the Board of Elections later decided that a runoff election should be held, which Sessions then lost.
"I was given a budget book, and I've been looking at that," she said. "It was passed before this council, and there is a line item for settlements. And the amount is $0."
Sneed, meanwhile, has continuously maintained that the settlement was legal and that he had kept it out of Tribal Council only in an attempt to avoid what was happening now — that is, commencement of "the court of public opinion."
"There is nothing in the tribal code that says settlements have to come to Tribal Council," McConnell said. "It doesn't say anything about Tribal Council's ability to enter a settlement. It doesn't say anything about the chief's ability to settle. My position is this is where we really need a constitution."
Resolution required
Within the first minutes of the Jan. 4 meeting, French moved that Tribal Council launch an investigation into these questions.
"I've been asked by several of our enrolled members of this tribe about this payout, and I wasn't aware of it when it happened and I'm not sure of everything that went on, but they want transparency for this tribe," he said. "We ran on that, that we was going to do that."
Councilmember Bo Crowe, of Wolfetown, seconded the move and Councilmember Tommye Saunooke, of Painttown, called the question.
However, before a vote could be taken Chairman Adam Wachacha, of Snowbird, said that French should first draw up a written resolution, spelling out who is in charge of conducting the investigation and reporting the results to Tribal Council. French said that he'd work with Legislative Counsel Carolyn West to get one together by the end of the day.
While a written resolution may or may not be the more correct way to handle such things, a written resolution was not required when Tribal Council decided to launch its investigation into Lambert's administration, back in August 2016.
On that occasion, Sneed — who was then the vice chief — spoke at the beginning of the meeting about some concerns he had regarding Lambert's hire-fire decisions. When Sneed finished speaking, then-Councilmember Travis Smith, of Birdtown, immediately moved that council hire an investigator to look into the "wrongdoings" surrounding these decisions. No written document was attached to the move, and when Lambert later asked Tribal Council to reduce its decision to writing so that he could veto it, he was told no.
"After a discussion and reviewing the Legislative Counsel's legal memorandum on this issue, the Tribal Council's investigation authority does not require the Principal Chief's approval … In light of this, the Tribal Operations Program will not reduce the investigation vote to writing," then-Vice Chairman Brandon Jones, of Snowbird, wrote in an Aug. 9, 2016, memo to Lambert's office.
Wachacha did not reference this precedent during his comments Jan. 4. He told French he felt that the investigation would have more "teeth" to it if outlined in writing. However, when French brought his resolution in at the end of the day there was a long discussion as to whether or not Tribal Council could even vote on it that day, or whether it would have to wait for the February agenda.
Tribal law says that each councilmember should get a written agenda with copies of all proposed legislation five business days before the meeting. It doesn't expressly prohibit items from being added the day of, but council's bylaws include hard deadlines for legislation to be submitted and specific criteria for situations in which the principal chief can bring something in as an emergency resolution. These include situations in which a program is in financial jeopardy or in the case of emergency health situations. However, the 2016 vote to investigate Lambert took place absent any advance notice.
Investigation approved
Councilmembers went back and forth for more than an hour before voting unanimously to hear the resolution.
"I hate to see this stuff brewing. I could see it brewing for another month," said Councilmember Perry Shell, of Big Cove. "I think it would be beneficial to those employees that were terminated and also to the court, to the chief, to the executive if we went ahead and investigated this thing now so we can go ahead with the work of the tribe."
Sneed was adamant that he'd done nothing wrong, maintaining that it was inappropriate to discuss the settlement in an open forum. Many of the councilmembers with questions, he said, would have had those questions answered had they attended a closed-door meeting held the previous day.
"The (attorney general) got up and gave a detailed explanation as to how and why it was legal to settle this case, but you weren't here for that," he said.
French took offense to that criticism, explaining that he'd been out of town on a pre-planned anniversary trip with his wife. Announcement of the Wednesday meeting had been delivered Monday or Tuesday, when he'd already left Cherokee.
"I can't plan on being here for a meeting that wasn't scheduled," he said.
The resolution to investigate still requires the principal chief's signature to become effective, but Sneed said in a Jan. 5 work session on the issue that he would ratify the resolution council passed to launch the investigation. The investigation, according to the resolution, will be conducted by an independent third party with the results available to the public, subject to public records laws.
Two of the plaintiffs in the case addressed Tribal Council to say that they supported the investigation, as well.
"Please investigate so all of those details can be placed on the table and this community can have the answers that they seek. They are there. It's in black and white," said Secretary of Finance Corey Blankenship, who held a similar position under the Hicks administration but was let go when Lambert took office.
"One thing I'm hoping, Richard (French), is that you could include in that investigation to take it all the way back to the day 14 employees received their letters by a police officer," said Mollie Grant, who was manager of the Emergency Management Program when Lambert took office. "We had to stand there, read those letters in front of a police officer before he would leave us."
Sneed maintained that public discussion of the settlement is doing more harm than good.
"When there is a legal settlement, I don't know that anybody who is a party to a lawsuit wants that to be something that is public fodder," he said Jan. 4. "Everybody's entitled to their opinion, but at the end of the day when there is a lawsuit and there is a settlement, that's not something that we in my opinion open up the floor for everybody to come and have their opinion on."
Tribal member Becky Walker, of Birdtown, blasted Sneed for that statement.
"We are an indigenous community. We have a history that goes back longer than 500 years and white man's law," she said. "We are a community that operated off of consensus and the opinion of the people. That's who we are."
She reminded Tribal Council that there's a reason so many new faces are sitting around the horseshoe this year.
"We're in a different time for our tribe," she said. "The reason you have people hounding you and calling you is because they're awake and they're involved and they want to know what's going on. That's what you're hearing."
The next step in the investigation process will be publication of a request for proposals. Councilmembers will then look through the bids that come in to determine which company should do the investigation.
"Was it illegal, or was it not illegal?" said Councilmember Boyd Owle, of Birdtown, Jan. 5. "Once that question is answered we can move forward, or we can look at an impeachment."