Archived News
Mashburn to fill late husband's seat on Franklin board
Wednesday, January 10, 2018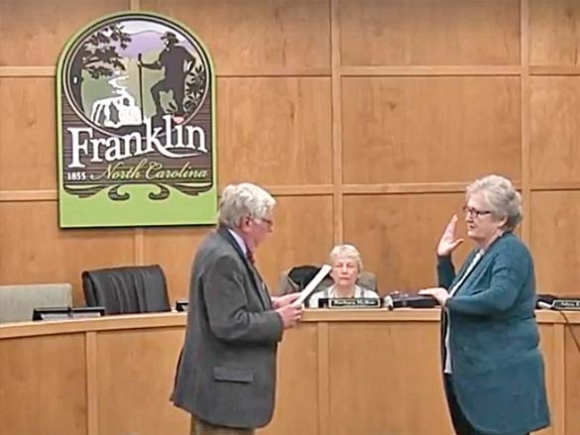 When longtime councilmember Billy Mashburn passed away just days before the 2017 municipal election, the Franklin Town Council was prepared to have a new face on the board.
However, Mashburn was still the third highest voter-getter on the ballot and won re-election to a seat he's held since 1992. Instead of the victory going to the next highest vote-getter, state law allows municipal governing boards to appoint someone to fill the seat until the next election.
During Franklin's Jan. 2 meeting, the town council approved the appointment of Dinah Mashburn, Billy Mashburn's widow, to fill the seat until the 2019 municipal election.
Councilmember Joe Collins made the motion to appoint Dinah based on her knowledge of town affairs and her good standing in the community.
"It's not just a coincidence at all that we suggest the name of Dinah Mashburn," Collins said. "We grew up together … she's always been a good citizen of Franklin and has always had the best intentions for the town of Franklin. She's always been active in the community and I feel honored myself to place her name for consideration."
Collins motion passed 4-1 with Councilmember Adam Kimsey opposed.
"I'd be remiss not to bring forth Angela Moore's name — she's shown interest and has the public backing and experience," he said.
Kimsey's motion to appoint Moore died for lack of a second. Moore ran for the town board for the fourth time this year and fell a few votes behind Mashburn on the ballot.
While Mayor Bob Scott was ready to swear Dinah Mashburn in immediately, Collins said it might not be fair to have her vote on issues she may not be familiar with yet.
Dinah agreed she wasn't up to speed on some of the agenda items — specifically she said she wasn't ready to vote on the proposed noise ordinance.
The board decided to swear her in at the end of the meeting, and she will begin voting on issues at the Feb. 5 board meeting.
The board also presented Dinah with a plaque recognizing Billy for his many years of service to the town and a resolution from Gov. Roy Cooper awarding Billy with the prestigious Order of the Long Leaf Pine Award, the highest honor in North Carolina.
Dinah fought back tears as she thanked the mayor and the board for the dedications to her late husband.
The entire Franklin Council meeting can be viewed at www.maconmedia.com.