Archived Arts & Entertainment
This must be the place: 'It ain't me you're lookin' for, babe'
Wednesday, January 10, 2018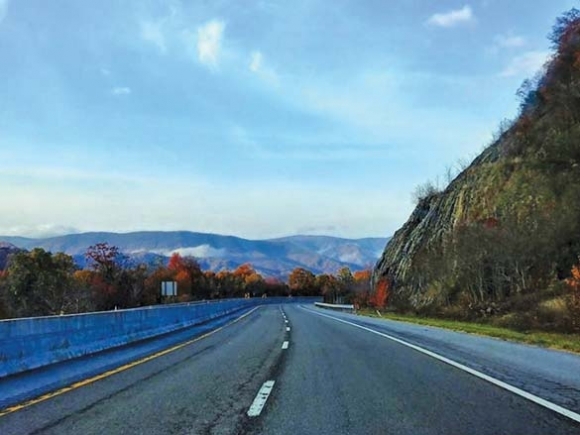 So, what do you make of it all?
Throughout this recent holiday season, that question kept getting posed in my direction. It was tossed at me at by my girlfriend's father and uncles, by my own father and uncles, by cousins and old friends that I made time to meet up with while back home in Upstate New York.
Part of me just wanted to avoid the question. I mean, where in the hell do you even start to bring yourself to the discussion table to attempt to make some sensible remark on the past year, past decade, past generation in this country and its place in the grand scheme of things?
But, then again, part of me wants to truly take advantage of any and all opportunities to have an open, honest and educated conversation on where we were, where we're at, and where to from here? Everyone has an opinion, and that opinion should be welcomed, and valued in a true democracy, where differences need to be seen as chances for new ideas and common ground a cherished property for positive change and compromise.
For myself, I view everything from the bigger picture. As in, we've been in these situations and conflicts before, and probably will be again sometime down the road. But, what's different is the rules of engagement, where the gloves are off, to a degree in which we haven't experienced, as mutual respect for your opponent amid disagreement is tossed away like yesterday's garbage.
What's funny, and not in a humorous way, is how there seems to be so many things (issues) on our plate, we tend to forget they're even there. While I was driving down the interstate back to Waynesville, I was struck by a statement, seemingly matter-of-fact, where the radio broadcaster read a recent news headline from the war in Afghanistan stating, "… and the war, now in its sixteenth year."
Sixteen years? Has it really been that long? I'm 32 years old, which means for exactly half of my existence the United States has been fighting in the treacherous physical, political and religious battleground that is Afghanistan. And I can vividly recall when we invaded that country those many years ago, sitting in my friend Sean's basement at his parents' house, watching the breaking news and wondering just what will that mean for the future of our country moving forward?
And I remember when America invaded Iraq in the spring of 2003. A senior in high school, it's all we talked about that day we heard what had happened. What does this mean for all of us heading to college? Would the draft be reinstated? Would the planet find itself at war if the Middle East decided to push back against the Western World?
Though those sentiments and moments in history have both gathered layers of dust over the last decade and a half, the disputes, paranoia, anger and military involvement tends to remain the same. We're still in Afghanistan, and Iraq to an extent, now sending in more and more "advisors" (once again) like we did in the early years of the Vietnam War.
That line, "and the war, now in its sixteenth year," keep ricocheting around my mind when I headed into our newsroom this past Sunday, amid freezing cold temperatures and an office not heated since Friday afternoon.
The newsroom was silent. I laid out my work on the table. Flicking on the light of the kitchen, I got my coffee pot ready to brew. Standing there, I noticed a new addition to the bulletin board near me. It was an editorial by Smoky Mountain News Publisher Scott McLeod.
Coming into the New Year, he cleaned out his office, changing things around. Of which, he took the old Smoky Mountain News archive books and relocated them from his office to the shelves of the conference room. And, apparently, in transition, he or someone flipped through the back issues, coming across his editorial from Sept. 11, 2001, that was scanned and posted on the bulletin board.
The editorial, titled "Terrorism leaves us confused, angry," was written in real time as the World Trade Center was attacked and collapsed. Our newspaper goes to press on Tuesdays, so he and the news staff were watching the events unfold in New York City and Washington D.C., as we all were, while our daily lives, routines and thought processes were forever changed.
Some 16 years later, McLeod's words still ring true, "I begin to wonder how many are going to die, and wonder if those people on those planes know what is happening. There is no way they could, except they do likely know that have been hijacked. The rest of the terror, perhaps, is unknown to them. And as we watch and hear, I begin to dislike being able do so … Like a viewer of some reality show gone awry, I can't stop, can't pull the plug on the web. The horror of it all has me addicted in some way I don't know how to explain … The truth is that using terrorism is an admission of helplessness. Those who are victims of it will, after the sadness and shock wear off, be filled with a new hatred."
And yet, 16 years later, the final words of the editorial still provide the hope I feel when asked what I think of it all, "Finally, I have an intense desire to see my kids and wife. For today there are perhaps thousands of good people — both living and dead — who will never have that opportunity."
Life is beautiful, grasp for it, y'all.
Hot picks
1 The Haywood County Martin Luther King Jr. Committee will celebrate the legacy of Dr. Martin Luther King, Jr. during a weekend of events Jan. 13-15.
2 Andrews Brewing Company (Andrews) will host the "Lounge Series" with "The Story Teller from Bryson City" at 5 p.m. Saturday, Jan. 20.
3 "Paint Nite Waynesville" will be held at 7 p.m. Thursday, Jan. 18, at Frog Level Brewing.
4 A community jam will be held from 6 to 7:30 p.m. Thursday, Jan. 18, at the Marianna Black Library in Bryson City.
5 Soul Infusion Tea House & Bistro (Sylva) will host Nicholas Prestia (singer-songwriter) at 7 p.m. Friday, Jan. 12.