Archived Outdoors
Adventure through 2018: WNC offers excursions for every month of the year
Wednesday, January 03, 2018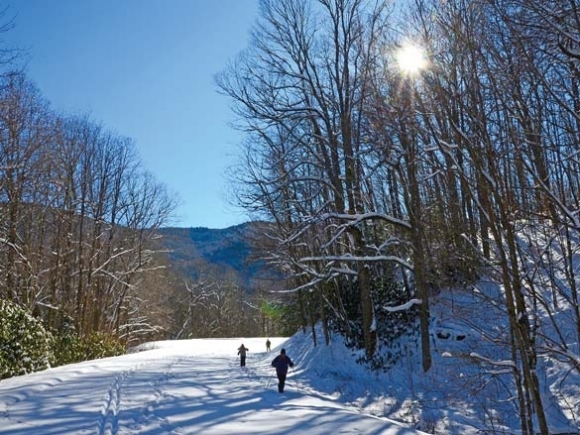 When people praise the Smokies, it's often the area's status as a four-season bonanza of beauty that spurs the discussion. From snow-blanketed winters to vibrant-leafed autumns, these mountains dress to impress year-round.
As 2018 grinds into gear, use this list as a guide to adventures, activities and events throughout the year designed to help you experience mountain life to its fullest.
January — Explore the frozen Parkway
The Blue Ridge Parkway may be one of the busiest units in the National Park Service, but when the temperature drops the scenic road is frequently closed to motorized travel. Take a winter hike — or, when it snows, a snowshoeing or cross-country skiing adventure — to enjoy a more solitary Parkway experience. Pro tip: the roundtrip walk from the Soco Gap entrance to Waterrock Knob is about 10 miles.
February — Take the plunge
Some may call it crazy to intentionally jump into a pool of freezing water, but don't let the naysayers dissuade you. The Haywood Waterways Association makes fun a priority at its annual Plunge Benefit-t-t-ting Kids in the Creek & Youth Education, with costumes encouraged and bonfires provided. This year's plunge will begin at 11:30 a.m. Saturday, Feb. 17, at the Canton Pool, with all funds raised supporting Haywood Waterways' environmental education efforts. The plunge is $25 or free for those who raise sponsorships; sign up at www.crowdrise.com/o/en/campaign/6thannualhwaplunge.
March — Join the Assault
There's no truer way to prove your grit than by running a 2,770-foot ascent — and then coming back down — over the course of a 7-mile trail. The eighth annual Assault on BlackRock race will give participants the chance to do just that, with this year's race slated for Saturday, March 17. Better yet, it's for a good cause — all proceeds will benefit Jackson County's "Shop with a Cop" program, which allows kids from low-income families to go Christmas shopping in the company of a law enforcement officer. Pre-registration for the race is $25 at https://ultrasignup.com/register.aspx?did=51327.
April — Go on a Pilgrimage
Offering everything from lectures to hikes to photography adventures, the Spring Wildflower Pilgrimage will likely hold interest for anyone with even a tangential interest in wildflowers, which perhaps is why this year's April 24-28 event will be the 68th annual. Based in Gatlinburg, Tennessee, the pilgrimage offers excursions spreading throughout the Great Smoky Mountains National Park and sessions with speakers from across the region. Look for the schedule and registration information at www.springwildflowerpilgrimage.org.
May — Plant a Garden
In the mountains May is planting time, with conventional wisdom holding that it's generally safe to put sensitive plants out after Mothers Day. There's an abundance of resources available for gardeners of all ability levels to make their thumbs ever greener, including the Haywood County Master Gardener Plant Clinic, which answers plant-related questions of all types at 828.456.3575; various gardening programs offered by county Cooperative Extension offices; and gardening programs and a seed bank available at the Haywood County Public Library. Many farmers markets (look for a round-up of local markets in The Smoky Mountain News as spring approaches) also feature vendors selling local varieties — with some free advice thrown in.
June — Meet a bird up close
It's not too often you get the chance to see the details of a songbird's colorful feathers and scaly feet up close, but an ongoing data collection effort is always looking for volunteers to give scientists a hand. No experience is necessary to help with the project, called Monitoring Avian Productivity and Survivorship, but helpers are guaranteed a chance to see multiple birds at close range — possibly even getting to hold the feathery creatures in their hands. Check the calendar at www.bigbaldbanding.org for dates, or just keep reading SMN.
July — Join a trail crew
It's one thing to hike a trail. It's another thing to hike a trail while hauling the metal tools needed to keep that trail passable. Helping out with one of the many trail maintenance crews in the mountains is a great way to see your favorite trails through a different perspective while doing your part to keep them there for others to experience. As a bonus, trail crew people are often woods-savvy hiking enthusiasts who are full of knowledge about little-known trails and views. Contact the Nantahala Hiking Club or the Carolina Mountain Club to learn more about trail crews.
August — Gather blueberries
There's nothing like the sweetly tart taste of a mountain blueberry, and they grow abundantly in this corner of the world. Seek out high-elevation spots where the trees are young and sunlight abundant. Graveyard Fields and Black Balsam are two popular areas to pick, but they're also crowded. Scope out your own private blueberry patch, and the haul will be much more plentiful. And make sure to get out early — the longer you wait, the more likely your berries will already be in someone's else's bucket or some bear's stomach.
September — Be appreciated
From bouncy houses to bike trials to five-star gear deals, the Guest Appreciation Festival at the Nantahala Outdoor Center near Bryson City is definitely worth a spot on the calendar. The annual festival features gear vendors and a used gear sale, as well as a multitude of activities for families, a special whitewater release courtesy of Duke Energy and a variety of other attractions. It's free, with this year's event planned for Sept. 28-30. Over the summer, a full schedule will be posted at www.noc.com/events/guest-appreciation-festival-gaf.
October — Spot the bear
Starting in mid-October, pretty much any drive in Western North Carolina becomes a leaf-looking spectacle of epic proportions, but one spot near Cashiers ups the ante in a way few other locations can match. From mid-October through early November, a shadow growing as the sun sets behind Whiteside Mountain looks exactly like a giant bear spreading over the mountains. The phenomenon begins around 5:30 p.m. on sunny days and lasts for about 30 minutes, with the best viewing spot at Rhodes Big View Overlook off of U.S. 64 between Cashiers and Highlands.
November — Tote a trout
Fall is trout stocking time for the N.C. Wildlife Resources Commission, but in Haywood County the organization gets some help from the Cataloochee Chapter of Trout Unlimited, which rounds up volunteers to help deposit buckets of live trout all along the Pigeon River. Holding a bucket of twisting, turning trout is a singular experience, and afterward the stocked river offers some amazing catch-and-release fishing. Volunteers and their rods are encouraged to hang around for some post-stocking casts. Watch SMN for dates, or contact Trout Unlimited at This email address is being protected from spambots. You need JavaScript enabled to view it..
December — Experience the wonder of Winter Lights
Draped in nearly half a million lights and studded with gems such as live music and a synchronized light show, the N.C. Arboretum becomes a place of wonder during its annual Winter Lights exhibit. Offered nightly from mid-November through the end of the year, Winter Lights transforms the frosty grounds with multi-colored lights twisted up every parking lot tree, a pavilion that becomes a gumdrop cottage, and a 50-foot Christmas tree whose patterns continually change in time to holiday favorites played through a speaker. There's opportunity to warm up as well, with hot chocolate and s'mores for sale, as well as live music indoors and a kids craft room. All proceeds help fund programs at the arboretum. Find out more at www.ncarboretum.org/exhibits-events/winter-lights.