Archived Arts & Entertainment
The end of silence: A conversation with Henry Rollins
Wednesday, January 03, 2018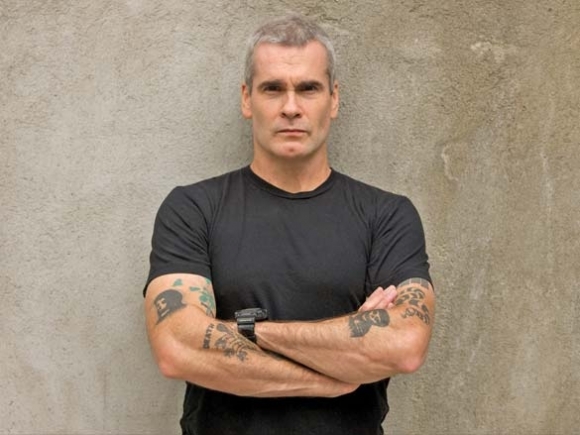 He is a welcomed voice of reason in a planet seemingly gone mad.
For the last four decades, Henry Rollins has remained a thorn in the side of pop culture and world politics. Though he remains elusive in definition, he's accessible to those in need of some truth in an era where the battle of appearance versus reality is hitting a crucial tipping point.
In the early 1980s, Rollins burst onto the scene like a shotgun blast as lead singer of legendary punk act Black Flag. Then there was his 16-year run with the highly-acclaimed Rollins Band. But, for most of his never-ending and always-evolving journey, Rollins has become a modern-day renaissance man, lauded for his poetry, acting, photography, books and essays, atop his extensive social activism and political commentary.
It's not that Rollins is all over the place in his thoughts. It's that his thoughts have taken him all over the place, gracing stages around the globe — over a hundred countries and all seven continents at last count.
When you find yourself in conversation with Rollins, you start to see your life and the lives of those around you from 20,000 feet above. He points out the anger and confusion, the lies and mistrust, but also the immense good and unrelenting hope that resides at the core of humanity.
His outlook might seem grim, or even bleak, but that's only part of the equation for Rollins. Sure, he shows you just how bad everything has gotten. But, his intent ultimately is to shake you awake, as if to say, "OK, this is where we are. Now, are you going to sit on the sidelines or are you going to stand up and fight?"
Smoky Mountain News: When you look out on the world today, what do you see?
Henry Rollins: I think we're living in an age of eventuality. I have enough laps around the track now, to where I have a better understanding of the Reagan era, in America and the world. I see now that the war on drugs is a war on the poor and the non-white or the poor white. That Reagan had a war on gay people and a war on the economy. And there's this systematic dumbing down of the America electorate. Why? Because you need to fill battlefields and prison cells, because that's where you're making big money. And so, two generations later, you have a population that for the most part doesn't travel, doesn't read. Not because they're bad or stupid, there's no time. They're busy hustling back in their crap car to their cubicle, to grind out the work week to get 0.75 percent of what they need to get through the year. And they don't know, and they don't have time to want to know, so it's reduced to soundbites and people talking over each other. With that, you have a country that's tremendously good and privileged, that has a wacky worldview that's not informed by reality. And so, why wouldn't a guy with a corny populist message get over?
SMN: People keep saying things are so bad, but actually these conflicts and issues have been around for the better part of a half-century ….
HR: Yeah, and humans will always kind of mortar and pestle these issues into a powder as the centuries go by. There will always be homophobia, racism and war. Because that's just how homo sapiens seem to make it through the centuries. However, I think we're all doing it now with dirtier water, cloudier skies, an ever-increasingly hot planet, dwindling and diminishing resources, and more hostile borders. The fat has melted off the land and here we are. There's not as much cushion and financial instability keeps a lot of people in an economic stress positon, where they're not crouching or standing, in that middle where they're in pain and you can push them with one hand. They're being tortured. And don't expect to get a humane response from people. Hence, the anger you see at Trump rallies. And it reminds me of the Soviet Union I used to read about or Putin's Russia in 2017. That's my worldview, that we've been to this place before, certainly, but there's less fat on the land, and the desperation is a bit more real. What has changed, since I was young and Nixon was around, is that the political divide has become so polarized, where if the Democrats do "this," then the Republicans have to do "that." The only way Congress works is if everybody gets together and everyone gets part of what they wanted. So, now we just have scorched earth. Whoever has the majority, it's their way or the highway. That's where we're at. What's encouraging is young people, who won't be sold on their parents' homophobia and racism, and lack of being science-inclined.
SMN: It's definitely one of those things where the by-product of this chaos is that the "silent majority" of progressive folks are waking up.
HR: [Progressives] got baby slapped and kiddie punched until last year. Now, you're getting a real shot into the boards. It's a Philadelphia Flyers game. And now you're seeing what you can lose, you see how bad it can get, how quickly and how easily. The gloves are off now, and that next shot to your ribs is going to set you back. And a lot of people are waking up and going, "Whoa, no way did he just say that and no one is calling him on it." And as much as I fight this stuff becoming normal in my life, I can't help it — I just adjust. I'm that kind of creature, I don't cave in. Here's your "change," and now you get to understand that elections really have consequences.
Editor's Note: To listen to the audio stream of the entire interview, go to YouTube and search "Henry Rollins Garret K. Woodward."
Want to go?
The Henry Rollins Travel Slideshow will hit the stage at 7 p.m. Tuesday, Jan. 9, at The Orange Peel in Asheville.
During the presentation, Rollins will showcase a collection of his photography taken during his trips around the world. The images will provide the basis for his discussion on where we are as a country and world society these days.
Tickets are $30 in advance, $35 day of show. For more information and/or to purchase tickets, click on www.theorangepeel.net or www.henryrollins.com.