Archived News
Following in the footfalls: Canton's new mayor takes the reins
Wednesday, January 03, 2018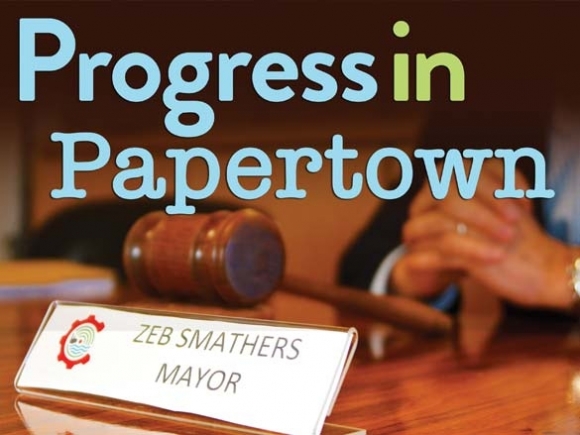 One of Zeb Smathers' earliest memories is sitting in the cereal aisle of his grandfather's downtown Canton grocery store, which wasn't open on Sundays and didn't sell booze.
"When the movie Ghostbusters came out there was a Ghostbusters cereal and I remember pleading with granddad," Smathers said. "Mom would never allow us sugary cereal."
First known as the Schmitters, five Smathers brothers migrated from Scotch-Irish and Germanic realms to the Rowan County, North Carolina area before settling in Dutch Cove and becoming one of Haywood County's oldest clans; there's hundreds of them in county phonebooks and graveyards, there's a Smathers Street in three of the county's four municipalities and there's been a Smathers somehow involved in the commercial, political, social or spiritual life of this place for the past two centuries.
Now, there's one more. Following his father's example, Zeb Smathers became Canton's mayor in 2017; serving in a town where smooth-worn river rock and pitted red brick hold back the hills, this new young mayor joined by a new young board and assisted by a new young staff has already begun to confront ancient issues of aesthetic and ethic, in a place where immediacy and timelessness still coexist.
Spinning wheels
More than 30 years later, Zeb Smathers is still sitting in that cereal aisle, except today it's the law office he shares with his father and not the market where WWII veteran Loranzo Smathers gave free suckers to children and sold groceries on credit to African Americans in a segregated South, as if a tomato cares about the color of the person slicing it.
"Granddad never ran for political office. He was always the man behind the man," Smathers said.
He's almost an archetype, Loranzo is — the hard-working, kindly veteran who ran the local market and campaigned from behind the deli counter, but would never know that at his feet and in his cereal aisle would sit not one but two future mayors of the town he called home, the town he'd fought for.
"He always said happiness was shopping at Smathers Market, attending First Baptist Church, and voting Democratic," Zeb said.
Happiness was also being married to Frances, Zeb's tough-as-nails grandmother who grew up on a farm in Clyde during the depression, worked at Dayco during World War II and eventually became a probation officer.
"I'd be playing sandlot baseball and she'd drive by and see me walking home, covered in sweat," he said, remembering the day he asked her for a ride home.
"You can't ride in this car," she said. "You're not a state employee."
Zeb also remembers walking around downtown Canton — where the wheels of industry turn, according to a popular local slogan — with his grandfather, who would take him into the barbershop, or to a diner for biscuits and sausage gravy.
"I think the one man who had the most influence on me and my life is my granddad. Even though he died when I was 11, the effect that he had — how you treat people, no matter what you're given or how successful you are," Smathers said, "what matters is how you treat people."
But Loranzo and Zeb walked through a different downtown than exists today; by the mid-1980s, formerly prosperous small towns across the United States were starting to see the unmistakable impact of indoor shopping centers and strip malls; the most successful downtowns transitioned to becoming regional hubs for entertainment, government and social services, but rural states especially are littered with the husks of once-vibrant Main Streets where faded vestiges of former glory can still be seen, but just barely.
"I remember growing up in that time period, seeing Canton slowly transition to boarded up windows and businesses closing," he said.
Born in 1982, Zeb Smathers is just old enough to remember Loranzo Smathers' Canton, but came of age during his father Pat Smathers' Canton.
Pat Smathers became Canton's mayor in 1999, while Zeb was just a few semesters away from graduation at Pisgah High School. Zeb then entered Duke University in late August 2001, as a political science major minoring in history.
"It was just that quintessential college experience," Zeb said. "It was a lot of people from up North, a lot of people from New York City, international students, Muslims, Jews, just that great college experience."
Two weeks later, the worst attacks on American soil since Pearl Harbor claimed almost 3,000 lives, gutted the Dow, deepened an existing recession and sparked several wars.
Pat, too, had known Loranzo's Canton and hoped to again see it one day, but his 12-year tenure was marked by a series of natural and human-made catastrophes right from the get-go, the Sept. 11 attacks being only the first.
In 2004, a duo of Atlantic hurricanes that had made their way inland just a few days apart dumped more water than the mighty Pigeon River could bear, submerging parts of downtown and decimating much of Canton.
"Getting that phone call, and hearing the tremble in dad's voice," Zeb said. "The pictures and the stories and the chaos, it was unbelievable. And then a week later, the second storm hit."
As mayor, Pat spearheaded recovery efforts, even going to the floor of the N.C. General Assembly to support a disaster relief bill.
"I think you serve that role that sometimes the mayor does serve, where you're there to listen and console and lead and say 'Look, we're going to make it through this,'" he said of his father's efforts. "If you look up 'Leadership' in the dictionary, that's what that was."
When Canton dried out and 2008 finally rolled around, Pat threw his hat in the ring for lieutenant governor, just as the Great Recession began ruthlessly erasing a decade's worth of economic growth — a blow from which places like rural Appalachia are still struggling to recover.
He finished a distant third in that race, losing out to Walter H. Dalton, who that November bested Republican Robert Pittenger, N.C.'s current Ninth District Congressman.
That year also saw the election of Barack Obama — who won North Carolina by less than a third of a percent — as president, and the election of Democrat Bev Perdue as N.C. governor by four points over future Republican Gov. Pat McCrory.
By then, Zeb was finishing up law school at Chapel Hill, but had also been involved in his father's statewide campaign as a surrogate.
In 2011, Pat declined to run for re-election as Canton's mayor, citing his law practice and an impending renovation of the languishing Imperial Hotel as his new focus.
This wasn't Loranzo's Canton anymore. He'd passed in 1994, 10 years before his wife and six years after Smathers Market closed its doors forever, along with a host of other Canton commercial constants.
And it wasn't Pat's Canton anymore, either. His return to private life marked the end of a frustrating chapter in Canton's history, when a big man with big beliefs found little progress amidst the hurricanes, the floods, the wars, the recessions, the housing market crash and the deepening divide between urban and rural.
What's in a name?
Zeb Smathers had left Canton for Duke, and then for Chapel Hill, but bisecting the two was a short study-abroad session in Australia inspired by a photo of his grandfather during his army service; when Zeb finally made it back to Canton, he continued to haunt Loranzo — moving into his house and returning to his cereal aisle, but making a living as an attorney.
"At that point I was 30, I was in a serious relationship, serving on the Folkmoot board, the rec board," he said. "I had some people approach me and ask me to consider running."
In 2012 Smathers joined a crowded field seeking one of four available seats on the town board under Mayor Mike Ray, who'd succeeded Pat Smathers in an uncontested election in 2011.
"I just saw the possibility of the role, as someone who is from here, lives here, works here, worships here, why not get in and see where this goes?" he said.
Voters responded enthusiastically; the first-time candidate came just four votes shy of finishing first. Perhaps it was because of his well-known name, or his father's, or his grandfather's.
But given his education and experience and his passion for the principles of government, it's apparent that Smathers has long sought to make a name of his own.
"It started before Duke," he said. "There was a teacher, she was hard but prepared me for college better than any other professor — Barbara Passmore taught history and AP history at Pisgah."
During that time, Smathers says he became "obsessed" with a towering figure in the pantheon of the American political canon.
"I became really in tune with TR," Smathers said. "He had big beliefs about what this country is and can be. We have gotten away from being inspired by big ideas and how great we are because of our beliefs and because of what we stand for. I think Teddy Roosevelt came along at the turn of the century and really grabbed hold of that and inspired people."
Another more broad influence on the young Smathers — "Same teacher, same class" — was Ellie Wiesel's stark, sparse, disturbing 1960 work, Night, which chronicles Wiesel's experiences in Nazi concentration camps.
"I remember reading that book and seeing the horrors of evil," he said. "The calculated death of not just people and religion, but ideas and beliefs. And then it really framed me a few years later for the first time on September 11 when I saw, on a modern level, evil defined. Looking back, that really set things in motion to where we are now."
Taking the 'can't' out of Canton
That year, 2012, would be the year the staunch Democrat won both an election, and a bride.
"As I like to say it was nice to find a girl I wasn't related to, to marry in this county," he laughed.
Smathers married the former Ashley Henson a few months before the election; more than the joining of two people, a marriage is the joining of two families, and Zeb's new family included Ashley's father Ken, who just so happens to be the chairman of the Haywood County Republican Party.
"Much to the disdain of both my wife and mother-in-law, Ken and I talk politics regularly," Smathers said. "Even though we disagree about many issues, we usually find common ground and solutions. In local government, people don't care what your party is if their trash isn't picked up on time."
Smathers took his seat on a town board under Mayor Ray that included all new faces — Carole Edwards, Dr. Ralph Hamlett and Gail Mull.
That board shepherded the town through a few minor projects, but began to pick up steam after the hiring of a progressive young town manager, Seth Hendler-Voss.
During Hendler-Voss' tenure, which ended this past March, the town continued to hold the line on property taxes, retooled the century-old Labor Day parade, became the first living wage certified municipal government in Western North Carolina, navigated a stormy municipal pool refit and saw a series of economic development victories make Canton the hottest ticket in Haywood County.
Hamlett and Mull remain on the board after the 2017 election, and are now joined by James Markey and Kristina Smith under Mayor Smathers, who noted that all four candidates that sought the two seats seemed to be on the same page.
"As much as everyone loves a horse race, the going back and forth, we have people who stood up and said 'Look, we want to add to this,'" he said. "We want to take our skillsets and go with this to make this better. I think right now the furnace is really burning with inspiration."
While optimism hasn't exactly been in short supply in Canton, there's always existed an identity crisis in those Cantonians who find it hard to be inspired by a paper mill; as Canton lacks the tourist trappings of Waynesville, or the close-in mountains of Maggie Valley, or the eccentric cosmopolitan vibe of Asheville, is a working class hero still something to be?
"We have an identity," Smathers said. "We're a mill town. I struggled with that for a long time. I think for many years people always said, 'Well how can we be more like Waynesville? How can we be more like Brevard?' You can almost chalk this up to [renown WNC bluegrass band] Balsam Range, who said 'No, we're Papertown. We're a blue-collar town.' That [2012 Balsam Range album] really started formulating, in my mind, what we are."
Smathers may be part of the first generation of Canton residents in recent memory to have embraced the town's gritty identity of yellow plastic hard hats, green metal lunchboxes, piercing steam whistles and a nearly never-ending stream of truckers and trainmen.
But along with Smathers, Markey and Smith are both in their early to mid-30s; Smathers called Hamlett and Mull "young souls" despite them being significantly older than the rest of the board. All together, the youthful enthusiasm on Canton's new board is hard to ignore.
"In 2013 there wasn't much hope in the region," Smathers said. "There wasn't the belief that we could do things. We had become so entrenched in finding the word 'can't,' or in looking for excuses — we can't do this, we can't do that. The hallmark of this board will be that we are not afraid to try."
One of the first things the board will try is to figure out the 2018-19 fiscal year budget, a process Smathers credits Town Manager Jason Burrell with starting earlier than usual.
"This will be our first budget go-round for the two new board members, as well as for the town's new CFO, Natalie Walker, who is also a 2001 graduate of Pisgah," Smathers said.
He's promised a lean budget, indicating that this may be a rebuilding year for Canton's coffers, which continue to absorb blow after blow; the town has been making up for budget deficits by appropriating fund balance to cover the spending shortfalls, but like other governments faces must-have needs that simply cannot wait, including a $1.7 million infrastructure project.
"Spruce Street has to be done," he said. "Because as much as we've talked about water expansion, Canton is water-rich, and we need to take care of our own people first. Once we can get Spruce Street where it needs to be, then down the line we can look at other places and other opportunities."
With spending needs that can't be curtailed, the current focus is, naturally, on the income side of the equation.
"Every town of every size wants to beat the drum on economic development, and for us it's a necessity, because we need more businesses to give us that option of not being forced into raising taxes," he said. "The more you spread out, the more you diversify and increase revenue with new businesses, that becomes less and less of an issue."
A recent economic development agreement between the Haywood and Asheville chambers of commerce leaves Canton well positioned to take advantage of booming Buncombe's overflow.
"I think it will help us tremendously, because we're the next town over," he said. "I think that unlocks tremendous potential."
Unlocking the potential of the town's hallowed Labor Day celebration is also a priority for Smathers, who with Burrell, Hamlett, Hendler-Voss and Mull advocated for a significant modernization of the festival, which has drawn bigger names and bigger crowds over the last two years but continues to report middling financial returns.
Still, the town's Interstate 40 corridor and bustling commercial core have come a long way in the last four years, and the last 40; from where he sits in that cereal aisle, Zebulon Loranzo Smathers seems to know what his Canton looks like by the time his first four years are up — it looks an awful lot like the place his grandfather walked with his son, and with his grandson.
"I was raised by this town," Zeb said, echoing the footfalls of his forebears. "I have flashes of the people, and the characters and I think you'll again see people that want to move to this community, where you see people go off to do what needs to be done, but then come back to raise a family."