Archived News
Vaya Health honored for efforts to reduce overdoses
Wednesday, January 03, 2018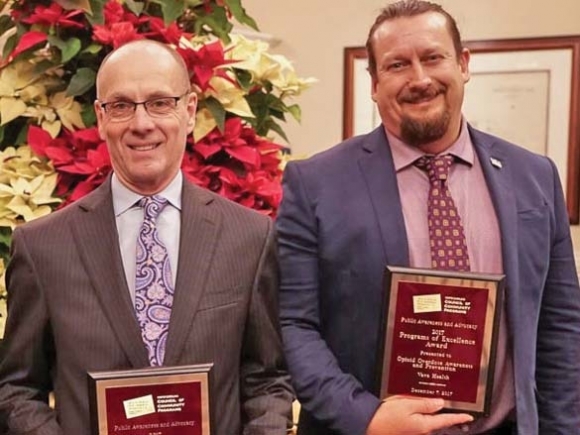 Vaya Health has received statewide honors for its work to prevent fatal opioid drug overdoses throughout western North Carolina.
The N.C. Council of Community Programs awarded Vaya, an Asheville-based public managed care organization, with a 2017 Programs of Excellence Award for public awareness and advocacy activities. Vaya CEO Brian Ingraham and Jesse Smathers, Vaya's specialty populations clinical director, accepted the award on Dec. 7 at the council's Emerging Horizon Conference in Pinehurst.
From 1999 to 2016, more than 12,000 North Carolinians died from opioid-related overdoses, according to state health officials. The state's mountains and foothills regions have been hit especially hard by the epidemic, devastating families and communities in the 23 counties that Vaya serves.
"Vaya has joined forces with healthcare providers and local partners to treat addiction and prevent overdose deaths through a variety of services and initiatives," Ingraham said. "That includes increasing access to naloxone, a medication that can reverse an opioid drug overdose. Already, these efforts are giving local residents a second chance at life and a chance to begin the recovery process. These individuals are our friends, family, coworkers and neighbors."
"Our annual Programs of Excellence Awards recognize innovative, effective community partnerships and programs taking place throughout North Carolina," said N.C. Council Executive Director Mary Hooper. "Vaya's naloxone distribution efforts are saving lives, raising awareness about substance use disorders and connecting people with local treatment resources. We are so pleased to recognize this important work and the people who are working to make their communities safer and healthier for everyone in western North Carolina."
In 2016, Vaya's community reinvestment initiative funded more than 1,300 cartons of naloxone nasal spray, also known as NARCAN, for distribution by the N.C. Harm Reduction Coalition. In 2017, the N.C. Department of Health and Human Services called upon Vaya to coordinate the purchase of nearly 50,000 naloxone cartons for use statewide. Vaya received 5,400 cartons for distribution in Western North Carolina.
County government leaders, law enforcement officers and other community stakeholders joined Vaya in assembling naloxone kits for distribution. Each kit included information about opioid use, treatment options and a phone number to call to report overdose reversals. In August, Gov. Roy Cooper visited Vaya's Asheville headquarters to personally assemble a kit and sign a proclamation recognizing September as Alcohol and Drug Addiction Recovery Month.
The 2016 naloxone distribution saved more than 120 lives in 11 counties, with more reversals likely unreported. The recent NARCAN distribution efforts are expected to save more than 5,000 lives statewide. As next steps, Vaya plans to work with county managers, law enforcement, recovery houses, the Eastern Band of the Cherokee Indians and other partners to ensure naloxone is available to anyone at risk of an opioid overdose.