Archived News
Scene shift in Sylva: Businesses come and go downtown
Wednesday, January 03, 2018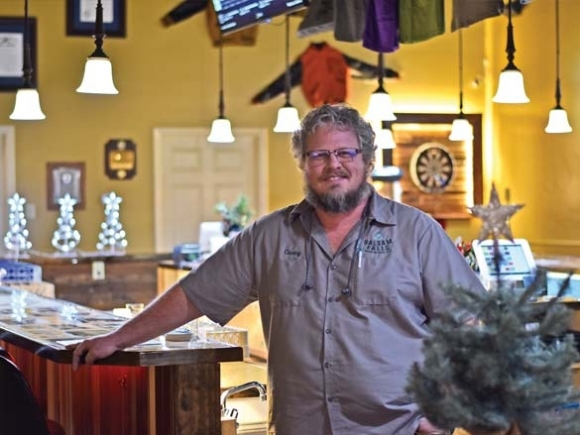 Downtown Sylva looks quite a bit different these days than this time last year.
New businesses have arrived, some older ones have closed, and several existing establishments are moving or expanding.
"I think we've had some quality sustainable small businesses open up, and I'm glad to see some of the vacancies filled," said Town Manager Paige Dowling, who also directs the Main Street Sylva Association.
Town leaders were concerned last winter as an unusual number of vacancies popped up downtown, spurring worries that a diminished number of businesses could lead to a diminished collective draw for tourists and other visitors.
Last January, the vacancy count in the town's B1 district — which includes Main and Mill streets — was 10. This January, it's still 10.
But that number is a bit misleading, Dowling said, because change is brewing. Heinzelmannchen Brewing closed, and after 14 years in business, It's By Nature closed its doors this fall, but Lulu's on Main has already announced plans to move into that space from its current Main Street location, last month securing a conditional use permit from the town board to build a deck with outdoor seating at the new location. And after Hooker's Fly Shop moved to an online presence, Cullowhee River Club and Baxley's Chocolates are preparing to move into the building.
Changes are coming from an aesthetic perspective as well. The town has received grant money to paint a mural on the side of the Ward Plumbing and Heating Building and is preparing to replace the white poles guiding traffic on Mill Street with landscaped bump-out curbs.
"I think there is an upswing for downtown," Dowling said.
Bright Sports
An avid runner and triathlete, Paul Sedlak noticed a need upon moving to Sylva five years ago.
"Everybody goes to running stores in Asheville," he said. "I said, 'Why not just have a running store here? I was kind of surprised that nobody else came up with the idea."
Sedlak opened up Bright Sports in the old Jewelry Outlet building on Main Street shortly before Christmas, excited about the chance to offer runners in Jackson County quality equipment, professional advice and camaraderie close to home.
The store sells all manner of running supplies with a focus on the brand Altra, which Sedlak says features a "unique" design that prevents feet from getting cramped and tired.
"You can run 50 miles, still walk the rest of the day, and you won't get tired because your soles are evenly spread out like you would walk barefoot," he said. "It really doesn't squeeze anything, so you naturally feel comfortable."
True to the name of the store, Sedlak's inventory is heavy on bright colors to improve the safety of runners jogging alongside roads and exercising at night. He also sells CrossFit gear and Ruffwear gear for dogs. In addition to traditional currencies, he is getting set up to accept BitCoin.
Going forward, Sedlak hopes to offer more than just merchandise. He wants to form a running group, offer coaching services and provide nutrition advice for runners.
Balsam Falls
Originally from Sylva, Corey Bryson had been looking for years for a way to return home after living in Florida. When he and his wife Laurie decided to open a brewery, the path began to clear.
Balsam Falls Brewing Company opened on Oct. 11, 2017, taking over the space formerly occupied by Evolution Wine Kitchen, formerly Perk & Pastry Bistro.
"We had lots of good response to our products and to the environment," Bryson said. "People really like the atmosphere."
Western North Carolina has more than its fair share of breweries, but Bryson sees Balsam Falls' atmosphere as setting it apart.
"We have kind of a warm and inviting space here," he said. "Some breweries go with an industrial feel. We're more old-fashioned, lots of wood and stone. We've got all the antique floors that were here, and the tin ceilings that we restored. We just really want to make it a nice hometown brewery."
The décor strongly roots itself in Sylva, with the bar tops featuring various pictures of people, buildings and events from throughout Sylva's past and present.
Opening his business, Bryson found himself navigating firsthand an issue that has caused sharp debate among local leaders over recent years — impact fees from the Tuckaseigee Water and Sewer Association. Breweries are water-intensive businesses, but luckily the restaurants that occupied the space in the past had already purchased the bulk of the allocation needed. Bryson was grateful to find that there was an option to rent the remainder for $15 a month rather than buying it upfront for about $7,000.
"I love Sylva. I've always loved Sylva, and I always wanted to live here, but it was a matter of how we could afford to live here," Bryson said.
Treasures Unknown
After owning the Bear's Den store in Cashiers for several years, owner Pam Allison decided she'd like to move her business responsibilities down the mountain to Sylva, and in September Treasures Unknown opened on Mill Street.
"We regard ourselves as part of the ground crew of beautifying Mill Street. It's actually been going really well," said store manager Terry Teppert.
Before Treasures Unknown moved in, the building was vacant, with Ward's Plumbing and Heating using part of it for storage. An eclectic arrangement of goods outside the front door is designed to draw the eyes of passerby used to mentally skipping that section of street, Teppert said. He's looking forward to the new town mural set to go in on the Ward's Plumbing building next door.
Inside, the store offers a little bit of everything. There are primitives, antiques, consignment items, jewelry, handcrafted items and booth space for rent.
"It's just been her passion — antiques and primitives — for as long as she can remember," Teppert said of Allison. "That's the difference that really sets us apart. I've seen that really be a defining thing for us."
Paper Mill Lounge and Theater
Where the Winged Lion cocktail lounge used to be, there's a new speakeasy in town — the Paper Mill Lounge and Theater.
"I wanted to marry my love of people with my love of entertainment and my love of finely crafted cocktails," said owner Craig Day. "The opportunity started up for me to be able to purchase the Winged Lion, and once I purchased it there was a huge learning curve, but then everything fell into place."
Day defines his business, which opened in July, as a "fringe theater" that emphasizes performance art and high-end cocktails, also serving various brews and charcuterie boards. In addition to a bar, it features a 20-by-20-foot "plug and play" stage with an adjoining green room and kitchenette.
"We do old radio shows. We do poetry slams. We do plays. We do drag shows. We do music, art of different sorts. We do improv. We do storyteller series," he said.
While the bar is membership-based — yearly and daily rates are available — Day said he's worked to make it more accessible by lowering cocktail prices and improving the bar's social media presence.
"It's been fantastic. I'm very humbled at the support that I've gotten from the town and the support that I've gotten from the members of the community," he said. "I think that performance art is important, but I also think that people coming together and discussing different social issues assists in people being civilized."
Innovation Brewing and Papou's Wine Shop
When Innovation Brewing first opened in 2012, Dustin Demos, owner of Papou's Wine Shop, sold the brewery his space and moved into the spot next door.
Now, five years later, history is repeating itself. Innovation is expanding to add a pizza shop adjacent to its taproom, and Demos sold his space and moved down the street to the next block of Main Street, where Sylva Insurance Agency used to be. Papou's offerings are unchanged, Demos said — he's got wine from every major wine-producing region, two tastings a week and wine by the glass — he's just in a different spot.
On Innovation's end, the offerings will change substantially as Woodfire Pizza moves in next door to offer patrons a food option to go along with their beer.
"It's really what made the most sense for the space, and we are huge pizza lovers so we took on this adventure," said Innovation co-owner Nicole Dexter.
Woodfire will serve salads and authentic Naples-style wood-fired pizzas. In fact, the wood-fired oven and dough mixer are being shipped directly from Italy.
Technically, Woodfire and Innovation will be two separate businesses, with each keeping separate tabs for customers. However, Woodfire will have six to eight beers on tap, and the businesses will definitely operate hand-in-hand.
"We can't connect the buildings, but they're pretty well integrated now that we have created this outdoor patio space in front of the pizza shop that flows right into the back door of the brewery," Dexter said.
She expects the pizza place to be open around March. And that's not the only expansion Innovation has in the works. Innovation is also planning to open a second location in Dillsboro, which will likely open sometime this summer.
Pink Me Up
Opening in September 2017, Pink Me Up is located on Mill Street. It's a training studio for Mary Kay consultants from across Western North Carolina.
"We love it on backstreet because it's such a good location for everybody," said consultant Adalina Miller, of Cullowhee. "Everyone knows where we are. I love being in Sylva because it's 30 minutes from everywhere."
The studio is open by appointment only. It's a place for consultants to meet their guests and a spot for them to receive professional development training.
1873 Art & Tattoo Collective
Downtown Sylva now has a tattoo studio with the arrival of 1873 Art & Tattoo Collective in March.
However, it's not just about tattoos.
Owner Robbie Crisp aims to make 1873 an arts collective that displays works from a variety of artists — but vibrant, detailed, quality tattoos aim to be a mainstay.