Archived News
Mission, Macon partner to get new ambulance
Wednesday, January 03, 2018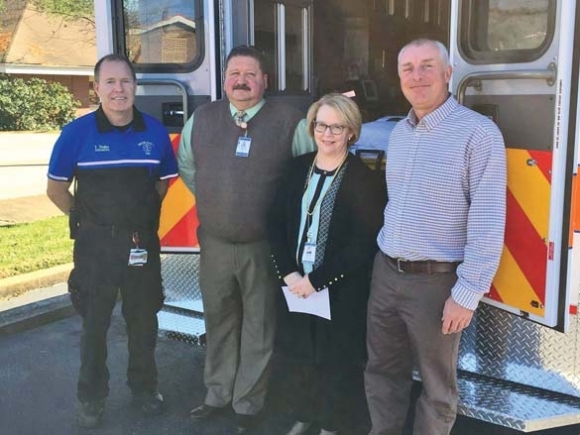 Collaboration between Mission Health and Macon County leadership, with support from the Highlands-Cashiers Hospital Foundation, Mission Health Department of Philanthropy and community donors, has resulted in the fully funded purchase of a much-needed, brand new ambulance for emergency patient transport in Macon County.
"When I learned about the need to improve medical transport for Highlands and all of Macon County, I was pleased to make a significant contribution to this important cause," said community donor Mark T. Mahaffey. "My intent was to expedite the project by making a challenge gift to complete the funding by year-end 2016. It was exciting to see so many good folks in Highlands come forward to meet the goal."
A key factor in acquiring the new ambulance has been the proactive partnership between Mission Health System Regional Transport Services and Macon County EMS. Their collaborative work and detailed analysis of peak utilization and emergency transport response times for transfers in Macon County drove the decision.
That analysis demonstrated a 29 percent increase in out-of-county patient transfers from Highlands-Cashiers and a 46 percent increase from Macon County. When an ambulance must transport a patient out of the county, local coverage suffers. The new ambulance will strengthen 911 coverage in the area by offering increased availability for residents.
As part of this ongoing partnership, both Mission Health Regional Transport Services and Macon County EMS have added new resources to address and improve coverage in the county. Mission Health and Macon County have worked closely to ensure that Mission Health System Regional Transport Services are available to serve the community five days per week, 24 hours a day — double the previous coverage of five days a week for 12 hours per day.
Macon County EMS has provided modified staffing that includes the addition of three new positions, an important increase in resources to provide necessary back-up staffing. This expanded coverage is significant for those who deliver or receive emergency care.
Response time, state-of-the-art technology and expert EMS caregivers are the most valuable elements when it comes to providing critical, rapid-response treatment to patients experiencing a health emergency or involved in a serious accident. Macon County Director of Emergency Services Warren Cabe emphasized that this new vehicle and its state-of-the-art features will even more effectively serve community members.
"The time-saving element alone that we'll see from the addition of this new emergency vehicle combined with related staffing changes will translate into significantly more accessible and enhanced care for patients in the Macon County area," he said. "To be direct, the service we are able to provide to our customers will be greatly improved."
The new ambulance is outfitted with advanced features that make it an "Intensive Care Unit on wheels," including a Zoll X series monitor defibrillator, a Newport HT 70 Ventilator, a Stryker Powered stretcher and Stair Chair, and specialized Pediatric Resuscitation System, as well as a highly sophisticated Kenwood two-way radio system. Importantly, this new vehicle is ideally equipped to meet the MAMA landing site for patient air transport to the hospital.
Kathy Guyette, Senior Vice President for Patient Care Services and president of Regional Member Hospitals for Mission Health, sees the addition of the new ambulance as not only a benefit to Macon County residents, but a valuable resource for the entire region.
"This new emergency vehicle will immediately and measurably improve the level of care we can offer patients, and those who must be transferred to Mission Hospital will continue to receive the best pre-hospital arrival treatment available," she said. "This will help hospital staff in Asheville as well, and serve to further unify our services region-wide."