Archived Opinion
This is my family, and yours
Wednesday, December 27, 2017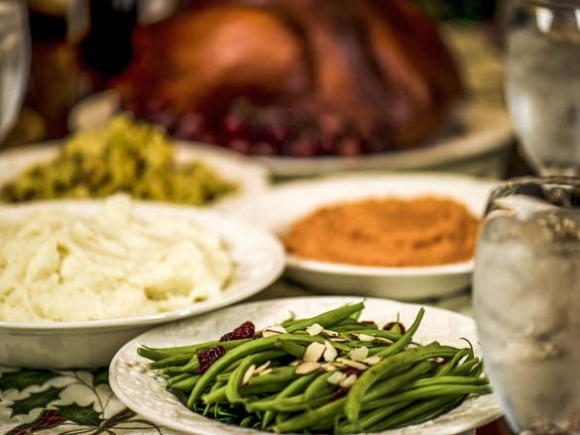 Except for the year our daughter, Kayden, got the flu and we had to make the best of spending Christmas at home with one of our youngsters battling a fever of 102, our kids are accustomed to hitting the road pretty early on Christmas Day. Ordinarily, they have no more than a couple of hours to marvel over their presents from Santa before they have to strap in and nestle in the backseat of the car for a long winter's nap of three hours or so, about the time in takes to get to my hometown of Sparta.
Every year, we go up to see our family, most of whom live in or near Sparta, to eat, visit, worship, and generally enjoy each other for a couple of days while our friends and neighbors tend to our dogs. The presents — the ones that can't be toted — wait patiently under the tree for the children to come back for some proper playtime. You might think the kids would fuss about leaving their toys behind for a couple of days, but since it is all they've ever known, they consider it one of our traditions and therefore, in a strange way, cherish it in the same way that they always look forward to baking cookies with their mother, reading "The Night Before Christmas" with their father, and watching mean old, flint-hearted Ben Weaver find reasons to get locked up so he can spend Christmas with Andy, Barney, Aunt Bee, and the rest of the Mayberry family on "The Andy Griffith Show."
As they get older, our children have discovered, perhaps to their surprise and definitely to the surprise of their parents, that our traditions are more important to them than any of the items that made this year's Christmas list. We imagined that this epiphany would not come until they were in their 20s at the earliest, but here they are in their teens, curling up in my lap like Great Danes who believe they are Chihuahuas, and for a few precious minutes, the inexorable march of time is suspended as Santa urges on Donner and Blitzen and the recliner groans underneath the weight of the years and pounds that have accumulated around our dreams of a Christmas not past or future, but ever present.
At Thanksgiving, we found out that our cousin, Brooke, would be coming home from Brooklyn, but would have to fly out early on Christmas morning. In order for the extended family to be together, we would need to change our tradition of having Christmas dinner on Christmas Day, so we gathered on Christmas Eve at my Aunt Janie's. By noon, the house was filled with family of all ages. My Aunt Lillie, who just turned 84, sat across from my niece, Katelyn, who is expecting her second child in less than a month.
My mother made her way through a cluster of people chatting in the kitchen. It has only been a few short weeks since she lost her husband to cancer, but she seems to be bearing up well. When he said the blessing, my Uncle John R made reference to all of those we have lost over the years, vital, irreplaceable, unforgettable people who blessed us, loved us, laughed with us, and moved on well before we were ready to let them go.
I remember vividly how shocked I was after my father died 17 years ago when I realized how fundamentally unchanged the world seemed without him. Everywhere I went, people seemed to be going about their business: a mother and daughter buying supplies for a birthday party at the grocery store, a high school boy in a pick-up truck burning rubber when the light turned green, a jogger taking advantage of moderate December temperatures to sneak in a run before the next cold snap, a barber shop humming along with every chair filled and it nearly five o'clock, some poor teenage girl pulled over by a town cop, probably trembling as the officer hunched over talking to her through the driver's window. The breeze, the sun dipping into the mountains, birds taking turns at the feeders, the sound of the meteorologist on the local news, too chipper for her own damn good, high pressure building in on Tuesday. The streetlights clicking on before dark.
I don't know what I expected, but not this. I saw it as an affront. The world must somehow take greater notice of the loss of such a man, of such a one as this, must understand that everything is not the same, and never will be.
I know better now. I look around me on this Christmas Eve at Aunt Janie's house and see the truth of it. My father and all of these other amazing people were not lost and are not gone, but are instead forever a part of this beautiful tapestry, our family, this life, these traditions, that unfurl year after year, developing and expanding to include new people, just as wonderful, everyone in their place and time, laughing, and loving, gathering to celebrate, to remember, and to honor our life together — our lives together.
That is my family, and yours, too, I bet. From mine to yours, we wish you a merry Christmas and a new year filled with hope, wonder, and joy, and the peace that comes with finding, understanding, and ultimately celebrating your place in the tapestry of life.
(Chris Cox is a writer and teacher. This email address is being protected from spambots. You need JavaScript enabled to view it.)