Archived Arts & Entertainment
This must be the place: 'Keep on rolling, my old buddy…'
Wednesday, December 27, 2017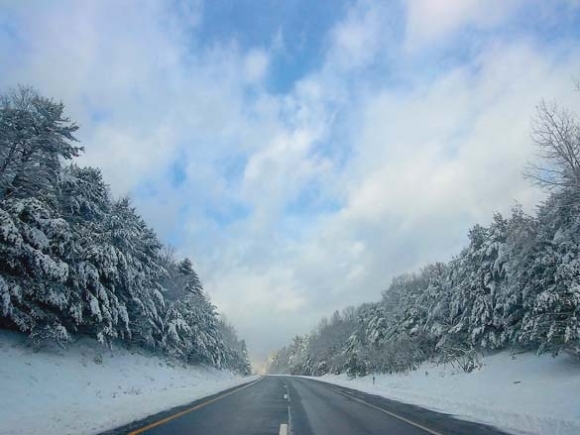 Once the roads became sketchy, I became familiar with the territory.
Christmas morning. With more than eight inches of fresh snow falling at my girlfriend's parents' house in Albany, New York, on Christmas Eve, it was a mad dash up Interstate 87 (aka: "The Northway") to make it to my folks' old farmhouse in the rural countryside outside of Plattsburgh.
Over 1,100 miles of cold, hard pavement between my Waynesville apartment and the farmhouse. Eastern Tennessee to Western Virginia to Central Pennsylvania to the Capital Region of New York, onward to the frigid depths of my native North Country.
The veins and arteries of the circulatory system that is the Eisenhower Interstate System of the United States remains an intricate web of unknown adventure and endless curiosity. And when I find myself cruising through Albany northbound, entering the Adirondack Mountains, time ceases to exist. It's all one thing, one huge moment of ups and downs of a restless mind felt in one single second.
All of which comes flooding back into my field of vision when the gas station coffee gets cool enough to sip with an urgent gusto, the ideal classic rock song comes over the scratchy radio, and all I have in front of me are the last remaining miles until I pull into that driveway I left those many moons ago — when youthful exuberance transitioned into adult truths and consequences.
Drifting into the ancient peaks and valleys of the Adirondacks, I began to reminisce of my days climbing to the top of those very mountains, years ago with old friends, former lovers or alone in my thoughts and actions.
When the sign for Clinton County appeared on the interstate, just outside of Keeseville, it was the same sign I blew past heading home following college graduation in Connecticut, heading home following my year out West following that, heading home after all my travels and trials and tribulations thereafter, only to see the backside of that sign when my internal directional marker aimed for Western North Carolina some five years ago.
It's funny how you can physically become so far away and detached from your origins, but immediately brought back into the fold once you step over the threshold of your parents' front door, the same woodstove roaring, same voices echoing "who, what, and where?" about whatever the topics of the day are (usually the same topics you encountered this time last year).
Then there are things you miss, beyond that woodstove and those voices. The creaking of old wooden floorboards as your bloodline walks above you to their slumber for the night. The way the cold northern winds shake the snow from whimsical branches. And the silence — the sacred silence — of simply laying into that backroom recliner, making sense of the time that has passed since you first were sitting in that exact spot — then at 22, now at 32.
Not having cable or even a television since I relocated to Haywood County, it was weird channel surfacing on my parents' large HD TV. Hundreds of channels, most with really nothing to say or show. Click, click, click, Nothing. Right around the moment I was about to give up on any semblance of credible viewing pleasure, I came across the 1990s classic "Forrest Gump."
When the film came out, I was 9 years old. And in the 23 years since then, it's never left my subconscious. The story of one man wandering aimlessly into a world gone mad with politics and celebrity, gone far from home, resonates deeply in me. Not to mention I was given a crash-course in great American rock-n-roll with its iconic soundtrack.
The film struck a chord within me that rings true to this day. Something about the idea you can be anybody you want to be and do anything you want to do, and how fate, chance, and sometimes pure luck, plays into the whole formula of what it takes to figure oneself out amid the greater good.
My favorite segment of "Forrest Gump" is the running part. It's when Forrest Gump himself has to shed the multiple layers of the thick skin of his past by running, never stopping until the last of his demons and fears gets erased from this earth, "And then in the desert, when the sun comes up, I couldn't tell where heaven stopped and the earth began."
Earlier that day, before the recliner and channel surfacing, I went for run. It was about 10 degrees outside when my 75-year-old father dropped me off some four miles from their house, way out in the midst of frozen cornfields and icy backroads, in the shadow of the Adirondacks, where the land soon rolls flat and lonesome into Canada just a handful of miles to the north.
Beyond the crunch of my running shoes atop the snowy pavement, I could hear my rhythmic breathing, the occasional backyard dog barking at me in the distance, a few scattered vehicles blowing past my pace, wondering "just who in the hell is running in this weather?"
And I got a lot of thinking done in those four miles, where the last three decades of my life somehow caught up with me during each step and stride along my route. It was a mental crossroads where one minute seems like a thousand years, or miles, depending on how you look at it.
I look at it with a sense of awe and sincere wonder. It throws a few logs on the fire within to keep going, always chasing after that next year or mile, or fork in the road when you trust your instincts and look upward in gratitude.
Life is beautiful, grasp for it, y'all.
Hot picks
1 Lazy Hiker Brewing (Franklin) will host Porch 40 (funk/rock) w/Colby Deitz Band (Americana/rock) at 8 p.m. Sunday, Dec. 31.
2 The Water'n Hole Bar & Grill (Waynesville) will host Post Hole Diggers (Americana/punk) at 10 p.m. Sunday, Dec. 31.
3 The fourth annual "Ruby Drop" will be held at 8:30 p.m. Sunday, Dec. 31, on Main Street in downtown Franklin.
4 The New Year's Eve fireworks celebration will be held on Sunday, Dec. 31, at the Cherokee Indian Fairgrounds.
5 The Classic Wineseller (Waynesville) will host a special New Year's Eve "Eve" bash with Mean Mary & The Contrarys (Americana) at 7 p.m. Friday, Dec. 30.