Drug abuse and mental health
Seeking substance abuse services
Wednesday, December 20, 2017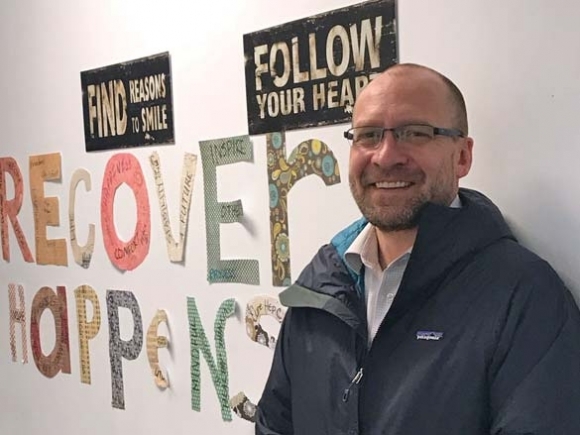 The opioid problem has been bubbling underneath the surface for over a decade, but the issue has now reached a roaring boil as the medical community, law enforcement, families who have lost loved ones and politicians are taking action to address the problem.
The North Carolina STOP Act, passed this summer to put more control measures in place for prescribing opioids and U.S. Rep. Mark Meadows, R-Asheville, recently introduced legislation as well to curb the amount of opioids being prescribed for non-chronic pain.
North Carolina also recently received a $31 million federal grant through the 21st Century Cures Act to go toward opioid addiction. The grant will be used to increase access to prevention, treatment and recovery supports, reducing unmet treatment need and reducing opioid-related overdoses and deaths.
With all the attention being given to the problem and efforts to address it, local providers are hopeful more financial resources will be available to help them expand services for people who need it most. Providers like Meridian Behavioral Health Services and Appalachian Community Services receive funding to serve the uninsured and people who qualify for Medicaid, but there is still a large group of people who need mental health or substance abuse services but can't afford it.
SEE ALSO:
• Methadone stigma still hampering opioid treatment
• Forsaking pharmaceuticals
• Mental health resources in WNCin WNC
Thanks to a funding partnership between Vaya Health, ACS's parent company ncgCARE and the Evergreen Foundation, ACS was able to complete a $542,000 renovation and expansion project at the Balsam Center. The expansion from 12 to 16 beds will allow the center to serve more adults and to keep people from turning to the emergency room when experiencing a mental health or addiction crisis.
The center is ready to expand to 24 beds as soon as the state approves a new certificate of occupancy and will also soon serve as a 24/7 urgent care for mental health and substance abuse patients.
However, the Balsam Center's inpatient program is still only available to adults. Western North Carolina is still lacking when it comes to residential services for adolescents with mental health and substance abuse problems.
"Substance abuse treatment for adolescents is non-existent in this area," said Steve McRae, director of Jackson County Child and Family Services.
The region will get some relief soon with the completion of the Caiyalynn Burrell Child Crisis Center in Asheville. The new youth crisis center will be a 16-bed facility for ages 6 through 17 who need crisis stabilization services and 24-hour supervision due to a mental health crisis, substance use or withdrawal from drugs or alcohol. The center was made possible by a $1 million grant awarded to Vaya Health by the N.C. Department of Health and Human Services.
McRae said it's hard to tell whether more children are experiencing mental health and substance abuse problems or if the providers are simply more aware of the issues since they work so closely with the school systems.
"But we are performing more and more substance abuse assessments," he said. Either way, more attention to the problem is a good thing, he added.
"It's an epidemic so it's making headlines — legislators are having to respond. We're hearing the experiences of family members and seeing what it really looks like," McRae said.
However, he would still like to see more early intervention services available for children and families experiencing trauma. That early intervention can address the traumatic experience a child is going through so that down the road they won't have mental health issues or turn to drugs as a way to cope.
"More work is starting with teenagers but more needs to be done sooner — the earlier you intervene with a child and family, the trajectory change can be so significant," he said. "There's a lot of generational patterns and we're trying to break those cycles."
Tabatha Brafford, director of consumer services with ACS, said in addition to starting suboxone clinics at its locations in Haywood, Macon and Cherokee counties, the organization was also working with law enforcement to start more programs to divert people suffering from addiction and mental health problems from jail to treatment.
"We're working with Vaya Health, Meridian, police departments and sheriff's departments in Haywood County to roll out the LEAD program early next year," she said. "This would allow individuals arrested — if appropriate — to be diverted for behavioral help."
Haywood Sheriff Greg Christopher said he was on board with participating in that type of a program since the detention center is overcrowded and many of the inmates are in desperate need of behavioral health services. There is already a similar program set up through Meridian in conjunction with the Transylvania County Detention Center.
No matter what stage of recovery someone is in, Katie Goetz, director of adult services at Meridian, said one of their Recovery Education Centers in the region should be able to provide help.
"We have support for folks ready to make changes — ready to stop — and we also offer support and care for people not quite ready or who don't have the resources to stop," she said.
Financial resources are still being stretched, but Meridian is hoping to start suboxone clinics in Sylva and Franklin in addition to the clinics currently offered in Waynesville and Brevard. Despite the stigma still attached to taking methadone or suboxone to stop taking opioids, Goetz said the medication has proven to help people overcome addiction and needs to be more readily available.
"There are so many people who need access to that medication that don't have access still even though it's shown to improve lives in our community," she said.
As Meridian works to expand access to medications like methadone and suboxone, Dr. Matt Holmes, associate medical director for Meridian, agrees with state and federal legislation that is trying to limit access to prescription opioids.
"I think we should really scale way back as far as using them for pain, especially following surgeries or treating back pain," he said. "It's critically important that we avoid them at all costs with kids and teenagers because of the risk of addiction."
Holmes said there are plenty of effective alternatives for addressing pain but even if opioids are needed, he said the amount prescribed should be limited to only a few days' supply instead of a month's supply.
"The STOP Act is trying to address that to some degree," he said. "But the decision to go on long-term opioid treatment has significant risk of someone developing an addiction."
Editor's note: This is part six in an ongoing series about mental health and substance abuse.