Archived News
Tourists taste Maggie Valley as season grows ever longer
Wednesday, December 20, 2017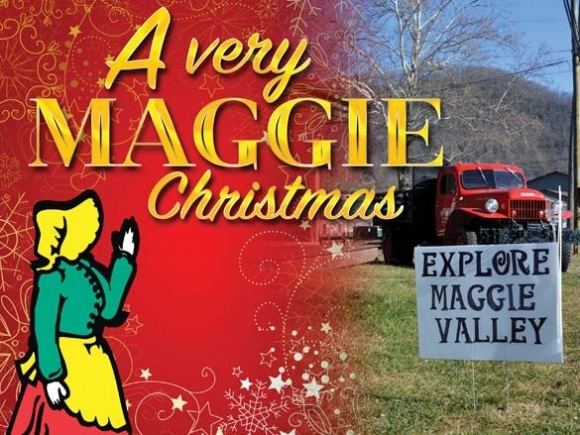 For all of its bluster and bikers and bling in the summertime, Maggie Valley can be one sleepy little town in the winter.
Traditionally, many businesses in the tiny settlement close during the off-season, a habit no doubt acquired during the heyday of Ghost Town in the Sky, the mountaintop amusement park that since 1965 closed every winter as well, until it closed for good a few years ago.
Since then, locals and town officials have had to transition away from a Ghost Town-based economy in order to avoid becoming an actual ghost town; the property sits vacant and remains listed for nearly $6 million today.
But the intensely seasonal nature of Maggie Valley's economy — still almost exclusively tourism-based — may be changing, as more and more local businesses are finding it profitable to remain open year-round and also finding that the business they generate for themselves echoes throughout other establishments in the wintry valley as well.
Drink it all in
"I think it's been a really good year," said Christine Chamberlain, owner of Organic Beans Coffee Co. at 3680 Soco Road in Maggie Valley.
After opening on May 10, 2016, Organic Beans remained open throughout that winter, serving up only organic, fair trade, shade-grown coffee from the likes of Guatemala, Indonesia, Nicaragua and Peru.
"Locals like it when we stay open," Chamberlain said. Although she's closed this winter on Tuesdays and has some tweaked holiday hours, it's not for lack of caffeine-craving customers.
This year, Chamberlain says, she has seen more out-of-towners stopping in for warm coffee before heading up the mountain to the Cataloochee Ski Area, partially as the result of an early, unexpected dumping of more than a foot of snow Dec. 8.
That snowstorm painted the valley in shades of white and grey, and also forced the postponement of a "progressive open house" called Explore Maggie Valley featuring 27 local businesses opening their doors for some Saturday afternoon Christmas shoppers.
All but one of those businesses participated during the rescheduled event the next week, a strong sign that Maggie's business community thinks it worthwhile to remain in operation during what was once the worst time of the year.
Figures from the Haywood County Tourism Development Authority's room occupancy tax collections in Maggie Valley are murky on the actual impact, but suggest a reasonable stability in tourism spending.
For January, February and March, 2016, collections were up 7.2 percent over the same months in 2015, but those months at the beginning of 2017 saw a decline of 8.4 percent from 2016.
However, wage data reported by the N.C. Department of Commerce for the county as a whole shows 7.3 percent growth in first quarter payrolls in each of the years from 2015 through 2017.
"It's up and down in spurts, but we've been busy all week," said Christine Choinski, who with her husband Bob owns B&C Winery at 2499 Soco Road.
B&C takes imported grapes and turns them into a wide variety of wines — everything from a nuanced-yet-potent Chilean Malbec that doesn't need to sit on a shelf for five years to a green apple Riesling one can almost taste before it even escapes the bottle.
Bob, a pharmacist who conjures up images of a mad scientist as he labors in a small back room separate from B&C's retail space, often handles the first stage of winemaking.
Chris, a pharmacy tech, usually takes the production from there, including naming and bottling the wines and designing the labels; her most expensive bottle is just $28, and she, too, remains open year-round.
People, she said, stop to get wine on their way to Cherokee, where off-premise alcohol is largely unavailable.
And as Maggie Valley continues to consider a Brunch Bill ordinance that would allow the sales of alcohol on Sundays at 10 a.m. instead of noon, the Chris Choinski says she's for it, and that they'd love to open a restaurant one day, as well.
"I'm not usually open on Sundays, but yes I would [open] at 10 a.m.," she said.
Given that many hotel checkout times are usually around 11 a.m., passage of the ordinance — which survived a 3-2 vote Dec. 11 but has to pass again Jan. 9 to be implemented — would allow tourists instead of being turned away before noon and then stopping in Canton, Sylva or Waynesville to take home a taste of Maggie Valley on their way out of town.
Dave Angel's Elevated Mountain Distilling Company has only been open since Memorial Day weekend, but he's already given more than 8,000 people from 41 countries and 49 states — come on, Wyoming! — tours of his impressive facility at 3732 Soco Road.
Thousands more have taken home a taste of Maggie Valley in the form of one of his four artisanal spirits made using local ingredients.
"I'd love to think that everyone wants to come to Elevated Mountain, but I think it's just more a reflection of who comes to Maggie Valley," Angel said.
Like Organic Beans as well as B&C, Angel was part of Explore Maggie Valley Dec. 16 and will, for his first ever winter in operation, remain open.
"So far the holiday season's been good," he said. "The weekends have been just as busy as they were in the summer."
With winter going this well, Angel may want summer to never come; he like Chamberlain noted increasing amounts of skiers stopping in to his establishment after a long cold day on the slopes.
Newlyweds Derek and Sunni Craig of Carbondale, Illinois, hadn't been skiing that day, but had been sightseeing in the area; it was their first time in Maggie Valley, and they were among a group of people from Florida, Georgia and elsewhere in North Carolina who were adding to Angel's tour tally.
Had Angel's distillery not been open — or any of the 25 other businesses participating in Explore Maggie Valley — the Craigs may have had little reason to leave the Haywood Smokehouse in Waynesville to come to this corner of the county at all.
With the state of Illinois in terrible financial shape, the Craigs are looking to relocate to the Asheville area; Derek's got an MBA, and Sunni's pursuing her Ph.D. Both seemed to enjoy their explorations in that wintry valley.
"I like it," she said. "Just the feel of it. There's lots of mom and pop shops, and lots of cool things to do."