Archived News
Sponsors, donations needed to provide Christmas for kids
Wednesday, December 20, 2017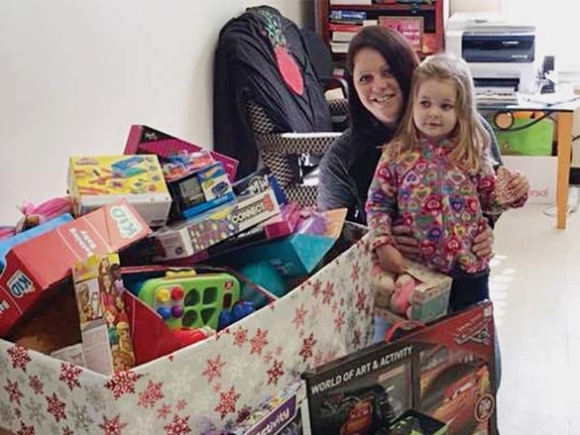 There are still plenty of children in need this Christmas in Swain County and your donation to the Swain County Family Resource Center could help.
Director Melissa Barker said the community nonprofit is trying to provide Christmas for 244 children in Swain County but still have 50 children who don't have a sponsor.
"Right now we need volunteers and we need people to sponsor families. We still have several children that haven't been sponsored," she said. "You can sponsor a child and go shopping for them or make a monetary donation so we can shop for them."
While Christmas is a busy time for the Family Resource Center, Barker and her small staff work to help Swain County families all year. In 2016, the nonprofit served 462 families with food, clothing, and other assistance programs.
Through grants and private donations, the resource center can help people with basic needs like food, clothes and shelter. The center also offers parenting and pre-natal classes for expectant mothers. Barker said the organization works closely with the Swain County Department of Health and Human services, the school system and local churches to get and make referrals to other agencies.
The Family Resource Center is a one-stop-shop for families to receive services or to find out the right place to go for help. Barker said the organization strives to fill the gap in services when those in need don't meet the requirement to receive state funding assistance through the Department of Social Services.
"We try not to duplicate services in the county," Barker said. "DSS receives state funding to help people but some fall through the cracks. If they're not eligible for that, they have another resource available."
Families that may not meet the poverty level requirements to receive assistance through DSS still struggle to make ends meet. Barker said heating assistance is a big need, along with affordable housing. The only requirement at the Family Resource Center is that you aren't receiving the same service through another entity. Once an application is received, the resource center's advisory board meets to approve funds.
Barker said the resource center is more than a place to come for a handout — the goal is to offer a hand up for families so they don't find themselves in the same position down the road.
"We try to help people once a year unless it's a rare situation," she said. "Our goal is to help families out of poverty by becoming self-sustaining and self-sufficient. We want to help them come up with a plan."
Nantahala Brewing in Bryson City is recognizing the resource center's work in the community and is pitching in to help this month with fundraising efforts. The brewery held an ugly Christmas sweater party last weekend and encouraged patrons to bring a new unwrapped toy, which were then delivered to the Family Resource Center. Proceeds from the winter lager sales in December are also being donated to the resource center.
Barker said the Family Resource Center also has been selling hot cocoa in reusable mugs as a fundraiser in downtown Bryson City during the Great Smoky Mountains Railroad's Polar Express excursions.
Even if you aren't able to give a monetary donation, Barker said volunteers are needed to help with fundraising efforts. With only two full-time employees and three part-time employees, Barker said there isn't much time for her staff to do much long-term fundraising planning.
The Family Resource Center doesn't even have a website presence — only a Facebook page to help spread the word.
"Right now we could definitely use more volunteers," Barker said. "We hope to create a fundraising committee the first of the year to get a couple of fundraisers started for our office. We have such a small staff that doesn't have time for that so we'd love to have volunteers to serve on that committee."
The resource center may also embark on a capital fundraising campaign next year to build on more space at its Hughes Branch Road office. The building, which is owned by the county, is getting too cramped for services and people being assisted at that office, but there is room to expand.
Barker is one of the founding members of the Family Resource Center, which started 20 years ago when a group of people came together to coordinate resources for families. Even with all their efforts throughout the years, Barker said the need in Swain County continues to grow. Out of 100 counties, Swain County is ranked No. 2 when it comes to child abuse and neglect and it falls in the top 10 for the number of families living in poverty.
"We feel like we're helping but the need is still growing," she said. "We can't do it without the community's support."
As for her long-term goals, Barker said she would love to see the Family Resource Center become self-sustaining through more fundraising efforts. Though the organization does receive grants, she said grant funding is more competitive and harder to come by in today's world.
If you would like to volunteer, donate items or make a monetary gift to the Swain Family Resource Center, call 828.488.7505 or visit the office at 300 Hughes Branch Road in Bryon City. Visit www.facebook.com/swainfrc/ to follow the center on Facebook.