Archived Arts & Entertainment
Latest GSMA musical release earns Grammy nod
Wednesday, December 13, 2017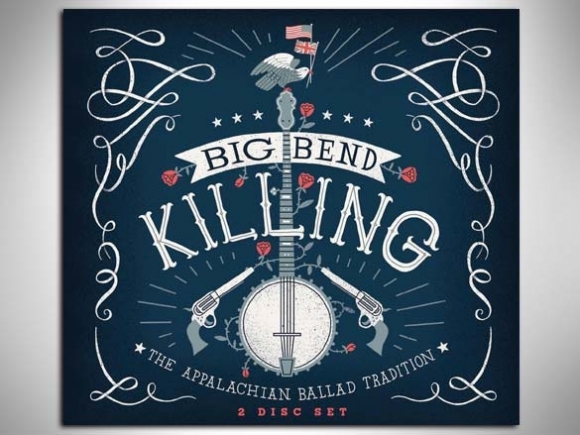 The Great Smoky Mountains Association's newest musical release, "Big Bend Killing: The Appalachian Ballad Tradition," earned a Grammy nomination recently for "Best Album Notes" as written by Ted Olson, professor of Appalachian Studies and Bluegrass, Old-Time, and Country Music Studies at East Tennessee State University in Johnson City, Tennessee.
"Big Bend Killing: The Appalachian Ballad Tradition" is Great Smoky Mountains Association's fourth album of traditional American music, this time featuring artists of today singing ballads from long ago and far away. The album celebrates Appalachia's rich legacy of songs that tell stories, a tradition traceable to the British Isles.
The album features 32 new recordings of traditional ballads by leading UK- and American-roots music luminaries, including Rosanne Cash, Doyle Lawson, Archie Fisher, Alice Gerrard, Sheila Kay Adams, Martin Simpson, Andy Cutting, Nancy Kerr, Jody Stecher, Kate Brislin, David Holt, Bobby McMillon, John Lilly, Carol Elizabeth Jones, Dale Jett and Hello Stranger, Elizabeth LaPrelle, Amythyst Kiah, Bruce Greene, Loy McWhirter, Corbin Hayslett, Kristi, Hedtke, Donna Ray Norton, Hasee Ciaccio, Kalia Yeagle, Bill and the Belles, Roy Andrade, Trevor McKenzie, and Laura Boosinger with the Kruger Brothers.
"This album offers 32 remarkable ballad performances, 31 of which have never been released," said Olson, who also served as the album's producer. "Our goal with this album is to encourage people — young and old — to recognize the enduring beauty of these often overlooked narrative songs, and our hope is that more people will sing these and other ballads so that the tradition won't fade away."
Rosanne Cash, Grammy winner and daughter of legendry singer/songwriter Johnny Cash, is among the featured artists on this two-disc set. Cash contributed a pair of centuries-old folk ballads, including the previously released "Barbara Allen" and a new recording of "The Parting Glass."
"Celtic and Appalachian ballads are so close to my heart and history that each one feels like a family member," said Cash. "This album is an essential compilation and will benefit one of the most beautiful spots in America. I'm proud to be a contributor."
Adriana Trigiani, who wrote and directed the popular movie "Big Stone Gap," has praised "Big Bend Killing": "This lush collection of traditional Appalachian ballads performed by an array of spectacular musicians is a keeper. Layered, rich, and filled with emotion, the music will take you back in time, to the foothills of the Great Smokies, high on the trails of the Blue Ridge, and into the heart of the Shenandoah Valley where life, love and work was chronicled in story and song by the people who lived it. This is where American music began, and thrives evermore. These ballads celebrate our origins with mysticism, humor, and grit; they remain a treasure trove of historical importance for generations to come."
Martin Simpson, one of England's most acclaimed musicians, is among the many recording artists who contributed vibrant performances to "Big Bend Killing." Simpson recognized the significance of including British ballads in an album exploring Appalachian balladry.
"It is impossible to underestimate the influence of the British ballad tradition on American folk music, and particularly on the Appalachian traditions," Simpson said. "'Big Bend Killing' is a wonderful and wide-ranging collection which beautifully reflects the reality and importance of that influence. I am proud to be a part of it."
Another participant on this album, Archie Fisher, echoed Simpson. Arguably Scotland's leading singer of traditional ballads and songs, Fisher said, "Taking part in the album reminded me very strongly of why I became involved in the Scottish folk song revival. Partly because of the instrumentation, our shift from skiffle into Americana was seamless, and this eventually led to an awareness of our own rich ballad and song tradition. The circle for me is now eternally closed between the roots and the branch."
"Whether established or emerging artists, the musicians on this album respect older performing styles and older repertoire and are culture-bearers," Olson added.
"Big Bend Killing," which features an essay, track-by-track notes, lyrics, and photographs, is the fourth in a series of acclaimed albums from Great Smoky Mountains Association.
The preceding three albums are "Old-Time Smoky Mountain Music," a Grammy nominee for "Best Historical Album"; "Carroll Best and the White Oak String Band," an International Bluegrass Music Association award nominee for "Best Liner Notes" and an Independent Music award nominee for "Best Bluegrass Album"; and "On Top of Old Smoky: New Old-Time Smoky Mountain Music," an Independent Music award winner for "Best Tribute Album," a Public Lands Alliance award winner for "Most Innovative Product," an International Bluegrass Music Association award nominee for "Best Liner Notes" and for "Best Design"; and the recipient of an official Resolution from the Tennessee State Senate.
All proceeds from the sale of "Big Bend Killing," as with the previous three albums, supports Great Smoky Mountains National Park. The album can be ordered at www.smokiesinformation.org and as a digital download at www.cdbaby.com
Since its inception in 1953, Great Smoky Mountains Association has supported the preservation of Great Smoky Mountains National Park by promoting greater public understanding and appreciation through education, interpretation and research. A nonprofit organization, GSMA has provided more than $36 million to the park during its 60-year history.