Archived News
Macon League of Women Voters disbands: Members reflect on 27 years of work toward a well-informed community
Wednesday, December 13, 2017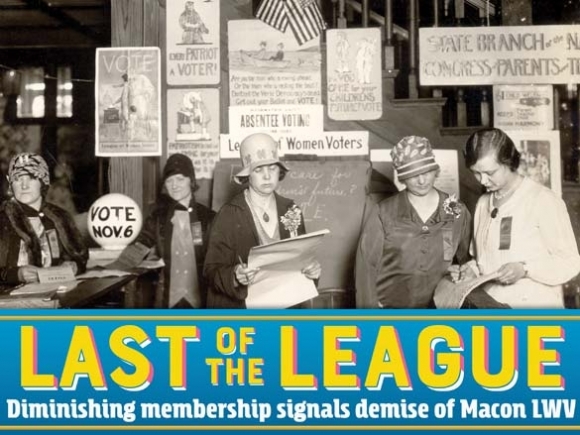 An aging membership, the inability to recruit younger members, a lack of civic engagement and a shift away from nonpartisanship are all factors the Macon County chapter of the League of Women Voters just couldn't seem to overcome.
The nonpartisan advocacy group that has worked to encourage civic engagement in Macon County felt it had no choice but to disband after 27 years.
"We formed in 1990 and disbanded this spring, so I think we had a good long run," said Susan Ervin, a long-time coordinator of the local chapter.
The national LWV has a simple mission — educating the public so voters can make informed decisions at the polls. The Macon LWV has been a critical part of the community, known for offering educational programming to keep people up-to-date on political issues from the local, state and federal level. The group also encourages voting and civic engagement and held public forums for municipal, county commission and state legislative candidates.
Even though the organization is nonpartisan, the current political climate has not been in the League's favor, especially in rural and red counties like Macon. Because of the League's stance on women's rights, immigration, voting rights and gerrymandering, some in the community have labeled them a left-wing group pushing a liberal agenda.
"Leagues have had a hard time, especially in small communities. Asheville has an active League but also has a bigger pool to draw from," Ervin said. "We live in an area predominantly conservative and Republican and our pool is much smaller. We're swimming upstream against a lot of current ideas."
SEE ALSO: Asheville LWV chapter picking up steam
How it started
The League of Women Voters has a long history in this country. It was founded in 1920 by Carrie Chapman Catt during the National American Woman Suffrage movement, and its original mission was to ensure women used their new voting power to shape public policy responsibly.
"The League started in the wake of women getting the vote in this country and it was all about educating women and representing women's issues," Ervin said.
Since the beginning, the League has been a nonpartisan, grassroots advocacy organization taking tough stances on issues facing the country. It was important for League founders to maintain a nonpartisan position because they felt it would protect the new group from becoming stuck in the party politics of the day. Still adhering to the nonpartisan mission, the League today is a well-respected force recognized for molding public policy, advocating for voting rights and encouraging citizen involvement at every level of government.
Elinor Metzger of Highlands, who had been a League member elsewhere since 1948, started the Macon chapter in 1990 during a time when the nonpartisan organization was going strong on a national level as well. Within the first year of forming, Ervin said the chapter had accumulated about 100 eager members, and she was one of them.
Macon resident Maethel Shidelman, who is now in her 90s, was also a founding member of the local chapter. She said she joined because she wanted to have a place to turn to for neutral and factual information about a myriad of issues facing the community and the country.
"We thought there was a great need for a place people could get nonpartisan information and have a chance to meet all of the political party candidates running for office," she said. "It was a chance for people to look at politics from as many angles as possible in an atmosphere people felt free to express their ideas and listen to others expressing their ideas. I think that's the best thing we did."
Educating the community
LWV tried a number of different types of programming in the community throughout the years — everything from monthly educational luncheons to fancy fashion shows trying to drum up new members.
The chapter is probably best known for hosting political forums for local and state candidates. As a nonpartisan group, Ervin said the group of women worked hard to be fair to all candidates and keep the discourse civil during the forums.
"They were held in a very educational and calm way — everyone was timed and given same time to answer questions," she said. "We didn't allow the audience to heckle candidates. It didn't become an exchange between candidates and attendees. We wanted them all to feel respected and not defensive when answering questions."
Ervin said the League-sponsored political forums always got good press coverage from local papers, but attendance at the events has waned in recent years. They tried changing the day and time of the forums but attendance didn't increase.
The League also started having a problem with Republican candidates refusing to partake in the forums — not so much on the local level but state legislators and congressmen turned down invitations several times.
"We always made a point of being very fair. All candidates were treated the same, but I'm sure some candidates didn't like the questions we chose," Ervin said. "But even the last forum — which was a county commissioner forum — was well attended. On a local level we always had great involvement, but when it came to regional or state candidates it wasn't always the case."
The League accepted submitted questions from the public in addition to creating its own questions for candidates. The questions were never softballs — the League asked about real issues that would get to the heart of a candidate's position.
"I feel like the candidate forums were our biggest contributions. We set the idea that candidates needed to communicate with citizens of the county and it let them know that people were paying attention and asking questions," Ervin said. "They knew people were going to ask in-depth questions and they had to think through and respond to people in a meaningful way."
N.C. Rep. Kevin Corbin, R-Franklin, has attended his fair share of LWV forums when he ran for school board, county commissioner and for the state legislature.
"I always found them to be fair and they asked important questions about real issues," he said. "They were a great organization that served an important role."
Macon County Commissioner Ronnie Beale agreed, adding that it would be a disservice to the community if someone doesn't continue the forums.
"It was the only time all the candidates came together as a group to answer questions about what's going on in the community and also what the future might hold," he said. "Any group you put together is going to be labeled as conservative or left-leaning but how they conduct their business is what matters. I always thought their forums were bipartisan and well organized."
Kristina Moe, who joined the Macon League around 2005, said the League also hosted educational events in recent years to promote the work of nonprofits in Macon County. With so many organizations providing resources for women and children, the League thought it was important for the community to be aware of the resources available to them in times of need.
"I think getting the different nonprofit groups in front of the community was really important — Like KIDS Place — I wasn't familiar with what they did before they talked to us," Moe said.
The League also held voter registration drives and put out voter guides to help people make informed decisions at the polls whether they attended the forums or not. At one time, League members attended town and county meetings as observers to stay apprised of issues and relay it to members and the community.
"It became our mission to inform citizens in Macon County and have good reliable information presented," Ervin said.
Progressive positions
Is it possible to be nonpartisan and progressive? The League of Women Voters thinks it is — it's been the foundation of the national organization for nearly 100 years.
The League does not endorse candidates or support certain parties, but it has historically taken what is now considered to be progressive positions on key issues. The League supports maximizing voter participation and registration, civil rights for workers, women, children and minorities, and prefers diplomatic negotiations instead of aggressive military tactics.
"Some people considered us to be partisan because of the positions we take, which are generally progressive on the spectrum on issues," Ervin said. "In this particular time in history a lot of those issues fall within the realm of the Democratic Party, but that's not always been true — the Republican Party was the vanguard of votes for women."
It hasn't been the League that's changed its positions — it's the parties that have shifted their views through the years. And as the lines between party platforms have widened, there has become little room for bipartisanship, let alone nonpartisanship.
Unfortunately, Moe said, many people view issues like women's rights, fair wages, voting rights and gerrymandering as "controversial" issues linked to the liberal agenda. She referenced a letter to the editor that ran in the Macon County News as an example of the feelings some people have about the LWV.
"… it is high time this group of liberal women recognized that their pushing the liberal agenda on those interested in politics in the local area is not representative of the average, intelligent American citizen, and is definitely not appealing to them," wrote Joyce Roberts of Franklin.
Shidelman, who moved to Franklin permanently in 1970, said the community has changed so much through the years. While League events used to foster a sense of open discussion, it just doesn't seem like there's much room for compromise anymore.
"It just seems most people — or a great many people — feel that they must handle issues on a partisan basis," she said.
She's disappointed the Macon League had to disband but she remains optimistic about the future and the ideal of nonpartisanship.
"Maybe it comes in waves where the situation is such that people will once again feel at liberty to consider an issue from all of its sides," she said. "We have some more organizations forming that are trying to adhere to nonpartisan approaches to our political situation. It can be hard for a lot of people, but frankly it's the only way we're going to be able to move the agenda of this country forward — by saying, 'I will listen to what you have to say and maybe we can come to a compromise and move on.'"
No new blood
When Kristina Moe joined the Macon League more than 10 years ago, she was in her late 20s and was — and still is at 42 — the youngest member of the chapter.
The founding members, who are now in their 70s, 80s and 90s, stuck around and stayed involved for more than 20 years, but the group has always had a hard time recruiting younger generations to get involved as members, supporters or attendees at events.
Moe works for the Macon County Library in Franklin and used to work for Southwestern Community College when she joined LWV. Her job encourages her to be involved in the community and, after hosting League events at the library, getting involved with that group of women seemed like a good fit.
"When you're that young you don't realize you've got a voice and a right to speak up, so when they asked me as a member and then to serve on the board, I felt honored to do so," she said.
Moe said she's not sure why it's so difficult to get people her age or younger to become involved in civic groups. Of course there are the typical reasons — a demanding job or schoolwork, children and family responsibilities.
"I don't know what keeps younger people from it — maybe they're not interested in something so established and organized," Moe said.
There could be some truth to that assessment. Franklin does have several other newer organizations that are picking up momentum with the involvement of younger residents, including Forward Franklin, one of the many progressive advocacy groups that have sprung up following the 2016 presidential election.
Ervin said she thinks younger folks just aren't as involved in civic affairs like they used to be, and if they are, most of them use social media as a platform instead of being part of a larger organization. It may also be that the younger generations are so bombarded with news on the internet they don't feel they need an advocacy group to keep them informed.
"I think in some ways it's just not the fashion right now," she said. "I belonged to a lot of community groups over the years and I see the same people over and over."