Archived News
Asheville LWV chapter picking up steam
Wednesday, December 13, 2017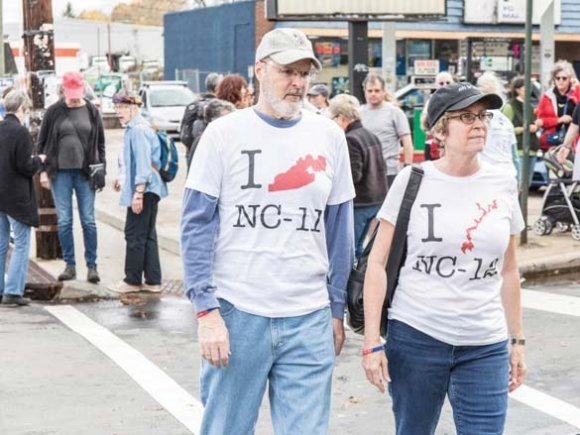 While the Macon County League of Women Voters had to disband this year due to low membership and community involvement, the Asheville-Buncombe League is on the upward swing with a renewed enthusiasm from members and the community.
Formed in 1979, the Asheville League did become dormant for a few years as the board members all burned out around the same time. Current President Alana Pierce said the group became active again about the time she joined two and a half years ago.
"We're hovering close to 90 members now. That fluctuated last year when we hit 100 members, but we only had between 60 and 80 members before that," Pierce said. "But we have a reach beyond that — 500 people on our mailing list and 715 people who liked our Facebook page, so engagement is good."
She attributes the renewed excitement, and perhaps frustration, to the last two election cycles. Members and the community have particularly been upset by the voter ID laws that have since been deemed unconstitutional, the attack on women's right and redistricting in North Carolina.
"Leagues across the country and state have seen an increase in membership, so right now we're scrambling to keep people engaged. Luckily we've had the busiest year ever in League history," Pierce said. "We've noticed some people really wanted some action right away, but the League doesn't operate that way. We study issues and take stances — we're not going to take radical action right away."
The Asheville League also hosts candidate forums and, like the Macon group, has also dealt with some conservative backlash against the chapter. Pierce said it's been a nationwide issue with Republicans refusing to attend LWV forums and it's an issue the League is going to have to fight against. For example, U.S. Rep Mark Meadows, R-Asheville, dodged invitations to League forums in Macon County and Henderson County during the 2016 election.
"I think it's been a state or national tactic among Republicans, but either way the stigma has stuck," she said. "We've been able to get over that with municipal forums, but honestly we're going to have to pull some political stunts to get Republicans to show up. We have to demand Mark Meadows shows up to make sure people who live here get what they're due."
Pierce also said the Macon chapter isn't the only one dealing with being labeled as a Democrat or liberal organization.
"We take stances on issues that protect women and children. Those issues have not been so partisan in the past," she said.
Pierce said it is important for Leagues to keep recruiting younger members in order to prevent burnout. At 38, Pierce joining the board and helping to ramp up social media efforts for the chapter has also helped the organization grow and keep people engaged.
"Social media has helped tremendously. You can create an upcoming event and it automatically reminds people of the event," she said. "We can post comments and pictures and tell the bigger picture stories."
Even with the struggles and challenges, Pierce is hopeful for the future of the national and local Leagues and the influence they can have over public policy.
To find out more how to become a member or donate to the League of Women Voters, visit http://www.lwvab.org/.