Archived News
Sheriff receives grant to hire four new deputies
Wednesday, December 13, 2017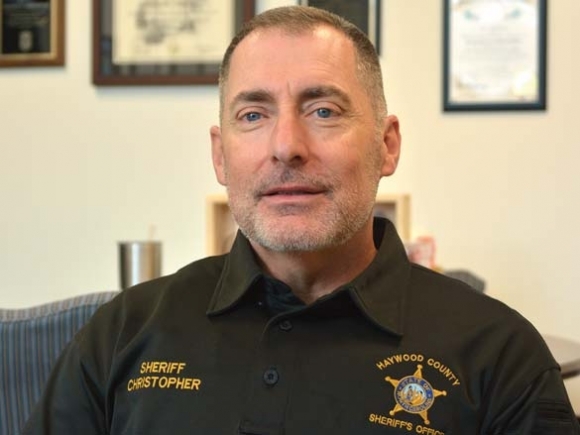 The Haywood County Sheriff's Office has been awarded a $480,963 grant that will allow the department to hire four full-time patrol deputies to strengthen their ability to fight crime and to protect the well being of citizens in the community.
The U.S. Department of Justice's Office of Community Oriented Policing Services COPS Hiring Program awarded the grant. Sheriff Greg Christopher said the funding and additional officers would specifically be used to focus on addressing the opioid epidemic.
"We applied for it last year and missed it, so this year we worked hard to get it because we understand what we have to deal with," Christopher said. "These deputies will assist with developing a strategic plan to combat opioid abuse."
These new deputies will be charged with creating a formal systematic plan and community orientated policing in communities. Each deputy will be assigned to a particular area in the county to be responsible for.
"We'll hold them responsible for the coordination of what they're finding and communicating that to our drug task force and criminal suppression unit," Christopher said.
He added that a motto the sheriff's office follows wholeheartedly is "we must get to know our communities, before we need to know our communities." That means being proactive when it comes to building trusting, valuable and powerful relationships in the community instead of taking the approach of only interacting with citizens during enforcement actions or when something bad happens.
"We will have more manpower to zero in on where some of the big issues are in our communities. We will have a familiar face and regular presence in these areas so that relationship/trust building process will become even stronger," he said. "This specific placement of deputies will give us greater knowledge of the criminal activity intricacies of these areas, as well."
The only downside is the grant money will run out in four years. The grant will pay for three deputies the first year while the county will have to fund one position. The grant will pay for two deputies the second year and the county will have to pick up half the tab. After four years, the county will have to pay to keep those positions. Christopher is hopeful that four years will give his deputies enough time to roll out a plan to address the opioid problem and make some progress.
"Hopefully we can pay for all of it after that and I hope we're successful enough that commissioners will approve letting us keep the four officers," he said. "Otherwise we're going to continue to lose people to this epidemic. We as law enforcement officers as well as others in the community that are gonna have to continue to be diligent to try to put a stop to this."
The Haywood County Sheriff's Office was among 179 law enforcement agencies across the nation awarded a combined $98,495,397 through the COPS Hiring Program. The COPS Office is the component of the U.S. Department of Justice responsible for advancing the practice of community policing by providing grant funding directly to state, local and tribal law enforcement agencies to support hiring additional law enforcement officers for three years to address specific crime problems.