Archived Outdoors
Embracing the season: Cross-state trek presents challenge and reward for Asheville hiking legend
Wednesday, December 06, 2017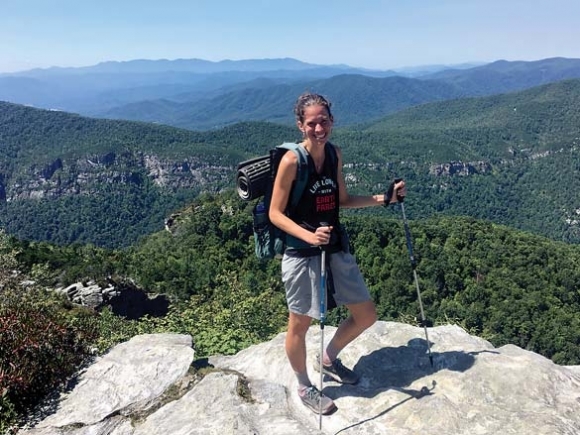 At 34, Jennifer Pharr Davis has conquered her fair share of long-distance hikes, and then some. Her 2011 hike of the Appalachian Trail set a speed record that stood until 2015. She's completed the Pacific Crest Trail, the Bartram Trail, the Colorado Trail and a seemingly endless list of other trails scattered across six continents.
But in some ways, her 2017 hike of the North Carolina Mountains-to-Sea Trail was the most challenging — and most rewarding — of all the routes she's walked.
"It is so different than any other trail I've hiked and really caught me by surprise in that way," she said. "My mindset starting out was, 'Well if I had my way I'd probably wait until it was a completed trail.' What I found was the complete opposite. I thought it was so incredible to walk a trail that was still being built. You feel like you're part of something."
The 1,175-mile trail stretches from the western border with Tennessee at Clingmans Dome in the Great Smoky Mountains National Park east to the Outer Banks and its terminus at Jockey's Ridge. Of those nearly 1,200 miles, only about 700 travel along actual trail. The remaining 500 use rural roads as temporary routes until dedicated trails can be built.
A different kind of challenge
Pharr Davis embarked on her three month adventure at the request of the Friends of the Mountains-to-Sea Trail, who saw the trail's 40th anniversary was coming up and wanted the celebrated long-distance hiker to catalogue her experiences along the trail to help raise awareness and funds for its continued construction. However, when Friends of the MST suggested the trek two years ago, Pharr Davis' life was in a much different place than in previous years, when she ran on a constant cycle of saving money and then disappearing to hike.
Pharr Davis was married, living in Asheville with her husband and a 2-year-old daughter who would turn 4 by the time the hike began. And, in the midst of hike planning they decided to have another child. Their son was 11 months old when Pharr Davis set off from Clingmans Dome in August.
"I've done a lot of hard hikes, and I found this one to be emotionally toward the top of challenges I've faced on a long-distance hike," she said.
Completing the hike was a team effort between Pharr Davis and her husband Brew Davis. He'd keep the kids during the day, meeting up with Pharr Davis for picnics or short day hikes, and then again at the end of the day. Sometimes they camped, but mostly they stayed with friends or contacts through Friends of the MST. While they love camping, Pharr Davis said, managing it with two small children and a tight schedule added too much time to be feasible day-in and day-out.
"During this hike, we were just in different places in our lives than all the miles I had hiked in the past," she said.
While they prioritized the hike to be their main focus, she and Brew — who are both self-employed — still had work issues to deal with, loose ends to be tied up around the edges of the day. At the beginning of the trek, Pharr Davis was still nursing the baby a few times a day — typically, she'd get up, take care of the kids, hike 18 or 20 miles, and spend the evenings doing work and being with the family.
"Kids don't really care if you've hiked 20 miles and you're exhausted," she said. "They still need your attention."
Cross-state connections
It was hard. But it was also amazing.
"We loved the MST. We loved seeing our kids grow up and mature along this journey," she said.
One of her favorite memories from the trail came on the coastal section, after the kids had visited a sea turtle rescue center with their father while Pharr Davis hiked. When they rejoined her on the trail, Pharr Davis noticed her daughter picking up trash as she walked along the beach. For a kid who still had to be talked into picking up her toys after she was finished playing with them, that was surprising, so Pharr Davis asked her about it.
"She just looked at me and she said, 'I want to protect the turtles. I want to help the turtles,'" Pharr Davis recalled.
Her daughter wasn't the only child to get an immersive nature experience as a result of Pharr Davis' hike. Along the way, Friends of the MST had arranged for various groups to join Pharr Davis for pieces of the trail, among them athletes with Special Olympics, inner city kids and a diabetes prevention group. Four other hikes open to anybody from the public were offered as well.
For Pharr Davis, these interactions with people were as much a part of the trail as the geography and the views. Those interactions are also much of the reason that she loved spending her evenings with host families along the trail.
"It made it a more full experience for us," she said. "I feel like we really got to know not just the trail but the people who live right beside the trail."
In parts of the state where there was no trail, that aspect of knowing the people became even sharper. As she walked along the road, not a day went by when somebody didn't stop to ask if she was OK, if she needed water or maybe a ride.
"For the most part, people are just really good, regardless of whether they're liberal or conservative, or Duke or UNC fans," she said.
And, as the road stretched flat in eastern North Carolina, she found herself smack in the middle of farm country, meeting face-to-face the farmers who grow all that food.
"It really gave me a connection to where the food is grown in North Carolina and how it's harvested and the way of life there," she said. "I just felt like if you're on a trail, you're not going to see as much of that."
As with any trail ending, completing the MST brought on a flurry of emotions.
"You're proud. You're happy. You're sad it's over," she said. "I felt like it had been hard on my husband, and that changed the experience because it's not just my experience. There are a lot of feelings at the end."
She and Brew are glad they did the trail, but also glad it's over, Pharr Davis said. And they probably won't attempt anything similar for a while.
In the process, though, she learned something about herself and the ways she's changed since her former lifestyle of nearly continuous hiking. She still loves long-distance hiking as much as she ever has, but it's no longer the most important thing in her life.
"The thing that changed is I really love my life off-trail too. My life off-trail is more important to me now than doing long-distance hikes," she said.
That's not to say that she has a hard time getting outside. Now living in Asheville, Pharr Davis is the founder of Blue Ridge Hiking Company, with a job description that involves plenty of hiking and camping. And when it comes to her young family, she's found that she can derive many of the same benefits she used to get from long-distance hiking by consistently doing day hikes with the kids and short sections solo.
"I was so aware that I was at a different season of life, and it wasn't better or worse," she said. "It was just different, and I felt like I just need to embrace the season I'm in right now."
The fundraising effort
As Friends of the Mountains-to-Sea Trail stepped into the trail's 40th anniversary year, the goal was to raise $200,000 for new trail signs, bridges, maintenance tools and trail awareness.
As of now, the organization has raised $265,000.
"It's hard to pull out what exactly she (Jennifer Pharr Davis) was responsible for, but she throughout the course of the year did so much to raise awareness for the trail and involve people," said Friends of the MST Executive Director Kate Dixon. "She was just fabulous."
Through various events planned along Pharr Davis' three-month, 1,175-mile hike, she met close to 1,000 people and connected with many more through her blog and Facebook posts, Dixon said, with a Friends gathering earlier this year featuring Pharr Davis as a speaker drawing about 100 more people than the previous record.
During a board retreat planned for January, Friends of the MST will set its fundraising goal for 2018 and continue talking about how to shift the 500 miles currently routed along roads onto trail instead. There's a lot of potential there, Dixon said, with community leaders in many trailside towns excited about the trail coming through their area.
"The trail is just so much better known, and more people are hiking it," she said. "There's so much that's going really well, and we just want to continue that momentum."
Read more about Pharr Davis' hike and donate to the MST at www.mountainstoseatrail.org/mst40th/jpd-hikes-the-mst/read-jens-blogs-and-posts.